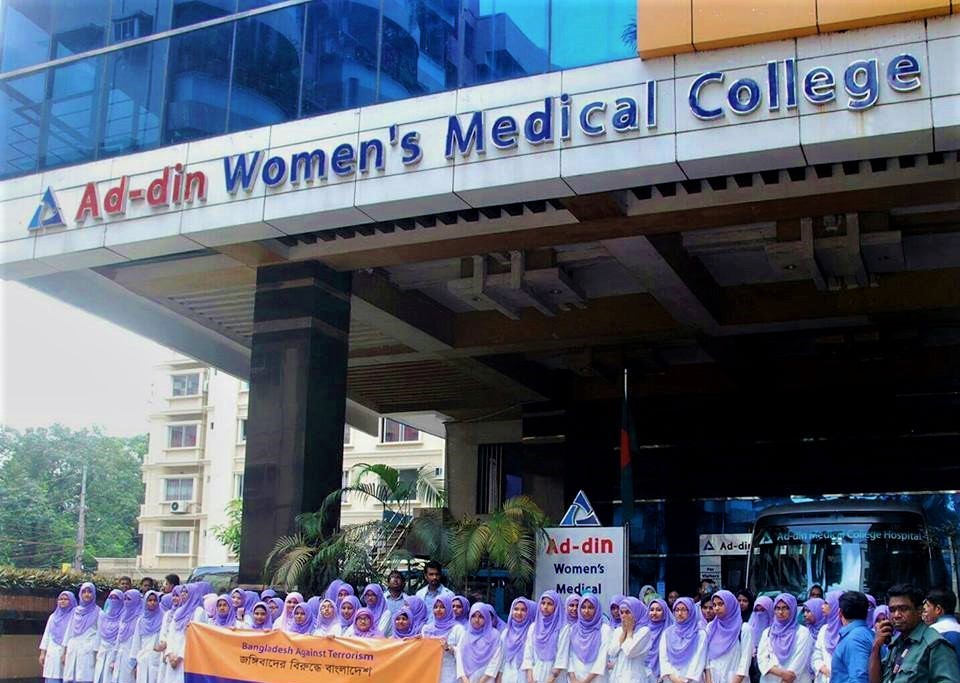 Ad-Din Women's Medical College is one of the most prominent colleges in Bangladesh. It was established in 2008 by the Government of Bangladesh under the ministry of health & family welfare. Due to its modernized infrastructure, this college is among the best. If you are looking to fulfil your dream of becoming a doctor, then this school can help you achieve that. After enrolling, you will be glad to learn that things are working in your favour and you are on the right path to becoming a doctor.
The best part is this university also takes part in multiple extra-curricular activities, which again let it be in front throughout the year. To make sure your stay goes smoothly, be sure to review your travel items & bookings before coming here.
Here we will explore all the relatable things so that you can have an easy-going procedure when choosing this college for admission.

Ad-Din Women's Medical College: Recognition:
Ad-Din Women's Medical College is recognized by:
NMC
WHO
BMDC
MOHFW
University of Dhaka.

Ad-Din Women's Medical College: Ranking
The ranking of Ad-Din Women's Medical College is as follows:-
Country ranking: 78th
World ranking: 1718th

Ad-Din Women's Medical College: Faculties
Faculties available at this university are as follows:-
Faculty Of Anatomy
Faculty Of Physiology
Faculty Of Biochemistry
Faculty Of Pharmacology And Therapeutics
Faculty Of Pathology
Faculty Of Microbiology
Faculty Of Community Medicine
Faculty Of Forensic Medicine
Faculty Of Surgery
Faculty Of Gynaecology
Faculty Of Obstetrics

Benefits of studying at Ad-Din Women's Medical College
The benefits of choosing MBBS in Bangladesh are as follows:-
Scholarship programs available
Ragging free campus
Public transportation is available
NEET UG examination is required only
The mode of teaching is English
Modernization has equipped the campus
Top class faculties
Low fees for hostels and tuition
High-class security Well-equipped classrooms and Research lab
Emergency services are also available

Eligibility criteria:
The eligibility criteria for MBBS in Bangladesh are as follows:-
In the 12th standard, a student must have secured more than 60% marks.
A student must hold good moral character.
The age of a student must be more than 17 years and less than 25 years.
Subjects in 12th standard must be English, physics, chemistry and Biology.
NEET UG examination of a student must be qualified.

Documents required:
The documents required for MBBS admission in Bangladesh are as follows:-
12th standard passing certificate
Passport
NEET UG examination qualified scorecard
Ten passport size photograph
Birth certificate
Migration certificate
Transfer certificate
Character certificate

Steps for Admission in Ad-Din Women's Medical College
Steps to apply for admission in MBBS in Bangladesh are as follows:-
Visit the official website of the university and click on the application form link available.
It will redirect to the next page where asking for all the important documents, uploading all of them and filling all the details correctly.
Wait until you receive the confirmation email.
After receiving the invitation letter within a few days, you need to pay the fees, and after it, the offer letter will be received by the candidate.
After receiving the offer letter, you are all set to apply for further steps.

Visa procedure:
The Visa procedure is very important for candidates to know. Let's discuss the same in detail!
Documents for Visa:
When you are applying for a visa for MBBS in Bangladesh, get available with the following documents:-
Passport size photographs
Academic record
Original passport
Bank statement with a minimum balance
HIV negative report
Birth certificate
Invitation letter
Offer letter
Covid-19 negative report
Health record
Original documents are really very important for all the students coming for MBBS in Bangladesh. These are not only required to apply for Visa and admission but also required for verification procedure. Make sure you have all the documents available.
Steps to apply for Visa:
If you want to apply for an MBBS visa in Bangladesh, there are a few basic procedures you must follow. The following are some of them: –
First and foremost, go to the official website and look for the visa link.
On the visa link, you'll see that certain specifics about the papers required for completing the application are provided, and others check out all of them to ensure that you have all of the essential paperwork.
Now, fill out the application form and submit it together with all of the required papers and payments.
Wait for the confirmation email to arrive.
You must go to the regional office for verification after obtaining the confirmation.
You will obtain your Visa when the verification is completed within 15 days, and you will be ready to begin your MBBS studies at Ad-Din Women's Medical College.

After reaching Bangladesh:
When you arrive in Bangladesh, you will be subjected to a verification procedure. The Bangladeshi embassy will do this verification, taking into account the residence where you are staying and the reason for your visit. It requires original paperwork, so make sure you have them. You are now eligible to pursue MBBS in Bangladesh when the verification process is completed.

Duration of course:
MBBS in Bangladesh is a 5-year program. The five-year duration is divided into four phases. The exams will be taken by the university in a semester system. 8 semesters will be there, and it is accompanied by a one-year internship program, which is compulsory for every student.

Medium of teaching:
English is chosen as the language of instruction for students teaching MBBS in Bangladesh. When pursuing an MBBS in Bangladesh, students will not be required to learn any specific language.

Ragging free campus:
These days, having a ragging-free campus is a must. When you come to Bangladesh for MBBS, you will see that there is no reading aloud, and if any student is attempting to manipulate you or tease you for no reason, you may just report them to higher authorities. Higher authorities will take harsh measures against them and expel them from the college. At the Ad-Din Women's Medical College, such behaviour will not be tolerated.

Hostel and mess facilities:
Hostel facilities are at their best when you are coming for MBBS in Bangladesh. You will see that separate hostels are available for girls and boys, along with separate vegetarian and non-vegetarian food facilities. If you are someone who doesn't want to be a part of non-vegetarian food, you can simply switch to vegetarian food items.
Along with that, the hostels have all the basic amenities available, which are responsible for maintaining a healthy and steady lifestyle. Therefore there will be no need for you to worry about anything at all.
If you are planning to take admission to MBBS in Bangladesh, come to us immediately. At the admission route, we will help you out with and everything. Also, we will help you to know about the relatable things considering admission so that you will not face any trouble after reaching Bangladesh.