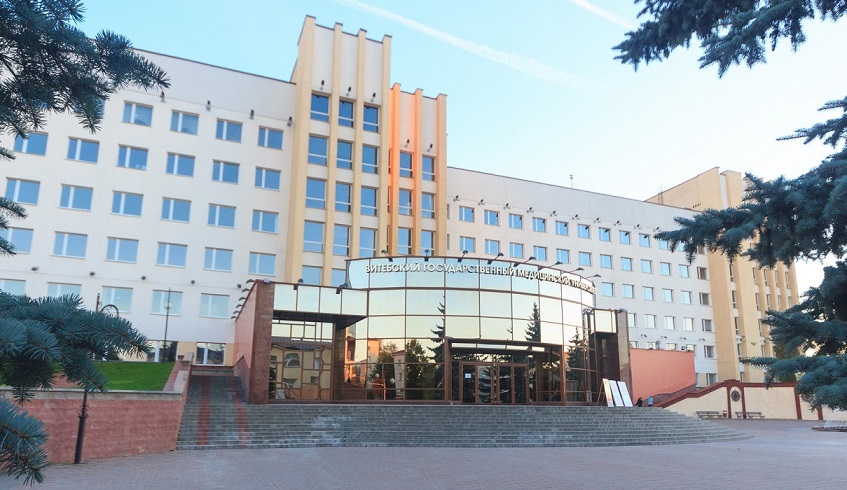 Vitebsk State Medical University (VSMU) is one of the reputed and largest medical institutes located in Belarus. It was founded in 1934. This university is famous for its quality education and expert teaching staff. Vitebsk State Medical University management meets the standard of international ISO 9001. Vitebsk State Medical University has achieved the Medal of Peoples Friendship from the Presidium of the Supreme Soviet of the USSR. Vitebsk State Medical University has accredited university as it is recognized by the WHO (World Health Organization), Educational Commission for Foreign Medical Graduates (ECFMG), Federation credentials Verification Service (FCVS), and Lithuanian Center for Quality Assessment in Higher Education SKVC. The Medical Council of India also recognizes it. Vitebsk State Medical University offers degrees and diplomas in medicine, pharmacy, dental, pedology, and in psychology. Vitebsk State Medical University has the best in class infrastructure. It has six academic buildings, eight hostels, 3canteen, and a medical library. It is also equipped with gym, stadium, health, and fitness centers. VSMU also owns the clinic.

Importance of VSMU in your Career
If a student thinks to pursue MBBS in Belarus, then Vitebsk State Medical University must be his/her choice. VSMU has world-class facilities. VSMU stands at the 19 ranks in the country level and the 6442 in the world level. Thousands of students are trained by the Vitebsk State Medical University every year. The degree holders from this university are employed at renowned hospitals or health departments. At present, over 7200 students are educated by the Vitebsk State Medical University. This university is employed with 56 doctors for teaching and over 227 professors. One of the significant features of Vitebsk State Medical University that attracts foreign as well as local students is its fee structure. MBBS in Belarus from VSMU costs around 24-25 lacs hostel, and study material charges are included in this price.

MBBS admission in Vitebsk State Medical University:
For admission in VSMU, aspirants must enroll themselves before 5th August. Documents required for the admission are listed below:
Students must have Qualified NEET Score card.
11th and 12th standard Marksheet.
Xerox of your passport with the photograph page
Application form
All the documents mentioned above must be attested to the authorized person. Often the visa process and the invitation letter take the time of about 2-3 months, as all these formalities are depended on the Ministry of education and consulate of Belarus.
If a medical student does not get good marks in the 12th standard but still wishes to pursue MBBS in Belarus than admission to the VSMU is the right decision. VSMU only requires a minimum of 55% marks in PCB in the 12th level For mbbs in belarus.

Visa procedure:
Vitebsk State Medical University let the students come who have education visa available with them. When you are moving ahead for MBBS in Belarus at this university, be sure about the visa procedure. Let's discuss!

Documents required:
Documents required for MBBS in Belarus from this university are as follows:-
Health record
HIV negative report
Birth certificate
Offer letter
Invitation letter
Admission form
Academic record
Bank statement with a minimum balance
Passport
Passport size photograph
Covid-19 negative report
Note: Original documents are required at the time of verification, so don't forget to assemble them together.

Steps to follow:
When you are all set with documents, follow the below-mentioned steps:-
Visit the official website and look out for the visa application form.
When you get the visa application form, make sure to go through all the terms and conditions and scan all the asked documents.
After scanning all the documents, just complete the requirements of Visa and submit the form.
After visa submission, you need to be patient for a while because, within 7 to 10 days, you will receive the confirmation email.
After receiving the confirmation email, visit the regional office for verification.
After verification, it almost takes 15 days for Visa to reach you. Wait for 15 days and be ready to apply for MBBS in Belarus.

After reaching Belarus:
When you reach Belarus, there is a small verification procedure you need to go through. The police verification will be conducted, and they verify about the residence where you are staying and about the cause for which you are traveling to Belarus. After verification, there will be no problem throughout.
We are always here to help students when they are going for MBBS in Belarus. You can rely on us for all future endeavors and discuss if any problems are arising.

Student Life in Vitebsk State Medical University:
Students studying in the VSMU are experiencing a high level of quality education with a modern perspective Under pursuing MBBS in Belarus. Even the people of the country are very friendly to everyone; they are accommodating. University provides the best in class hostel facilities for international students. Yet the university is facilitated with Indian food for the Indian students. The students are fully satisfied with the VSMU environment. MBBS degree holders from the university can settle in any part of the world