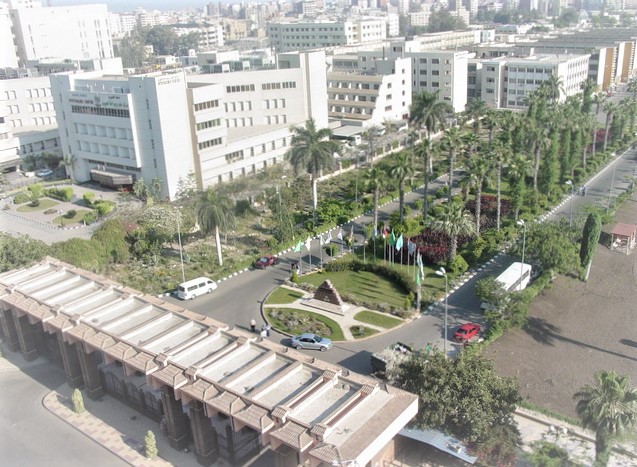 In 1972, Mansoura Universitywas founded in Mansoura City, Egypt. This University is in the middle of the Nile Delta. This is one of the biggest Egyptian Universities available and contributing to the cultural and scientific life of people living in Mansoura and Egypt specifically.
After the changing of its name, this university participated in multiple tournaments, and every year, they bring out the victory. No one can say that they are not sufficient enough to complete the task. There is no doubt in the fact that every time whenever this university comes in front of participating in particular curricular activities, they always perform in a manner that is quite unbeatable.
When it comes to looking at the professionals out there, then all of them are doctorate, and none of them is less than Ph.D. The professionals are so amazing that they have knowledge about theory and practical both. In case a student is facing any trouble in theory or practical part, they can simply ask about it to them. It is quite interesting to note that every year the professionals come up with certain strategies to make concepts more clear to the students. For letting students understand the practical and theory world, they adapt to the strategies that work in their favor to the core that they can get the results as they want.
Every time whenever there is any problem arising to the students, the professionals and security people are there to help them. This lets them understand that they are safe, and there will be no need for them to worry about their safety at all. Mansoura University is best university among all the universities offering MBBS in Egypt.
This University is a public university, and it was announced to be East Delta University. But in 1973, the name has been changed to Mansoura University.
If you want to pursue MBBS in Egypt, then this University is the right choice for you to consider
Mansoura University: Quick Overview
| | |
| --- | --- |
| Founded In | 1972 |
| Location | Mansoura, Egypt |
| Type of University | Public |
| Teaching Staff | 7000 |
| No.of Students | More than 1.5 Lakh |
| Basic Eligibility | 50% In PCB OF 12th |
| NEET-UG | It is Compalsory |
| Indian Food | Yes, Available |
| Official Website | http://www.mans.edu.eg |
Ranking of Mansoura University:
The ranking of Mansoura University according to Times Higher Education:
| | |
| --- | --- |
| Country Rank | World Rank |
| 3rd | 884 |
Faculties of Mansora University:
The faculties available here are as follows:
| | |
| --- | --- |
| S.NO. | Name of Faculty |
| 1 | The Faculty of Medicine |
| 2 | The Faculty of Sciences |
| 3 | The Faculty of Dental Medicine |
| 4 | The Faculty of Pharmacy |
| 5 | The Faculty of Nursing |
| 6 | Technical Institute of Nursing |
| 7 | The Faculty of Veterinary Medicine |
| 8 | The Faculty of Agriculture |
Recognition of Mansoura University:
Mansoura University is recognized by:
Documents required:-
Documents required for MBBS Admission at Mansoura university are as follows:-
12th standard passing certificate
NEET UG examination qualified scorecard
15 passport size photograph
Character certificate
Medical certificate
Passport
Birth Certificate
Migration certificate
Eligibility criteria:-
The eligibility criteria for MBBS in Egypt at this university are as follows:-
Age of a student must not be more than 25 years and less than 17 years.
NEET-UG examination of a student must be qualified
The student must not hold any criminal record in his academic studies
He must have secured 60% marks in 12th standard.
The student must opt for Subjects in 12th standard must be Physics, Biology, and chemistry along with English

Admission procedure:
The admission procedure at this University is as follows:-
At the very first, a student is supposed to scan all the necessary documents required for admission.
Now visit the official website of the university and look forward to the admission form available right there.
Fill it and submit it.
Wait for 3-4 working days.
After verification, offer letter will get generated and sent to the registered email address.
After a generation of the offer letter, pay the fees.
After paying the fees, admission is confirmed.
After confirmation, apply for visa and then you are ready to fly for MBBS in Egypt.

Visa procedure:
Mansoura State Medical University is the best university to consider when you wish to pursue MBBS in Egypt. But for admission completion, you need to get a visa. Let's discuss the visa procedure in detail!
Documents required:
Documents required for MBBS in Egypt from this university are as follows:-
Admission form
Academic record
Offer letter
Invitation letter
Birth certificate
Bank statement with a minimum balance
Passport Health record
HIV negative report
Passport size photograph
Covid-19 negative report
Note: do check out all the original documents and make sure not even a single document is mismatched or. If it happens, the chances of visa application rejection are high.
Steps to follow:
When you wish to get a visa for MBBS in Egypt, the steps you need to follow are:-
At the very first, fill the application form, which is right there on the official website.
After filling out the visa application, scan all the documents and upload them.
After uploading the documents, cross-check the form and submit it.
Wait until you receive the confirmation email.
After receiving the confirmation email, you can simply visit the regional office for the verification procedure.

After reaching Egypt:
When you reach, there is a small police verification procedure which will be done considering the residence and purpose for which you are traveling to Egypt. Here is a zero-tolerance policy, so you need to complete the verification procedure for a hassle-free stay.
Don't worry when you leave for MBBS in Egypt we help you to know about it, and there will be no problem throughout. At Admission Route, we come up with all the options for students.
MBBS In Mansoura University: Benefits
Multiple benefits are served to Indian students who are here for MBBS in Egypt. Few of them are:

There is no need for a student to depend upon his family for his expenses. He can earn while he is learning.

Internship programs have also been designed for all the students in MBBS in Egypt are hair. They will get a monthly salary while they are part of it.

When students want to get a visa for MBBS in Egypt, it is one of the most hassle-free processes available.

The tuition fees and living fees are comparatively less. Students will be able to afford the fees easily. Some scholarship programs have also been introduced for meritorious students.

If you do not feel like a studying for a longer duration, then by being here in an environment where the study is attracting you, one will definitely become someone who is addicted to books. The study environment available here is also very amazing.
Climate is also very suitable here. All those students who are there for MBBS in Egypt will definitely be going to adjust to the surroundings without facing any major difficulties.
Fee structure of Mansoura University:
| | |
| --- | --- |
| Particulars | Annual Fee |
| Tuition Fee | $ 6000 |
| Hostel Fee | $ 600 |
| Resident Permit | $ 150 |
| Total In USD | $ 6750 |
| Total In INR | INR. 4,72,500 Per Year |
Is Mansoura University safe for international students?
Yes, this University is one of the safest places for every international student. The safety and security of every student is their priority. In case a student is facing any difficulty during the time being here, they are supposed to report about it immediately. Authorities will take immediate action towards it and also will not let the same happen again.
Apart from University, when you are there for MBBS in Egypt, the surroundings are also adjustable. You will not feel like there is someone who is threatening you for no reason.
Duration and medium of MBBS course in Mansoura University:
The duration for MBBS in Egypt from this University is 5 Year. Five years will be academic and clinical. if Any students want to continue internship in Egypt who will complete internship 2 year.
MBBS in Egypt at this University will be taught in English. There is no need for a student to worry about language as wel.

Hostel and Indian food facilities:
The hostel at Mansoura University is also well equipped, and there is nothing that is lacking in it. Indian food facilities are also available in case a student is those who do not like any other cuisine then can go for Indian food especially. Moreover, the veg and non-veg sections are also separated. If two of the students are among those who do not like to eat non-veg or pure vegetarian, then they can head towards the vegetarian section.
Additionally, the campus is fully equipped with Wi-Fi, and emergency doctors are also available. Security is also very advanced that no one can feel like they are not safe here.
Personal expenses of an Indian student during the MBBS:
All the tuition fees and hostel fees will be taken by the Mansoura University at once. After that, the expense depends on the student how much he wants to spend throughout the session. Most importantly, some additional programs and internships have also been organized that will let a student earn during learning as well.Therefore there is no need for a student to depend upon their family for a longer duration.
If you wish to pursue MBBS in Egypt, then this Egyptian University, which ranks first among all the University available, is the right choice for you.
Do not waste your time by going here and there and get yourself enrolled as soon as possible