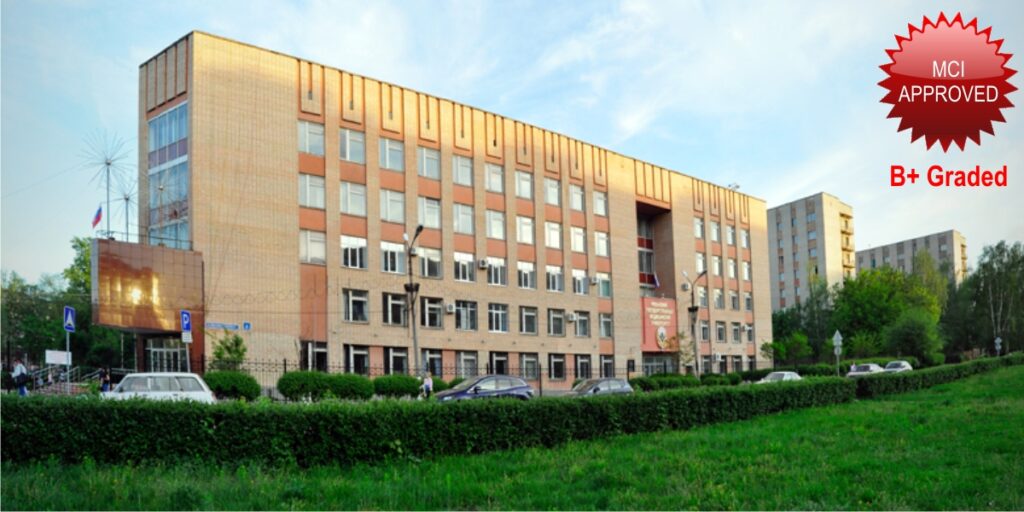 Ryazan State Medical University is one of the best universities to consider because of the faculties because of the atmosphere available here. All those students who are coming air for MBBS in Russia will be going to get the best in every respect.
This was founded in 1915 and is considered to be one of the oldest universities here. Also, from that day till yet, thousands of students have completed their MBBS and are looking forward to something more in their life. The faculties available here do not compromise with any factor when it comes to serving the students with the best.
If you wish to get yourself trained in between professionals and always want the best for you, then this University is the right one for you to consider for MBBS in Russia.​
In Directory of World Medicine Schools by WHO, Ryazan state medical university secured a place as well. It strongly collaborates with all the international educational organizations so that they can come up with the best results. American Pharmaceutical convention and the Medical University of Arizona are the famous organization with which they have collaborated.
It is one of the most renowned Universities of Russia and earned a very high reputation from the time of its existence. Additionally, there are so many international awards like American Golden certificate for the international Prestige Monte Carlo, The Crystal night Malta, Golden lion and some other awards have given to them from the 21st century.
Moreover, there are some other awards collected at the university. In 2004 European quality diploma had been received by the university, which clearly indicates that they are focusing on quality education instead of quantity. At present, there are 5000 students from 45 regions of Russia are studying here. Every year more than 3000 students come from other countries to secure a place in different fields. When it comes to having a look at MBBS education then also they create a place which is quite unbeatable by others.
Ryazan State Medical University: Quick Highlights
| | |
| --- | --- |
| University Type | Public |
| Location | Ryazan Oblast, Russia |
| Founded in | 1950 |
| No. of Students | More than 5000 |
| Medium of Education | English |
| Indian Food | Yes, Available |
| Hostel Type | Government |
| Sports Activity | Yes, Available |
| Basic Eligibility | 10 + 2 Pass with 50% in PCB |
| IELETS & TOEFL | Not Required |
| Cost of Living | 110 USD Per Month |
| Admission Processing | 30- 35 Days |
Recognition of Ryazan State Medical University:
Ryazan State Medical University is recognized by:
| | |
| --- | --- |
| S.NO. | Recognized by |
| 1 | MCI |
| 2 | WHO |
| 3 | UNESCO |
Ranking of Ryazan State Medical University:
| | |
| --- | --- |
| World Rank | Country Rank |
| 3768 | 92 |
Duration of MBBS and medium of teaching:
Duration of MBBS in Russia this University is 6 years, and it includes an internship as well.
The medium of teaching preferred is English.
Ryazan State Medical University: Faculties
| | |
| --- | --- |
| S.NO. | Name of Faculty |
| 1 | Faculty of medicine |
| 2 | Faculty of dentistry |
| 3 | Faculty of nursing |
| 4 | Faculty of postgraduate program |
| 5 | Faculty of stomatology |
Why choose Ryazan State Medical University?
When it comes to looking at the parameters linked with University, there are multiple available, and all contribute to MBBS in Russia from this University to an extent. Some of them are:
When it comes to looking at the professor, there are more than 639 processes are available, and all are highly qualified.
More than 50 departments are available, and 16 educational training buildings 50 internship And the Residency programs for students are available.
From this University, more than 56000 professionals are graduated, and all of them are doing very great in their lives.
Eligibility criteria of Ryazan State Medical University:
Eligibility criteria at Ryazan State Medical University for MBBS in Russia are as follows:-
The age of a student must be less than 25 years, and it must be more than 17 years.
A student must have physics, chemistry, biology, and English as the main subject in 12th standard.
The marks scored in the 12th standard must be more than 60%.
A student must hold a good moral character.
A student must have a qualified NEET-UG examination.

Ryazan State Medical University: Fee Structure
| | |
| --- | --- |
| Particulars | Annual Fee |
| Tuition Fee | $ 4500 |
| Hostel Fee | $ 500 |
| Visa extension & Insurance | $ 150 |
| Total Fee In USD | $ 5150 |
| Total Fee In INR | INR.3,60,500 |
Documents Required for MBBS Admission:
Documents required for MBBS in Russia include:
12th standard passing certificate
12 passport size photograph
Passport
Birth certificate
Transfer certificate
Character certificate
Migration certificate
Scorecard of NEET-UG examination

Admission procedure:
Admission procedure at Ryazan State Medical University is as follows:-
Scan all the necessary documents asked for the admission.
Go through the official website and look forward to an application form.
Fill the application form and attach all the necessary documents.
Submit the form and wait for two-three days.
Within 2-3 days offer letter will get generated after verification of documents.
When the offer letter will get generated, pay the fees.
After paying the fees for admission is confirmed.
Now apply for Visa.
After getting the Visa, you are ready to travel for MBBS in Russia.
Visa Details to get Admission in Russia:
Ryazan State Medical University is among those universities that have set up high education standards. When you are part of this university, make sure to have VISA as well. Let's discuss for visa procedure in detail!
Documents required:
Documents required to apply for Visa for MBBS admission in Russia are as follows:-
Birth certificate
Caste certificate
HIV negative report
Covid-19 negative report
Health record
Passport size photograph
Original passport
Aadhar card
Bank statement with a minimum balance
Invitation letter
Offer letter
For all the candidates, it is important to have all the original documents available. The embassy will ask for the documents at the time of visa verification and for other formalities as well. Therefore have them available in a folder so that you can present them whenever required.
Steps to follow:-
The steps that you need to follow for getting Visa are as follows:-
Scan all the necessary documents.
Look out for the application form and fill in all the details.
After filling out the application form, submit the form.
After a form has been submitted, you should wait for an email, usually within 15 days, to be notified of the next steps to take.
After receiving the confirmation email, visit the regional office and go through the verification procedure.
After going to the verification procedure, you can simply pack your bags get the Visa, and fly for MBBS in Russia.
After reaching Russia:
Russia as a country is quite about rules and regulations, and for all international students, it is important to go through the verification procedure as well. The police and the Russian embassy are engaged in the verification procedure. Make sure you have all the original documents because if all the documents are not there, the verification procedure will get terminated.
Benefits of doing MBBS from Russia:
Multiple benefits will be available to you when you are pursuing MBBS in Russia. These include:-
Low fees structure
MCI and WHO recognized universities
Well-equipped research labs and classrooms
Ryazan city is considered to be a safe city
Accommodation facility is top class
Only NEET-UG examination is required for admission
Public transportation facility is available
Security is a high class
Ragging free campus
Indian Hostel facility:
When it comes to looking at the hostel facility available at Ryazan State Medical University, it is up to the mark. It includes:-
Transportation facility at the hostel.
Indian wardens are available.
24 by 7, Wi-Fi, electricity, and filtered water are available.
Emergency doctors are available.
No ragging is allowed inside the hostel.
Rooms are well ventilated, along with all the basic amenities.
For girls and boys, the hostels are separate.
Mess facility:
Mess facility is also up to the mark hair. There will be no need for a student to feel like anything is missing in the mess or the mess people are not Cooperative. Basics linked with mess includes:-
Dining area is well equipped
Filtered water is available
Regularly different food prepared
Separate sections for vegetarian and non-vegetarian food
Neat and Clean surroundings
Four times meal will be served to students
Timings for breakfast, lunch, supper, and dinner are fixed
In case a student is sick mess people will prepare the food as the doctor recommended
How can students save money while doing MBBS in Russia from RSMU?
As a medical student, you have to be extra careful with your finances since your studies can be very expensive. If you're studying MBBS in Russia from Ryazan State Medical University, here are a few ways you can save money:
1. Look for scholarships and grants.
There are various scholarships and grants available for medical students studying in Russia. Do your research and see if you qualify for any of them. This can help you save a lot of money on your tuition fees.
2. Get a part-time job.
Working part-time while you're studying can also help you offset some of your costs. Check with your university if they have any work-study programs available.
3. Avoid unnecessary expenses.
As a medical student, you'll be tempted to spend money on things that you don't really need. Be wise with your finances and only spend money on things that are absolutely essential.
4. Create a budget.
One of the best ways to save money is to create a budget and stick to it. Determine how much money you need for your living expenses and make sure you don't exceed that amount.
5. Live frugally.
You don't have to live like a pauper to save money while you're in medical school. However, you should try to live as frugally as possible. This means avoiding unnecessary expenses, eating out, and splurging on unnecessary items.
These are the ways through which one will be able to save money. It is a must that one is not going beyond their limits when it is about managing the expenses!
About Ryazan City:
When it comes to looking at the oldest cities in Russia, the city hit at the top. It is situated on the riverbank called OKA. From Russia's capital, Ryazan is 199 km away. It is one of the best cities and connected through waterways as well. Transportation facility is also available, and you can go through road and rail transport easily. Also, the best part about the city is it is very easy to travel because everyone is so friendly here that they will help you to know about the place more easily.
Also, when it comes to looking at history, there are multiple museums, palaces, and other concert halls are available that will help you to know about the city mo. Also, some parks and theatres are also available for the purpose of fun.
This city is available with some scientific organizations that help students to conduct research easily. Hurry up, get yourself enrolled for MBBS in Russia from this university as soon as possible and start your medical career effectively.