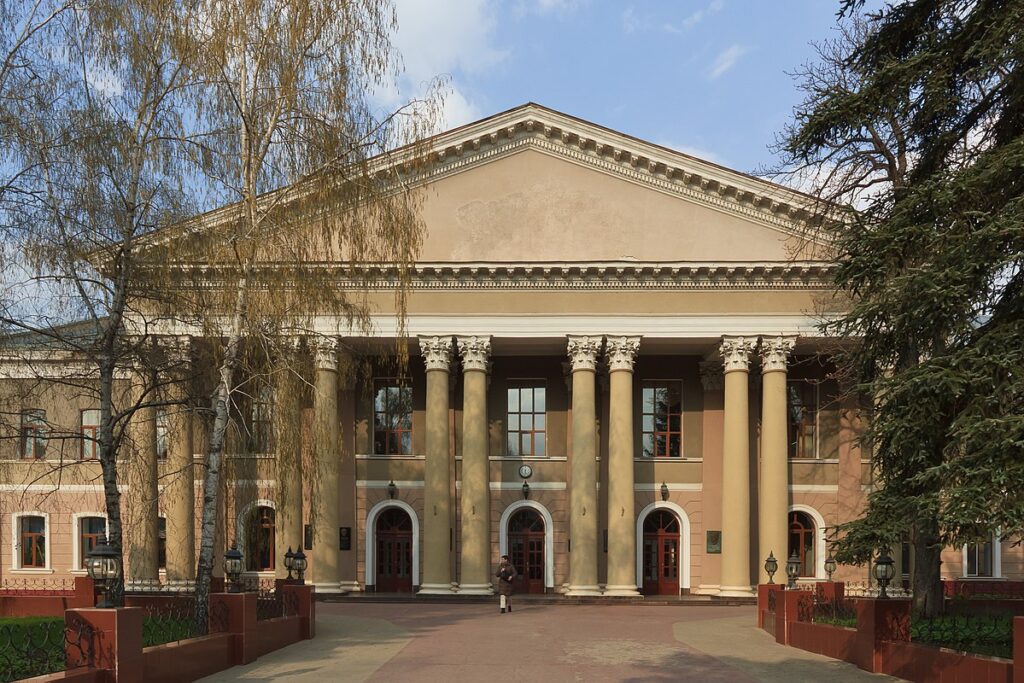 Now, Crimea Federal University is under the Federal control of Russia. It is becoming one of the most popular Universities among all the Indian students. There is no doubt in the fact that this university has acquired a place which is quite unbeatable. When it comes to having a look at particularly qualified Academic Staff then also they are hitting at the top. In total there are 800 teachers, and among all of them some are Doctors of Science and professors, and other is a candidate of science. There is no one who is less than a PhD. Associate professors are also there who are taking an interest in different aspects.
Moreover, Crimea Federal University is among those universities which let individuals to explore their skills with the help of different facilities.
Having a look at their Camper then they have a hostel spread in almost 17.3 hectares, and 16 educational buildings along with five hostels are them. The tracks are covered, and athletics Arena is different as well. This university provides all the possibilities to the student so that they will be able to build up their career more successfully. When it comes to providing quality education, they never compromise with any of the aspects because providing students with best is there topmost requirement. A student will be able to pursue their dreams without any hassle. There will be no need for them to end up with something which is not working in their favour.
Crimea Federal University is present in the Crimea region in Russia. This university founded in 1918. Formerly this university was named Crimea Federal University but gain popularity as Crimea State Medical University. It is among the best government universities in Russia. This university has employed 799 experts in its teaching staff. Among them, many are doctors, PhD holders, and associate professors. Its teaching faculty also includes state prize lecturers, and other honoured staff. Crimea Federal University has students from 45 countries around the world. It is recognized by the MCI (Medical Council of India). The university has taken part in 16th international Research programs and issued many scientific journals.

Crimea Federal University:Quick Highlights
| | |
| --- | --- |
| Founded In | 1918 |
| University Type | Government |
| Affilated By | WHO, MCI & UNESCO |
| Location | Crimea, Russia |
| Medium of Study | English & Russian |
| Duration of MBBS Course | 6 Year |
| Last Date of Apply | first Week of August |
| No.of Students | More than 4500 |
| Indian Food Option | Yes |
| Cost of Living Per Month | 200 USD Include Mess |
| Library | Yes |
| Official Website | http://www.ma.cfuv.ru/page/show/docid/5047 |

Ranking of Crimea FederalUniversity:
| | |
| --- | --- |
| Country Rank | World Rank |
| 13 | 8204 |
According to the 4icu, Crimea Federal University is on 8204 ranks among the 11000 other universities and country rank is 13th.

Crimea Federal University: Faculties
| | |
| --- | --- |
| S.NO. | Name of Faculties |
| 1 | Faculty of general medicine |
| 2 | Faculty of pediatrics |
| 3 | Faculty of BDS |
| 4 | Faculty of nursing |
| 5 | Faculty of Pharma |
| 6 | Faculty of pre-Medical/Foundation |
Documents Required:-
Documents required for MBBS Admission at this university for admission are as follows:-
12th standard passing certificate
NEET-UG examination qualified scorecard
12 passport size photograph
Character certificate
Medical certificate
Passport
Birth Certificate
Migration certificate

Eligibility criteria:-
The eligibility criteria for admission at Crimea Federal university are as follows:-
Age of a student must not be more than 25 years and less than 17 years.
NEET-UG examination of a student must be qualified
The student must not hold any criminal record in his academic studies
He must have secured 60% marks in 12th standard.
The student must opt for Subjects in 12th standard must be Physics, Biology, and chemistry along with English
Admission procedure:-
The admission procedure for admission is as follows:-
At the very first, a student is supposed to scan all the necessary documents required for admission.
Now visit the official website of the University and look forward to the admission form,
Fill it and submit it.
Wait for 3-4 working days.
After verification, offer letter will get generated and sent to the registered email address.
After a generation of the offer letter, pay the fees.
After paying the fees, admission is confirmed.
After confirmation, apply for visa and then you are ready to fly for MBBS in Russia.

Duration of MBBS:-
The duration for MBBS in Russia at Crimea Federal university is of 6 years. Basically it will get completed in 5.8 years. Academic education and internship is the part of this duration. So there will be no need for an individual to look for internship outside.

Visa procedure and other details:
When you are coming to Crimea state Medical University make sure to carry your visa as well. Getting a visa is not an overnight thing, so student needs to be sure about the procedure and documents required for it.

Documents required for Visa:-
Crimea State Medical University believes in providing students the best possible way to complete their MBBS. But Visa is the primary requirement, so you need to fulfill the same. The documents required are as follows:-
Passport size photographs
Academic record
Original passport
Aadhar card
Birth certificate
Invitation letter
Offer letter
Bank statement with a minimum balance
HIV negative report
Covid-19 negative report
Health record
Don't forget to scan all the documents when you apply for Visa because if the documents appear to be fraudulent or not scanned, the application will get rejected, and you need to apply for it.

Step to apply for Visa:-
When you are all set with scanning the documents to apply for Visa, the steps are as follows:
Fill out the application form for Visa, and online and offline, both the modes are available you can choose any of them.
After filling out the form, upload all the documents, make sure to upload the scan copy and in the same format as asked.
After uploading the documents wait for 5 to 7 days until you receive the confirmation.
After receiving the confirmation, you need to visit the regional office and get the verification done.
After the verification is completed, you are all set to fly for MBBS in Russia at Crimea State Medical University.

After reaching Russia:
After getting the use of a new move to be part of Crimea State Medical University, there is a verification that you need to complete. The verification is important for all international students. On this day, look out at the visa application you are holding along with all the documents and also cross-check your record.
Don't worry as our officer will help you to go through this procedure and make you feel comfortable as well. You can simply get in touch with them and go through this procedure seamlessly.
At Admission Route, we are coming up with all the options, so don't worry about anything and just get in touch with us to fulfill your dream of MBBS in Russia.

About Teaching Staff in Crimea Federal University:
Crimea Federal University is known for the highly educated and experienced staff members. All the teaching faculties are available full day for the students. Even international students are specially attended by the teachers to make them comfortable in the university environment. The teachers help them in their studies to do well in their academics. More than 500 professors are working full time on the university campus. Various activities are organized by over 100 honoured employees of the university. The teaching staff of the university is from multiple fields, that make their work commendable in the faculties of the university.

Crimea Federal University: Fee Structure 2023
Particulars
Year 1
Year 2
Year 3
Year 4
Year 5
Year 6
Tuition Fee
3800 USD
3800 USD
3800 USD
3800 USD
3800 USD
3800 USD
Hostel Fee
150 USD
150 USD
150 USD
150 USD
150 USD
150 USD
Total Fee in USD
3950 USD
3950 USD
3950 USD
3950 USD
3950 USD
3950 USD
Total Fees in INR
3,27,850 INR
3,27,850 INR
3,27,850 INR
3,27,850 INR
3,27,850 INR
3,27,850 INR
APPLY NOW
Benefits of MBBS at Crimea Federal University:
This university is a highly scientific and outstanding educational institute in the Crimea region. This university conducts over 50 themes every year. More than 1700 international students are enrolled in the MBBS course at the university. About 4700 students are taking their education. Beneficiary features of the university are mentioned below:
The university offers an MBBS in Russia degree at a little cost. The cost for the full MBBS degree program is 12-15 lacs.
The mode of teaching in the university is English. This makes the learning process easy for international students.
The total period of MBBS in Russia degree is of 6 years. First 5 years are focused on classroom learning, while in last year the students are trained at the reputed hospital or health centres for one year as an intern.
The degree holders from the Crimea Federal University are settled successfully in their careers worldwide.
If a medical aspirant does not score good marks in the PCB in secondary examinations but wanted to pursue an MBBS degree, then consider MBBS admission in Russia. Russia is a very excellent country in terms of medical education. The reason is being its Low fees structure and high-end training.
Students only require a minimum of 50% marks in the 12th standard in PCB.
The admission procedure for MBBS in Russia is also straightforward. The students only require their 10th and 12th mark sheets. Birth certificate, passport, invitation letter from the university.
For the MBBS admission in Russia, students do not need to go through any entrance exams. NEET exam is compulsory for each candidate with a qualifying score.
About Campus and Hostel:
The university campus has 16 buildings. The school is equipped with all modern technologies. the university also has a built-in sports center and athletic area for the interested students during MBBS in Russia. The hostels of the university are built in an extensive area. It has five buildings covering about 17.3 hectors of land for MBBS In Russia. The hostel has an Indian food mess for the Indian students. Hostel rooms are well furnished as well as equipped with modern technology.
For the MBBS in Russia, this university fulfil all the concerns of MBBS aspirants.
How students can manage expense while pursuing MBBS in Russia from Crimea Federal University?
Students often struggle when it comes to managing expenses while pursuing MBBS in Russia from Crimea Federal University. There are a lot of expenses associated with studying abroad which can be overwhelming and add stress to the process. Fortunately, there are a few tips that can help students manage their expenses while pursuing MBBS in Russia from Crimea Federal University.
Tips to follow:
1. Plan Ahead:
Planning is the key to successful budgeting, both before and during studying in Russia. Proper planning can minimize the cost of living and tuition fees. Before travelling to Crimea Federal University, research affordable accommodation, food and transportation options. Planning ahead will also help students prepare for any unexpected costs that may occur during their stay.
2. Make use of scholarships and grants:
Students should research scholarships, grants and other forms of financial aid that may help reduce the cost of studying MBBS in Russia from Crimea Federal University. Most universities offer a wide range of grants and scholarships for international students that can help cover tuition fees and living expenses.
3. Research exchange rates:
Researching and understanding exchange rates is important for students who are looking to manage their expenses while studying in Russia from Crimea Federal University. Knowing the local currency and exchange rate will help students make an informed decision while spending money.
4. Utilize Public transportation:
To save money, students should consider using public transportation while studying MBBS in Crimea Federal University. It is often cheaper and more convenient than other forms of transportation.
5. Master budgeting:
Developing budgeting skills is essential for any student who is studying MBBS in Russia from Crimea Federal University. Understanding and tracking expenses will help students manage their money more efficiently, while also minimizing unnecessary spending.
Overall, managing expenses while studying MBBS in Russia from Crimea Federal University can be a daunting task. By following these 5 tips – planning ahead, making use of scholarships and grants, researching exchange rates, utilizing public transportation, and mastering budgeting – students can successfully manage their expenses and get the most out of their time studying overseas.