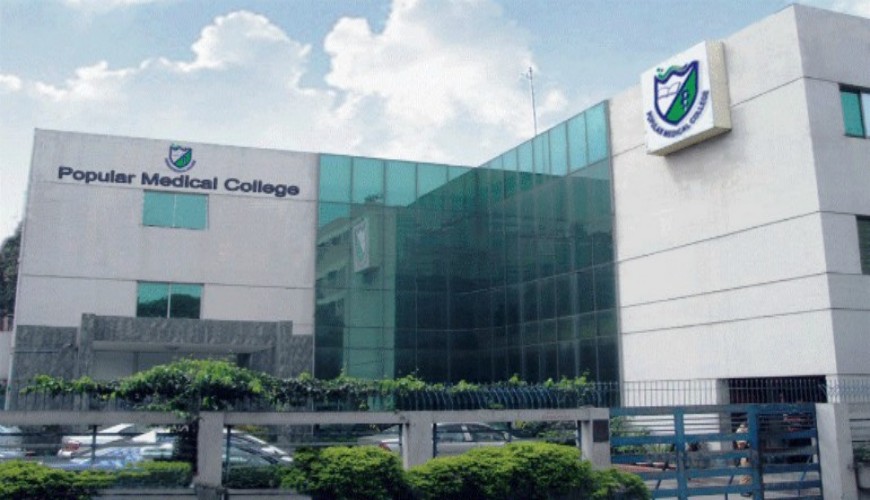 About Popular Medical College:
Popular Medical College was founded In 2010. The exceptional care Popular Medical College provides its MBBS students has helped it earn an enviable reputation. This well-known medical college is conveniently located in the heart of Dhaka. You'll find most of the city's public amenities within a five-kilometre radius of the university.
The college campus is conveniently close to public transportation stops, restaurants, and retail centres. Students may stay near the campus in a fully equipped dormitory with a dining hall and communal eating space. When it comes to private healthcare in the nation, Popular Group is the sole option for cutting-edge services.
Recognition to the Popular Medical College:
Faculties at the Popular Medical College:
Faculty of Paediatrics
Faculty of Dermatology
Faculty of Psychiatry
Faculty of Nephrology
Faculty of Neurology
Faculty of Gastroenterology
Faculty of Dental Surgery
Faculty of Respiratory Medicine
Faculty of Anaesthesiology
Faculty of Radiology & Imaging
Faculty of Physical Medicine
Rank of the Popular Medical College:
National: 60
Eligibility criteria to take admission in Popular Medical College:
Completed the specified course in the subjects of the examination.
Certificate of good conduct from the heads of the departments.
Attendance in 75% of the classes held (Lecture, Tutorial & Practical).
Obtained 60% mark in all three term examinations.
Paid university examination fees.
Documents required for admission in Popular Medical College:
Certificates of SSC and HSC/equivalent exams
Photographs in passport size
Birth Certificate
Caste Certificate
Report on Covid-19
Police Clearance Certificate
Application form
National identification card medical certificate
Certificate of transfer
Certificate of HIV testing
Passing certificate Invitation letter
Certificate of Migration
Bank receipt with a valid passport
NEET scores on a valid passport
Admission process at Popular Medical College:
Step 1: Applying to Popular Medical College with the necessary materials is an option for international students. Within three weeks of receiving their application, they will be informed of their acceptance decision. Applications may be submitted online.
Step 2: In addition to the documents above, including equivalence certificates of the mark above sheets from the Director of Medical Education, DGHS of Bangladesh (the DGHS in Dhaka shall organise this). Students can apply through the Embassy of Bangladesh in the prescribed form (downloadable from the website of Popular Medical College).
Step 3: The admission process of MBBS in Bangladesh at Popular Medical College will commence after the college receives the application forms, equivalency certificate, and other needed documents. An admission offer will be sent to the candidate within seven days of the DGHS receiving an application. Within the time frame indicated in the notice, all applicants must finish processing their admission.
Step 4: Applicants can also use the services of any legitimate intermediary. In such a situation, the agency must submit the necessary paperwork and coordinate the admissions process. Within the time frame indicated in the notice, all applicants must finish processing their admission.
Benefits of taking admission to an MBBS in Bangladesh in PMC:
The National Quality Assurance Body (NQAB) of Bangladesh oversees the quality of the medical curriculum.
The college campus has excellent transit connections and a well-equipped dorm.
Full-time, highly qualified, experienced and effective educators running a cutting-edge educational facility.
You can choose from a variety of foods that are all balanced, nutritious, healthful, and inexpensive.
The college is located in a convenient part of Dhaka, Bangladesh's capital.
The Health and Family Welfare Ministry is responsible for running the university.
A rigorous Quality Assurance Organisation keeps an eye on the school system.
There is a resource dedicated to assisting pupils.
Medium of teaching at Popular Medical College:
The medium of teaching at Central Medical College is English.
Hostel facilities at Popular Medical College:
Practicals and exercises are offered to students at the hostel to assist them in developing their skills.
The health care system, public schools, and private homes all meet or exceed the standards of other developed nations.
The facilities and equipment at the hostel are top-notch.
The student dormitories of Popular Medical College hostel are a refuge of contemporary comfort in the middle of the stresses of college life. The dormitories are positioned conveniently close to the campus so that students may spend their time studying in a calm and focused environment. Elegantly appointed, the rooms provide a wide range of student preferences for privacy and quiet study. A high standard of cleanliness and hygiene is maintained throughout the building. The dining hall has become famous for its dedication to meeting the dietary needs of medical students in training. Recreational areas guarantee that students have plenty of time to unwind and meet new people, fostering a balanced lifestyle. Hostel services at Popular Medical College reflect the college's commitment to its students' well-being as a whole, not simply their academic development.
Tips for students to manage expenses during MBBS in Bangladesh:
Public Transportation: Students in Bangladesh may take use of the wide public transportation network by purchasing monthly or student-discounted tickets for buses, trams, or trains. When compared to the use of personal automobiles or conventional taxis, this option is not only more economical but also less harmful to the environment.
Bulk purchase: In the field of medicine, specialised tools and materials are often required for research. In order to save money, groups of students might buy in bulk rather than individually. The savings from sharing seldom utilised resources may be substantial.
Part-time Employment: Opportunities for part-time employment, such as teaching or freelance writing, are available in some locations in Bangladesh. These opportunities allow students to supplement their income while still allowing them to meet their academic responsibilities.
Denoting Reach Admission Route for MBBS Admission in Bangladesh!
Bangladesh is an intellectual haven for individuals who are ready to take a life-changing step into the realm of medicine. More than merely a means of access, the "Reach Admission Route" reflects Bangladesh's dedication to shaping the future medical leaders of the country. This all-inclusive path has been carefully created to ease and expedite the admission journey for every aspiring doctor, leaving no stone left in the process. It establishes best practices for the medical industry by promoting openness, equality and access. When prospective students are on the verge of deciding whether or not to pursue an MBBS degree, the Reach Admission Route is there to provide a steady hand and introduce them to Bangladesh's illustrious academic history.