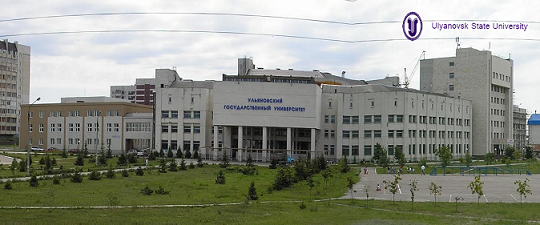 Ulyanovsk State University is an educational research institute located in Ulyanovsk city in Russia.This University was established in 1988. About 7 lakh people used to live in Ulyanovsk. Of all the Universities of Russia, Ulyanovsk State University was the first to link with Bologna Process.
Then this university improves its Masters's, Bachelors's, and doctoral degree principles.
Ulyanovsk State Universityis one of the largest universities in the country.
The university has six colleges in which 16000 students are studying. Significant numbers of international students are also enrolled there, such as students from countries like India, South America, North America, and Europe.
Ulyanovsk State University is known for its higher standard education and its follows scientific principle.
If an individual wants to pursue MBBS in Russia, then Ulyanovsk State University has better opportunities than any other university.
In the field of medicine, Ulyanovsk State University has 17 departments.
Over 1000 students graduated every year with a medical degree.
This is an accredited university as it is recognized by the MCI (Medical Council of India) and WHO (World Health Organization).

Ulyanovsk State university:Quickhighlights 2023
| | |
| --- | --- |
| Established In | 1988 |
| Type of University | Public |
| Recognized By | WHO, MCI & UNESCO |
| Location | Ulyanovsk, Russia |
| No.of Students | 16000 |
| Medium of Study | English & Russian |
| MBBS Course Duration | 6 Year |
| Last Date of apply For Admission | First week of September |
| Mess & Hostel Available | Yes, Available |
| Personal Living Cost | 120 – 160 USD Per Month |
| Eligibility | 50% in PCB of 12th |
| Academic Staff | 1254 |
Ulyanovsk state University: Ranking 2023
| | |
| --- | --- |
| Country Rank | World Rank |
| 145 | 4677 |
Ulyanovsk state university: Recognition
Ulyanovsk State University is recognized by:
Eligibility Criteria For MBBS Admission:
Medical students who did not score good marks in their academics but still wish to pursue MBBS, then MBBS in Russia is an excellent option to choose. To get admission for MBBS in Russia, aspirants need to go through a screening test. The rules for admission at Ulyanovsk State University are as mentioned below:
The university requires a minimum of 50% marks in PCB in the 12th standard. Besides, passing marks in the language (English) is also compulsory.
Students who belong to reserved categories (SC, ST, or OBC) are eligible with 40% marks in PCB in 12th Standard.
The students should attain the age of 17 by the end of the year of admission.

Ulyanovsk State University- MBBS Syllabus
The syllabus of MBBS course and the pattern are as follow: Here Students have to complete MBBS Syllabus for 6 Year.
1st Year-
| | |
| --- | --- |
| Semester-1 | Semester -2 |
| Anatomy | Anatomy and Histology |
2nd Year-
| | |
| --- | --- |
| Semester-3rd | Semester-4th |
| Physiology | Biochemistry |
| Cell Biology | Microbiology |
| Anatomy | Physiology |
| Biochemistry | – |
| Microbiology | – |
| Histology | – |
| General Pathology | – |
3rd Year-
| | |
| --- | --- |
| Semester – 5th | Semester- 6th |
| Pathology | Genetics and principles of clinical medicine |
| Micro-Biology | Pathology |
| Path physiology | Pharmacology |
| Pharmacology | Path physiology |

4th to 6th Year-
7th to 12th Semester
Cardiology
Obstetrics and Gynecology
ENT
Neurology
Psychiatry
Neurology and Psychiatry
Pediatrics
Internal medicine
Primary Care medicine
Psychology
General Surgery
Emergency Medicine
Oncology
–

Admission procedure:
The admission procedure at Ulyanovsk State University is as follows:-
At the very first, a student is supposed to scan all the necessary documents required for admission.
Now visit the official website of the University and look forward to the admission form available right there.
Fill it and submit it.
Wait for 3-4 working days.
After verification, offer letter will get generated and sent to the registered email address.
After a generation of the offer letter, pay the fees.
After paying the fees, admission is confirmed.
After confirmation, apply for visa and then you are ready to fly for MBBS in Russia.
Documents Required For MBBS Admission:
Following documents are required for MBBS admission in Russia:
Xerox of passport
Birth certificates (attested)
Detail marks sheets of 12th and 10th
Recent Passport size photograph

Visa procedure and other details:
Ulyanovsk State University not only offers MBBS in Russia but also is known for hassle-free admission procedures.
But when you are applying for MBBS in Russia at this university, you need to be sure about the visa as well. If your visa application is not approved, you will not be able to be a part of this university at all.

Documents required to apply for Visa:
Documents that are required to apply for a visa for Ulyanovsk State University are as follows:-
Invitation letter
Offer letter
Identity proof
Original passport
Passport size photograph
Birth certificate
HIV-negative test reports
Aadhar card
Covid-19 negative reports
Bank account statement with a minimum balance
We would like to know that some additional documents may also be required, so don't forget to carry all your documents along when visiting the nearby office for verification.

Steps to apply for Visa:-
When you are all set to choose MBBS in Russia at Ulyanovsk State University, the steps you need to follow are:-
At the very first, fill out the visa application form and upload all the documents.
Make sure to scan all the documents properly, and all the details are visible because if these do not appear to be visible, the chances of rejection are high.
Now, wait for the moment until you receive the confirmation letter.
After receiving the confirmation letter, you need to visit the regional office for verification.
When the verification is done within 15 days, the VISA will get delivered to your doorsteps, or you can collect it from the regional office.

After reaching Russia:-
When you reach Russia, the Russian embassy also verifies all the documents, and you need to present yourself in front of them. Don't worry because our officer will help you throughout. Also, make sure to carry all the original documents because if the documents are not original, they will not accept it, and unfortunately, you need to come back to India.
At Admission Route we will help you throughout, and no such trouble will arise at all. Just pay attention to what the requirement and fulfill them accordingly.

Ulyanovsk State University: Fee structure 2023
Particulars
Year 1
Year 2
Year 3
Year 4
Year 5
Year 6
Tuition Fee
4000 USD
4000 USD
4000 USD
4000 USD
4000 USD
4000 USD
Hostel Fee
800 USD
800 USD
800 USD
800 USD
800 USD
800 USD
Total Fee in USD
4800 USD
4800 USD
4800 USD
4800 USD
4800 USD
4800 USD
Total Fees in INR
3,98,400 INR
3,98,400 INR
3,98,400 INR
3,98,400 INR
3,98,400 INR
3,98,400 INR
APPLY NOW
Faculties of Ulyanovsk State University:
| | |
| --- | --- |
| S.NO. | Name of the Faculties |
| 1 | General Medicine |
| 2 | Economics & Business Administration |
| 3 | Physics & Engineering |
| 4 | Information Technology |
| 5 | Law |
| 6 | Ecology |
| 7 | Culture and arts |
| 8 | Public Services |
Ulyanovsk State University: Medical Courses
| | |
| --- | --- |
| 1. Obstetrics and gynecology | 2. Ear, throat and nose diseases |
| 3. Internal diseases | 4. Cardiology |
| 5. Paediatrics | 6. Infectious diseases |
| 7. Nervous system diseases | 8. Oncology |
| 9. Anatomical pathology | 10. Physiological pathology |
| 11. Physiology | 12. Histology, cytology, cell biology |
| 13. Psychiatry | 14. Dentistry |
| 15. Radiation diagnostics and therapy | 16. Traumatology and Orthopaedics |
| 17. Pharmacology, clinical pharmacology | 18. Pathobiology |
| 19. Surgery | 20. Neurosurgery |
| 21. Public healthcare management | 22. Gastroenterology |
| 23. Gerontology and geriatrics | 24. Animal pathology, oncology and morphology |
| 25. Animal pathology, oncology and morphology | 26. Medical psychology |
| 27. Theory and methods of physical education, exercise, and adapted physical training | |

Hostel facilities:
When it comes to look at the hostel facilities then this university is efficient enough in the same. The hostels are separate for girls and boys and the security is appropriate enough as well. In case there is any problem to the student they can report about the same to the authorities and they will be going to look into the whole matter.
Also, usually in hostel premises the problem arises with wardens. But here the same problem will not going to hit the individual at all. They will be able to manage the things in coordination with them. At the hostel transportation facility is also there, if a student wishes to go somewhere to explore the city or any other place, they can go for the same as well.

Benifits of MBBS From Ulyanovsk State University-
For getting MBBS admission in Russia,Ulyanovsk State Universityis the best university.
It offers an MBBS course of 6 years. The first five years are focused on theoretical and practical knowledge, while the final year is of training in the hospitals.
One of the significant benefits of studying MBBS in Russia is in the fee structure. Ulyanovsk State University charges only 21 lakh for the MBBS, much cheaper than other medical universities.
Indian students are treated with love and respect from the locals.
Students in this university will get to know different cultures through events organized by the university authority.