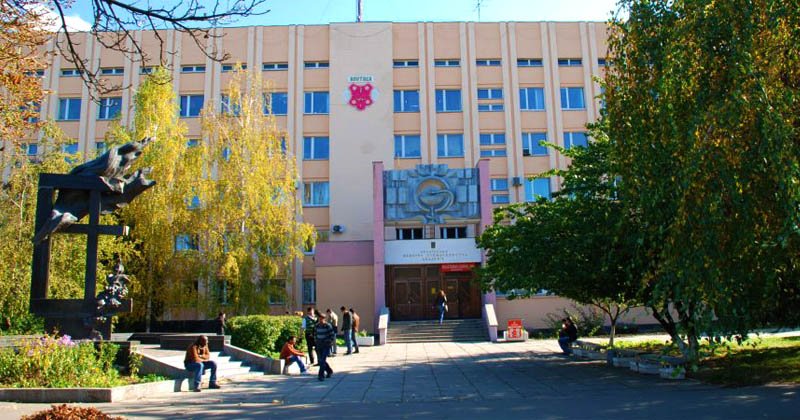 Poltava state Medical University is one of those universities which are known to offer MBBS in Ukraine from a very long time. It was established in 1921 and also known as Ukrainian Medical and Stomatological Academy.
The dental Faculty of Kharkiv medical academy, in 1921 is known to be the founder of this University. After sometime in 1967, it was moved in the city of Paul tower. And after that the name of the University has been renamed. Now the University is known by the name of Poltava Ukrainian medical stomatological academy.
There were so many steps that were taken to improve the quality of education hair. In 1992, faculty for international students came here to improve the method of teaching the medical students and to let them understand the concept more effectively. At that time, there were almost 938 international students available from more than 42 countries over the globe. The countries included includes were Iraq, Jordan, India, Syria, Pakistan, Russia, and so on.
For MBBS in Ukraine, this is considered to be one of the best University, and it has a level 4th accreditation as well.
If you are looking forward to MBBS in Ukraine, you must have a look at Poltava state Medical University as well.

Recognition of Poltava state Medical University:
Poltava state Medical University for MBBS in Ukraine is recognised by:
WHO
MCI
I-MED
PMDC
MCN
Ranking of Poltava state Medical University:
| | |
| --- | --- |
| Country Rank | World rank |
| | |
| 76 | 7255 |
 Faculties of Poltava state Medical University:
Faculty of toxicology
Faculty of pediatrics
Faculty of oral surgery
Faculty of pharmacology
Faculty of orthopedics
Faculty of dental

Benefits of MBBS from Poltava state Medical University:
When an Indian student is looking forward to MBBS in Ukraine, these are the benefits that will be served to him.
These are:
Fees for tuition and Accommodation are very low.
Ragging free campus is available.
Security is top class.
Faculties available are considered towards the growth of a student in every aspect.
Scholarship programs of also been introduced by the University.
The area of Ukraine is comparatively safe.
The library is available 24 by 7.
Hostel and mess facilities are also Top class.
The climate available here at Ukraine is also amazing.
And many other advantages are there that will be served to you whenever you are approaching Poltava state Medical University for MBBS in Ukraine. Every time the councillors are available to help you in every respect.
Poltava state Medical University at a Glance:
| | |
| --- | --- |
| Last Date to Apply | August, 2020 |
| Basic Eligibility | 50% in PCB |
| NEET Exam | Yes, it is compulsory |
| Course Fee | Rs.2.80 Lakhs/Year (approx.) |
| Course Duration | 6 years including internship |
| Medium of Education | English, Russian or Ukrainian |
| University Ranking | Country Rank – 76 World Rank – 7255 |
| Accreditation | 4th level Accreditation |
Duration of MBBS course:
The duration for MBBS in Ukraine at our state Medical University is 6 years.
The session is divided into two parts:-
Five years is for learning about academic, theoretical and practical knowledge
1 year for internship. The internship will be done by the student in Ukraine only.
Medium of teaching:
The medium of teaching opted by the teachers at Poltava state Medical University is English. The English language is considered for teaching the course.
There is no need for a student to learn any particular language to be part of this University.

Eligibility criteria of MBBS admission:
Eligibility criteria are must fulfill whenever a student is looking forward to MBBS in Ukraine at Poltava state Medical University. It is as follows:-
The age of a student must be more than 17 years and less than 25 years.
A student must have completed his 12th with PCB along with English.
Valid identity proof is a must to get available with a student.
NEET UG examination must be qualified.
A student does not hold any bad moral character in school, as well.
Documents required for MBBS Admission:
Papa getting eligible for admission, it is necessary to know about the documents as well. Documents for MBBS in Ukraine include:
Passing certificate of 12th standard with more than 60% marks.
Valid identity proof. It could be a passport with a minimum of 18 months of validity.
8 to 10 passport size photographs with white background.
NEET UG examination qualified scorecard.
Migration certificate and transfer certificate
Character certificate
Admission procedure at Poltava state Medical University:
Admission procedure for MBBS in Ukraine at Poltava state Medical University is as follows.
Step to consider:
On the official website of Poltava state Medical University admission form is available to fill it.
Mention all the necessary details along with all the valid serial numbers.
Wait for the duration till offer letter gets generated.
Now after getting the offer letter to pay the fees at the University through demand draft or online banking.
Now the admission has been confirmed. Apply for Visa.
After getting the Visa, you are ready to travel for MBBS in Ukraine.
It is a must that you are aware of all the necessary documents which are a must to apply for admission. In case any of the document is missed, or you have mentioned any irrelevant detail than the offer letter will not get generated, and your admission will get cancelled.
Visa procedure in detail:
To be the part of Poltava State Medical University you need to get the VISA as well. Let's discuss about the VISA procedure and other relatable details!
Documents required:
Invitation letter
Offer letter
Aadhar card
Academic record
Caste certificate
Passport size photograph
Covid-19 negative report
HIV negative report
Bank statement with a minimum balance
Original passport
Health record
For all the students out their original documents are very important and you cannot miss them. Make sure to have them when you go for verification and reach of the university.
Steps to apply for VISA:
You can apply for a medical school admission in Ukraine by filling out the form.
Don't skimp out on your protection! Read through the terms of every agreement you've made before signing. You'll feel much more confident in moving forward with any of these agreements or policies.
To final submit all of your materials, upload them along with all the needed details and cross-check to make sure there are no errors.
It may take up to 10 days for verification to go through, so please wait until then before sending more money.
After you receive confirmation, please proceed to regional office and complete verification.
After the verification has been completed, wait as only a MBBS credential will be sent to your doorstep as soon as Visa is issued.

After reaching Ukraine:
Government of Ukraine is quite strict considering the rules and regulations and this is the reason for which they carry out the police verification procedure for every student going from India. The verification procedure will be considering the reason for which you are visiting Ukraine and the resident where you are staying. Make sure to have all the original documents for a seamless verification procedure.
At Admission route we will help you to know about all the things in details so that there will be no problem at all.
Fees structure of Poltava state Medical University:
| | |
| --- | --- |
| Particulars | Annual fees in USD |
| Tuition Fess | 4400 $ |
| Health Insurance | 200 $ |
| Accommodation | 800 $ |
| Total | 5400 USD |
Ragging free campus of Poltava state Medical University:
When a student steps forward for MBBS in Ukraine, they feel like they have to face ragging. But at Poltava state Medical University, the scenario is different.
No ragging is allowed. In case any of the students is to find out to promote the same offence, they will get suspended from here.
Apart from ragging, if any of the students is to find out to get engaged in any of the relevant activity, then also strict actions will be taken against them.
Hostel facility:
Hostel facility is also up to the mark. The best part about the hostel facility is:
The area of the hostel is neat and clean.
Rooms are available with every basic amenity.
24/7 Wi-Fi, electricity, water supply is available.
Emergency doctors are also available 24 by 7.
Wardens are very cooperative and also help the students to understand the surroundings available.
Washrooms are neat and clean.
Boys hostel and girls hostel is located at different places inside the University.
Security does not compromise with the safety of students.

Mess facility:
Mess facility also up to the mark. If a student is facing in any trouble considering the food, they can let the Chef available about it. The menu of the mess decided as per the requirement of a student. Voting is done every 6 months, and this will let them decide the menu for the month.
Indian chefs are available who are known to be the Masters in preparing vegetarian and non-vegetarian food. 4-time meals will be served to the students, and the sections are different for every food.
These are the things linked with Poltava state Medical University offering MBBS in Ukraine. If you wish to know more about it or there is something else to say then do let us know in the comment section below. We will try to get back to you with the solution and resolve the queries you are having.
How students can manage expenses during MBBS in Ukraine?
Studying medicine is a very expensive proposition and it is important for students to be mindful of their
expenses while they are in Ukraine at Poltava State Medical University. Here are 6 tips to help students
manage their expenses during MBBS in Ukraine:
Tips to follow:
Make a budget and stick to it:
This is the most important tip. Make a realistic budget of your monthly expenses and try your best to
stick to it. Do not try to cross the same budget you have made.
Get a part-time job:
This can be a great way to earn some extra money to help cover your expenses. But it is a must to know
whether you are ready to manage it with your classes or not.
Apply for scholarships:
There are many scholarships available for students studying in Ukraine. Make sure to do your research
and apply for as many as possible.
Cut back on unnecessary expenses:
There will be many temptations to spend money on unnecessary things while you are in Ukraine. Try
your best to resist these temptations and focus on only spending money on what you need.
Use student discounts:
There are many businesses in Ukraine that offer discounts to students. Make sure to take advantage of
these discounts whenever possible.
Shop around for the best deals:
Don't just go with the first option you find for things like food, accommodation, and transportation.
Shop around and compare prices to get the best deal possible.
These tips will surely help you to manage your expenses during MBBS at Poltava State Medical
University. For sure after following these tips you will not face any problem at all.