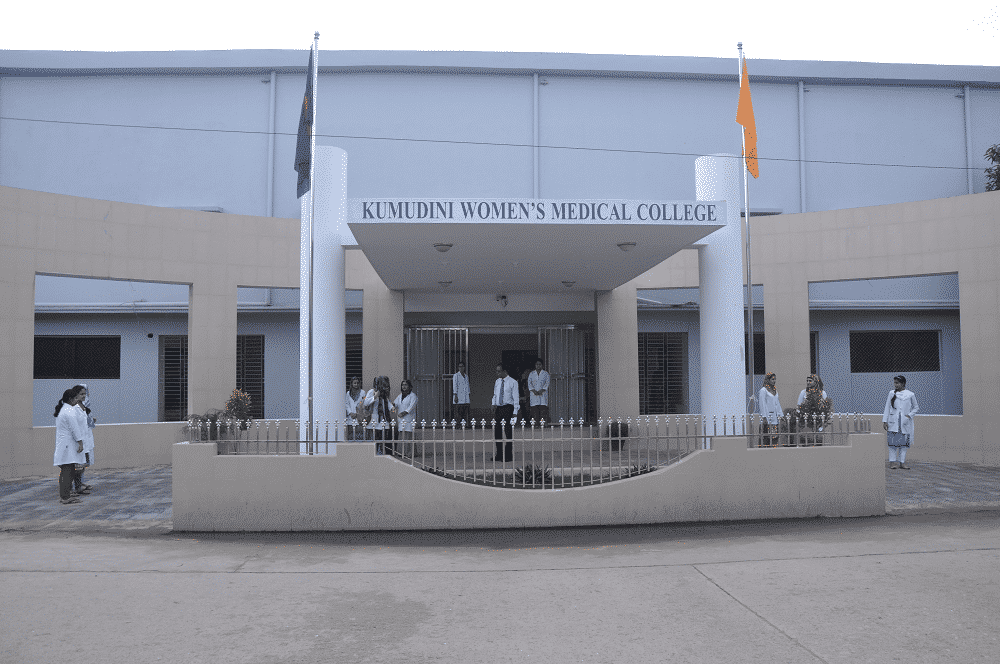 About Kumudini Women's Medical College:
The medical programs of Kumudini Women's Medical College in Bangladesh are quite appealing. When considering whether to study medicine abroad, Bangladesh has long been considered a top location. There are presently 5,000 students from Bangladesh enrolled in MBBS programs across the world.
Indian students should consider studying in Bangladesh. 25 governmental and 50 private medical schools are found in Bangladesh. Education in Bangladesh is inexpensive for international students, including those from India. Medical education in Bangladesh is recognized by the MCI, making it an attractive option for international students, particularly those from India.
An MBBS from Bangladesh is recognized and respected in India. After finishing their training, Indian candidates can take the FMGE/NEXT exam administered by the National Board of Examinations (NBE), National Medical Commission (NMC), formerly known as the Medical Council of India (MCI), and get licensed to practice medicine in India. In contrast to other countries, getting into medical school in Bangladesh for an MBBS is quite easy.
Recognition to the Kumudini Women's Medical College:
University of Dhaka.
Ministry of Health & Family Welfare.
of the Peoples' Republic of Bangladesh.
National Medical Commission (NMC).
Bangladesh Medical & Dental Council (BMDC).
International Medical Education Directory- FAIMER, USA.
World Health Organization (WHO).
Faculties at the Kumudini Women's Medical College:
Faculty of Anatomy
Faculty of Pathology
Faculty of Community Medicine
Faculty of Obstetrics and Gynaecology
Faculty of Physiology
Faculty of Microbiology
Faculty of Biochemistry
Faculty of Paediatrics
Faculty of Pharmacology
Rank of the Kumudini Women's Medical College:
National: 8
Eligibility criteria to take admission in Kumudini Women's Medical College:
There are certain requirements to be met in order to enrol in the MBBS programme at KWMCH.
Physics, Chemistry, Biology, and English must all have been taken at the high school level or higher. Students may need a different percentage of passing grades depending on their home country.
The lowest age requirement for enrollment is 17, while the highest age restriction is 25.
There may be exceptions to the minimum age requirement for students from underrepresented groups.
Since English is used as the language of instruction, students should be fluent in the language to avoid any linguistic barriers to learning medicine.
Students need to have done well enough on the NEET (National Eligibility criterion Entrance Test) or any appropriate entrance test to get admitted. The results of the admissions test are taken into account.
All prospective students are required to submit to a medical checkup to ensure they are in good health.
Students from outside of Bangladesh need a passport and a visa to enter and remain in the country legally for MBBS in Bangladesh.
Documents required for admission in Kumudini Women's Medical College:
Admission to KWMCH is contingent upon the submission of the requisite paperwork. These forms are used to confirm the applicant's eligibility and check that all required details are present and correct. The following is a list of everything you'll need to enrol at KWMCH:
Applicants must provide proof that they have completed the academic requirements for the position, which include Physics, Chemistry, Biology, and English at the high school level. Mark sheets from each year of schooling must also be submitted.
Applicants are required to submit passport copies that are valid for at least six months beyond their anticipated admissions start date, as well as recent passport-style photographs. Recent, passport-sized pictures of the candidate are also required.
Proof of eligibility to study in Bangladesh in the form of a student visa or other appropriate documentation is required of all international students.
Medical school entrance exams All aspiring Indian doctors are required, by NMC policy, to provide a copy of their NEET eligibility certificate.
Candidates must provide a medical certificate attesting to their good health and fitness for academic study at KWMCH.
Candidates should check and double-check that their submitted materials are complete, correct, and up-to-date. Their application might be denied if there are any inconsistencies or they give misleading information. Therefore, applicants should double-check their materials before sending them to KWMCH.
Admission process at Kumudini Women's Medical College:
Several phases are involved in the admission process for MBBS students at KWMCH.
Step 1: The first step is to carefully and thoroughly fill out the application form.
Step 2: Second, the college will decide if the applicant is qualified to enrol by checking their transcripts, test results, and health records.
Step 3: Third, students must meet NMC requirements for passing the NEET (National Eligibility Combined Entrance Test). The results of the admissions test are taken into account.
Step 4: Fourth, once the applicant's eligibility has been established, the college will ask for supporting papers such as transcripts, passport photos, and visa applications. The information in these papers is checked for accuracy.
Step 5: The fifth step is for prospective students to submit their passports to the institution so that they can get a visa invitation letter once all of their papers have been validated.
Step 6: Lastly, before leaving for their new university, all applicants must pay the yearly tuition and any additional admission procedure expenses.
Application, eligibility verification, entrance test, document verification, counselling and interview, and admission are just few of the steps involved in getting into Kumudini Women's Medical College & Hospital to study for your MBBS degree. Candidates seeking admission to this prominent university should take great care in following the admission procedure and ensuring they satisfy all qualifying requirements.
Benefits of taking admission in MBBS in Kumudini Women's Medical College, Tangail:
Many students' aspirations include obtaining an MBBS degree and practising medicine successfully. Getting into the college of your choice is a major step towards realising your goal. If you're looking for a great place to get your medical degree, go no further than Kumudini Women's Medical College & Hospital (KWMCH) in Tangail, Bangladesh.
Excellent Faculty:
KWMCH's faculty members are among the best in the country, and they work hard to give their students an excellent education. The faculty members have varied educational experiences and areas of medical specialisation. They employ cutting-edge methodologies and tools to help students grasp medicine's intricate foundations.
World-Class Infrastructure:
The institution features state-of-the-art facilities and infrastructure, making it an ideal place to study. Audiovisual aids and up-to-date laboratory equipment may be found in each classroom. Students can do research in the library, which houses a large print collection and internet databases.
Clinical Exposure:
KWMCH students benefit greatly from the extensive practical experience they are given. Students from all around the country can receive medical care at the colllege. Students work with practising physicians to get practical experience in the field of medicine.
Research Opportunities:
KWMCH provides several opportunities for students to engage in research across the medical spectrum. There is a research centre on campus where students may get help and advice. The college also hosts seminars and conferences where students may share their research.
Affordable Fee Structure:
Compared to other medical colleges in Bangladesh, KWMCH's tuition is rather affordable. Scholarships and other forms of financial aid are available to help pay for college tuition for students who demonstrate financial need.
Women-Centric Education:
KWMCH is a medical college dedicated to the health and education of women. The college has made it one of its missions to improve the health of women and to give them greater agency through learning.
Global Recognition:
The World Health Organisation and the Bangladesh Medical and Dental Council both officially recognise KWMCH as a legitimate medical institution. Opportunities for students to get worldwide experience are made possible by the college's partnerships with educational institutions and healthcare facilities all around the globe.
Therefore, those who want to make a difference in healthcare can enrol in the MBBS programme at Kumudini Women's Medical College & Hospital. The institution is known for its outstanding teachers, state-of-the-art facilities, opportunity to get clinical experience and conduct research, reasonable tuition rates, focus on the education of women, and international prominence. The curriculum is designed to help students become caring professionals in the medical field.
Medium of teaching at Kumudini Women's Medical College:
Kumudini Women's Medical College provides medical school instruction in English.
Hostel facilities at College:
Security
Air conditioning
Refrigerated facilities
The KWMCH dorms are centrally positioned on campus, providing easy access to all the college has to offer. Each gender gets their own wing of the hostel, each with large, airy rooms outfitted with mattresses, desks, and chairs. The dormitory provides 24-hour security and students are expected to maintain order and discipline by adhering to a set of rules and regulations.
Tips for students to manage expenses during MBBS in  College:
Cost of Living
International students can save a lot of money by attending university in Bangladesh. The overall cost of housing, including both on-campus and off-campus options, is inexpensive. Students will be glad to hear that Dhaka is one of the least expensive cities in the world to live in. However, the actual cost of living will vary widely depending on where and how you spend your time. Most international students in Bangladesh can live well on $300 a month.
Food housekeeping
Budget between $150 and $225 USD for groceries and cleaning supplies. It assumes a daily budget of (US$7.75-10.25) for three meals. Mid-range restaurants often charge between US$2.5 and $5 for dinner.
Laundry and clothing
Self-service laundromat services, including washing and drying, typically cost about $1. How often you shop for new clothes also affects how much you spend on clothing.
Public transportation
Those who choose to live on or close to college may save time and money by not having to commute. However, alternative forms of travel may cost between (US$ 10-20) each month.
Closing paragraph: denoting Reach Admission Route for MBBS Admission:
Clarity, direction, and trustworthy assistance are essential for anyone attempting to make their way through medical collegel. Women who aspire to become doctors should take note of the "Reach Admission Route" created specifically for Kumudini Women's Medical College in Tangail. Every prospective student will be able to follow the clearly laid out stages, prerequisites, and processes without any misunderstandings. Candidates should take the initiative, stay current, and be steadfast in their quest. Kumudini Women's Medical College welcomes applicants via the Reach Admissions Path because of its dedication to advancing the medical careers of women. May all aspiring female physicians succeed in their chosen fields.