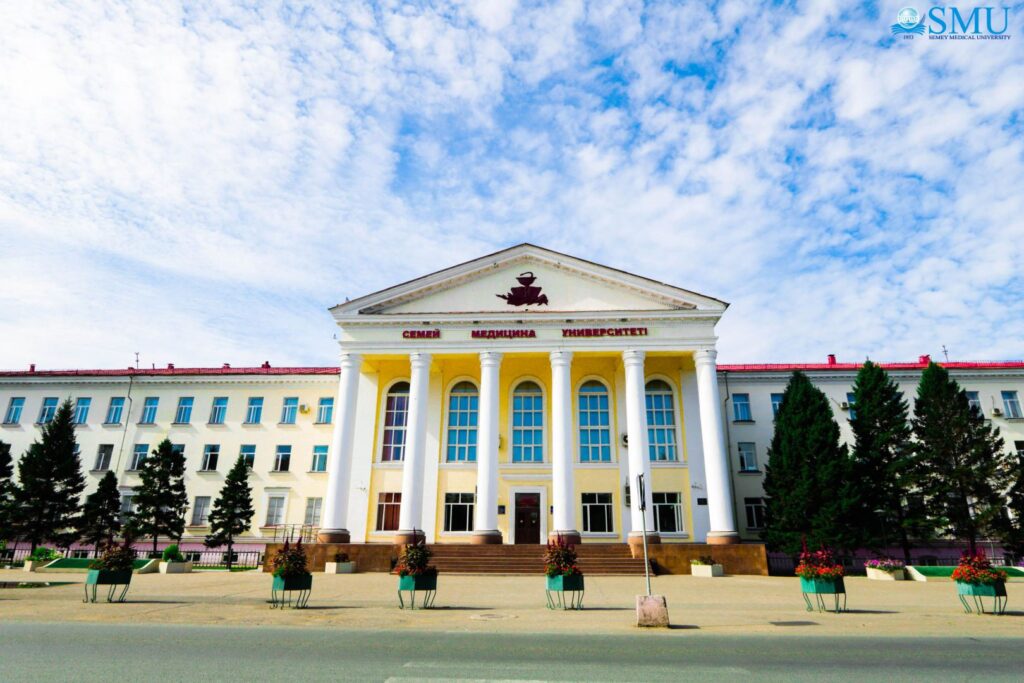 About Semey State Medical University
Semey State Medical University is the right destination for all those looking for MBBS in Kazakhstan. It was established in 1952, Semey.
This university is the best place for MBBS in Kazakhstan because the faculty is available here focuses on practical and theory both. The first batch of MBBS in Kazakhstan in Semey State Medical University was started in 1953.
For every subject, faculties are available here. Pediatrics begins in 1963. Stomatology began in 1991. Pharmaceutical and general medicine in 2003, and then further on all faculties being the part here.
At present, around 3500 students are part of the Medical Faculty available here. All the students are satisfied considered to the course they are learning. Students are always ready to ask their queries. Faculties available here are very Cooperative and experienced. Practical and theory classes are separate and in Run simultaneously.
Technology that is required to let a student understand tricks and techniques considering to medical field are also available.
If you are looking for a destination equipped with modernization and the best facilities, then this university is the right choice for you to consider.
Semey State Medical University: Fee Structure 2023
Particulars
Year 1
Year 2
Year 3
Year 4
Year 5
Year 6
Tuition Fee
3900 USD
3900 USD
3900 USD
3900 USD
3900 USD
3900 USD
Hostel Fee
800 USD
800 USD
800 USD
800 USD
800 USD
800 USD
Total Fee in USD
4700 USD
4700 USD
4700 USD
4700 USD
4700 USD
4700 USD
Total Fees in INR
3,90,100 INR
3,90,100 INR
3,90,100 INR
3,90,100 INR
3,90,100 INR
3,90,100 INR
APPLY NOW
Ranking and faculties of Semey State Medical University:
Semey State Medical University's country rank is 35. The world rank is 7462.
Faculties available at Semey State Medical University are:
Department of Molecular Biology and Microbiology
Department of Pharmacology and Demonstrative Medicine
Department of Public Health Care
Department of a Food and Hygienic Disciplines
Department of Propaedeutics of Internal Diseases
Department of immunology and dermatological venereology
Department of internship by internal medicine
Department internship in general practice and further education
Internship department on pediatrics and pediatric surgery
Department of the general surgery
MBBS admission process and course duration:
The course duration for MBBS in Kazakhstan at Semey State Medical University is 5 years.
4 years for theoretical education.
1 years for an internship.
Admission procedure is as follows:
At the very first student needs to be the online application form. It is available on the official website only.
Fill all the necessary details with valid documents.
Wait till the offer letter gets generated.
After getting the offer letter, pay the fees.
Admission has been confirmed.
Apply for Visa.
After getting a visa, you are ready to go for MBBS in Kazakhstan.
Eligibility criteria for MBBS admission:
The eligibility criterion for taking admission at Semey State Medical University is:-
A student must be 17 + years in age.
12th standard must be qualified with PCB with 60%+ marks.
NEET UG examination must be cleared.
Valid identity proof must be available with the student.
Is Semey State Medical University safe for Indian students?
There is no doubt about the safety of Indian students. Everyone who is here for MBBS in Kazakhstan, they are safe in every respect.
The campus is available with very tight security. The CCTV cameras are installed everywhere.
In case any trouble arises, a student supposed to report about it immediately. Immediate actions will be taken here. No leniency for irrelevant actions.
Separate Indian Hostel facilities:
Semey State Medical University is well-known not only for its excellent educational culture, but also for
its separate Indian hostel facilities.The majority of parents are concerned about how their children will
adjust and whether they will be safe. Fortunately, this is not the case. the separate Indian hostel facility
for MBBS students in Kazakhstan is a sigh of relief for every parent around. For all the boys and girls out
there, there will be no problem in staying at the hostel.
1. When students are staying at the hospital, they will find different kinds of facilities available.
From having 24×7 access to additional services to having security available, they can feel
comfortable.
2. The best part is that the university is also focused on security and that's why they have equipped
the hostel campus with CCTV cameras. They take care of everything. In most cases, it happens
that students try to do the ragging of other students, which is why strict protocols have been
designed by the university.
3. Students can simply focus on their studies without paying attention to such things that can act
as a distraction for them.
4. Also, if a student is facing any problem, they can reach out to the higher authorities and discuss
it. The 24×7 availability of a warden is for the same sake only.
5. Along with that, if you are looking forward to travelling from the hostel to any particular
location, the conveyance facility is also there.
So yes, it is right to say that there will be no need for parents to worry about the security of their
children and the residents where they stay. The university will take care of everything for a better
environment and infrastructure for the students!
The best part about Semey State Medical University is separate hostels. For all boys and girls, separate hostels with separate mess facilities.
The menu at the mess is decided on the basis of voting. The majority always wins.
After voting, the menu has been fixed for breakfast, lunch, supper, and dinner.
Hostel campus is well equipped with all the basic facilities.
Emergency doctors and Indian wardens are available 24/7.
24 by 7 water supplies, electricity supply, Wi-Fi is available.
Without ragging campus:
Ragging is among those offenses at Semey State Medical University, which have no extra chance.
If any student finds out to commit ragging, they will get suspended from the college, and their academic career will be canceled.
The campus is ragging free totally, and also there is nothing that can trouble you about security as well.
Separate Indian food facilities:
Indian food is really delicious and most students miss it after they go for MBBS in Kazakhstan. But when
you come to this university, there will be no need for you to miss Indian food anymore. The mess is
following a proper schedule where students will be able to try out Indian cuisine as well.
For vegetarian and non-vegetarian students, the food options are available and, accordingly, they can
choose them out. In case they are in need of eating anything additional, they can discuss it with the
mess people and they will help them to know whether it is available at the hostel mess or not.
Apart from it majorly parents have a thought that the food is not prepared with all the hygiene
protocols. Thankfully with the SEMEY STATE MEDICAL UNIVERSITY this is the false statement and
everything is considered considering hygiene. In case there is any vegetable that is not suitable for
children there must people will not be going to consider it at all.
So yes, overall students will have the best food available on their plate and they can simply enjoy it.
How students can manage expenses while doing MBBS in Kazakhstan?
There are so many students around you who have no clue how they will be able to manage the expenses when pursuing MBBS in Kazakhstan from Semey State Medical University.
If you also hit in the same category don't worry because here, we will be sharing some tips that can help you out to do it.
Tips to manage expenses during MBBS in Kazakhstan:
1. Consider durable stationery:
Stationary is the major expense of students when they are pursuing MBBS in Kazakhstan. It is important for you to understand that always invest in durable stationary material so that there will be no need for you to get it again and again. In case you are choosing fancy stationery material for looking forward to those materials which are not worthy of the price then you will ultimately at an expense for you.
2. Consider public transportation:
Transportation is also very important to know because sometimes people consider that they can only prefer private transport while pursuing MBBS in Kazakhstan. If this is the consideration with you don't worry because the public transportation is also available around and you will be able to get it easily. If you are having student id there are some perks and benefits that will be available to you.
3. Do not to eat outside Food:
The food available at hotels or restaurants in Kazakhstan is a bit expensive that's why it is advisable to you to consider it often. If you rely on outside Food regularly the amount you have paid for mess will go in vain and it feels like you have ultimately wasted your money.
4. Take your decision wisely when spending money:
When you are about to spend money it is important for you to understand that you are taking your decision wisely. In case you are just spending money randomly, you will end up with no money at the end of the month.
Note:
When students are pursuing MBBS in Kazakhstan it is totally on them how much they will going to spend. In case they are ok with spending less money and simply live a stable Lifestyle otherwise they have to get money from their parents frequently. Always pay attention to your expenses so that there will be no problems and managing things out will be easier for you!
Climate condition of Kazakhstan :
The climate here is moderate. When a student is here for MBBS in Kazakhstan, he will be able to adjust very easily. Cold winter and warm summers are noticed here. This let the climate to be defined as semi-arid.
Top Sports facilities of Semey state Medical University for Students:
Sports facilities for students also preferred here. At Semey State Medical University, if one wants to be part of sports, they can go for it.
Special coaches are available to train students. Additional practice classes also get organized. Every year multiple championships organized in which a student can participate.
If you are having any doubt considered to admission in MBBS in Kazakhstan, ask about the same in the comment section below. We will try to get back to you with the solution and provide you all the necessary details.