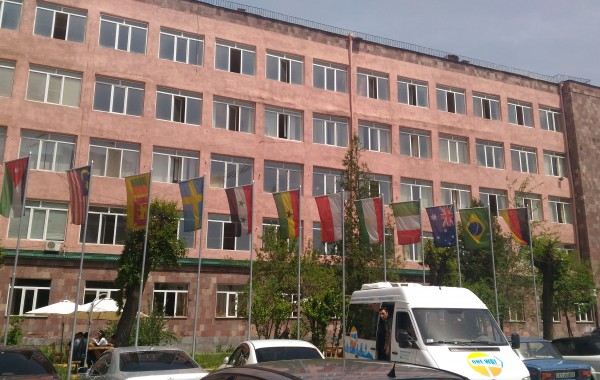 Yerevan Haybusak University was established in 1990 and is among the best prominent medical schools in Armenia. This university comes up with 6000 alumni along with 5400 undergraduates and 300 educators. This university received state accreditation in 2001. The best part is that students will have opportunities to interact with world-class faculty as well as a cutting-edge educational system.They have made arrangements for international students to complete their education in a manner that helps them to have a stable career.

Yerevan Haybusak University: Recognition:
Yerevan Haybusak University is recognised by:
Yerevan Haybusak University: Ranking
Yerevan Haybusak University's country rank is 29 and its world rank is 12125.

Yerevan Haybusak University: Faculties
The faculties available at Yerevan HaybusK university are as follows:-
Faculty of medicine
Faculty of humanities
Faculty for MBBS
The Faculty of Dentistry
Advantages of MBBS From Yerevan Haybusak University:
The major benefits are there for students when coming to study MBBS in Armenia at this university. These are as follows:-
The city is very crowded.
Top-class education facilities
first-rate surroundings
Classrooms are well ventilated.
Ragging-free campus
Security is up to the mark.
The cafeteria is well-equipped.
First-class medical facilities
Internship options are there.
A conveyance facility is available.
Post-MBBS opportunities

Yerevan Haybusak University: Eligibility criteria
The eligibility criteria to get admission at Yerevan Haybusak University are as follows:-
A candidate needs to be 17+ years of age.
There must be no criminal record held by the student.
The candidate has completed their 12th standard with PCB along with English.
The candidate must have qualified for their NEET UG examination.
A candidate must hold a good moral character.
A candidate is not suffering from any particular life-threatening disease.


Documents required for admission:
The documents required for MBBS in Armenia are as follows:-
12th standard passing certificate
10th standard passing certificate.
Passports
A migration certificate
transfer certificate.
language proficiency certificate.
Character certificate
Scorecard for the NEET UG examination
10 passport-sized photos
Certificate of Birth
Medical history
The Aadhar Card

Admission Procedure:
The admission procedure to follow at Yerevan Haybusak University is:-
First, a candidate needs to visit the official website and look out for the application form.
Now upload all the documents that are asked for.
Wait for the duration until you receive the offer letter.
After the offer letter, pay the tuition fees for the MBBS course.
After paying the particular amount for the fees, you will receive the invitation letter and then apply for a visa.
After getting a visa, you are all set to fly for MBBS in Armenia.

Duration of MBBS:
For all the students coming for MBBS in Armenia, it is important to know that the programme will be for six years. It is like 5 + 1. The duration will cover all the academic studies, and the last year's duration will be dedicated to internship.

Visa procedure:
For all students, it is important to apply for a visa to study MBBS in Armenia. If you have no visa available, then you can not travel on tour for MBBS. Let's discuss the visa procedure in detail!

Documents required for Visa:
Passport size photographs
Academic performance
Authentic passport
Certificate of Birth
An invitation letter
Letter of Intent
Bank statement with a minimum balance
HIV negative test results
Negative report on Covid-19
Medical history
As an eligible candidate, you need to be sure that all the original documents are available to you and that you have them at the time of application filling and verification. If any of the documents are missing, the chances are that the application for a visa will be cancelled.

Steps to follow for a Visa Application:
The steps to follow for filling out the application form for Visa:-
At the very first scan, all the asker's documents are scanned.
Visit the official website and look out for the application form.
Fill out the application form along with all the documents.
After that, just submit the form and wait for the duration until you receive the confirmation email.
After receiving the confirmation email, visit the regional office for the verification procedure.
After the verification has been done within 10 to 15 days, you will receive a visa to study MBBS in Armenia.

After reaching Armenia:
When you reach Armenia for MBBS, make sure you have all the original documents available because there is a small verification procedure you need to go through. The embassy and police will conduct the verification based on the resident and the university where you have enrolled.For verification, original documents play an integral role.

Ragging-free campus
When you visit this university, you will see that there is no ragging. If someone is trying to torture you or make fun of you, the university is all set to take strict actions. Moreover, if any student is found to be engaging in such activities, their application will be terminated and they will be rusticated from the college. For the next 5 to 6 years, they will not be able to get admission to any of the universities for MBBS.

First class hostel facilities:
Hostel facilities are great and there is no doubt you will not face any problems. There are separate hostels available for boys and girls, and amenities are available accordingly. You will find security and medical facilities available at the hostel for a peaceful stay. There is an Indian warden available that will help you to understand the culture of the hostel in detail and will let you know about the culture, rules, and regulations of the hostel for a better understanding. For sure, there will be no problems throughout.

Facilities for Indian Mess
Indian food is also available in the mess. If you are someone who cannot go for non-vegetarian food, don't worry, because vegetarian food is also there for you and you can simply have it. There is no restriction on people having non-vegetarian food only. If you are looking forward to having something additional, you can simply talk to the mess people and get it on your table.
At Admission Route, we are providing first-class facilities to all the students out there, and there will be no problem for sure. Get in touch with us now and be ready to fulfil your dream of doing MBBS in Armenia.