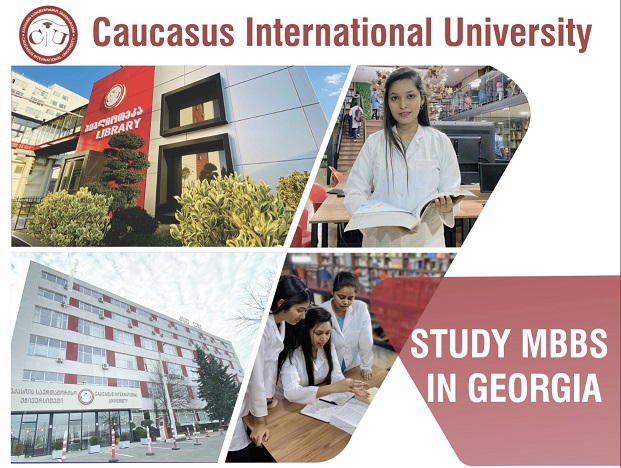 About Caucasus International University
Caucasus International University is a private University which was founded in 2004. The foundation of this University was considered after the foundation of Business School in 1998. This University is in Tbilisi, Georgia.
This University is a partnership with Georgian State University, Atlanta. Almost 15000 students are studying here, and thousands of students have been passed from here in multiple courses.
The faculty is available here are known to provide students with every basic to advance knowledge considered to the subject they are learning.
When it comes to looking at the specializations available here, then these are available in business, medical, commerce, and so on. As per the choice of the student, they will be able to get admission here. But when it comes to looking at the faculty is available for MBBS in Georgia here then they are advance.
There is no compromise done with the study at all when a student is here. They will not only be able to learn about academic studies, but they will be able to showcase their talent through extracurricular activities as well.
Recognition Caucasus International University :
Caucasus International University is recognized by:
MCI
WHO
IAUP
BMDA
CEEMAN
EFMD
Ranking and Faculties Caucasus International University:
Caucasus International University ranks 7 in Georgia and 8122 in the world.
Faculties:
Faculty of medicine
Faculty of pediatrics
Faculty of dentistry
Faculty of nursing
Post-graduation programs
Benefits of pursuing MBBS from Caucasus International University:
Well-equipped research labs and classrooms
Security is strict
No ragging is allowed at the campus
No leniency to the students performing any irrelevant activity
Professionals are up to the mark
All the modern equipment are available
After completion of MBBS from here, a student can go for post-graduation here as well
The cafeteria is available so that students can step there whenever they are feeling hungry
Surroundings are well equipped with every basic necessity
Public transport is also available for transportation
Is MBBS in Georgia a safe option for students?
There is no need for a student to worry about safety at all whenever they are pursuing MBBS in Georgia. Security is up to the mark, and there is no leniency with anything. If a student is facing any difficulty, and he reported that the immediate actions are always taken.
Apart from the University, talking about Georgia country, this country is a crime-free place. No such music is reported about the offences taken place here. A student will be able to learn more things and will be able to explore his own self as well.
Eligibility criteria:
For getting admission at Caucasus International University, a student needs to get eligible as well. The eligibility criteria are as follows:-
The age of a student must be less than 25 years and more than 17 years
NEET UG examination of a student must be qualified
Valid identity proof is required
A student must hold good moral character
The student must have physics, chemistry, biology and English as the main subject in 12th standard
The marks in 12th standard must be more than 60%.
Documents required for MBBS Admission:
Documents required for MBBS in Georgia at this University are:
12th standard passing certificate
10 passport size photograph
NEET UG examination qualified scorecard
Transfer certificate
Migration certificate
Character certificate
Passport
Admission procedure for MBBS In Georgia:
For students to take admission at Caucasus International University, they need to follow the below-mentioned admission procedure.
It is as follows:
At the very first student needs to scan all the documents.
Fill the application form which is available on the official website of the University.
Submit the application form and wait for 2-3 working days.
After 2-3 working days, you will get an offer letter.
After getting the offer letter now, a student is supposed to pay the fees.
After paying the fees, you are ready to apply for Visa.
After visa approval, you are ready to travel for MBBS in Georgia.
When you apply for admission, make sure you are scanning the documents properly along with the size as good at the form. Also, make sure that you are submitting all the relevant documents. If the eligibility criteria are not fulfilled, then your request for admission will get cancelled.
Sports activities:
Sports activities are also being must here. Whenever you are taking admission in MBBS in Georgia at this University, you will not feel like the one who is just addicted to books. You will be able to get engage in sports activities. Every year multiple sports tournament held at the University and you can be the part of them. Mainly basketball, baseball, cricket, football and other sports are played here every year.
Along with outdoor sports, some indoor sports like chess, Carrom, and other games also played here.
Duration and medium of teaching:
Duration of MBBS in Georgia at Caucasus International University is six years. This 6 years duration include an internship as well.
The medium of teaching is English. If a student knows about English, they can easily be part of the University.
Hostel life of international students:
When a person thinks about hostel life, they get a bit tense. But when you are here and pursuing MBBS in Georgia, there is no need for you to worry about it. Hostel life is advanced here, and you will be going to serve with all the things which you will be going to get to your place.
At the hostel, Warden and emergency doctors are available who are there to help you 24 by 7. Additionally security in advance, and in case you are facing any difficulty you can report about it. Immediate actions are always taken here against the offence.
Food availability:
Usually, the hostel mess is considered to be the worst place for food. But at Caucasus International University, the scenario is different.
Every day a student will be going to get something new in his diet, and he will be able to enjoy it as well. Quality is the topmost concern here, and there is no compromise with it.
Also, if a student is not enjoying the food or he feels like there is something missing, they can let the mess people know about it. They will clear the doubt and will provide them with the best food.
These are the things link with MBBS in Georgia with Caucasus International University. If you wish to pursue MBBS from here and having any queries and let us know in the comment section below, we will resolve your queries and provide you with the solutions for the same as well.