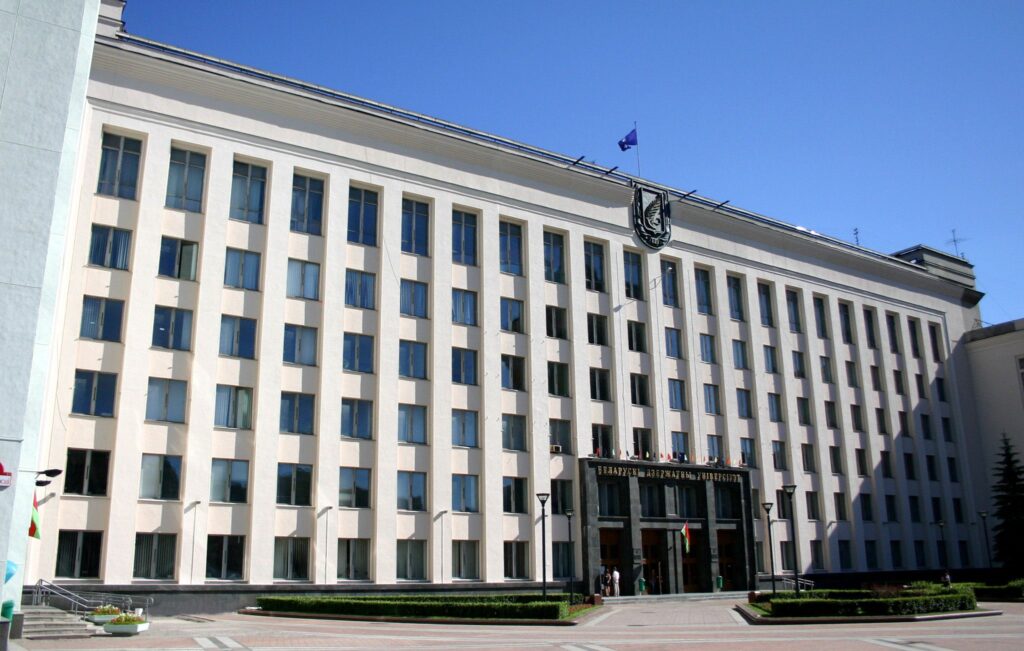 Belarusian State Medical University is the best government medical educational institution in Belarus. This university was established in 1921 by the Medical Faculty of Belarusian State University. It is present in the Minsk city of Belarus. Initially, the name of the university was "Minsk State Medical University". In 2001 its name was changed to Belarusian State Medical University (BSMU).  In 1971 BSMU received the highest number of national awards. The university was honoured with the title of "the order of Red Banner of Labor". The award is for utmost involvement towards maintaining medical science and health care. The management of the university takes every possible effort to serve high-quality education. The university authorities cooperate with social changes and provide high-level information to students.
Belarusian state medical University: In A Glance
| | |
| --- | --- |
| Founded In  | 1930 |
| Location  | Minsk, Belarus |
| Recognized By | WHO, MCI & UNESCO |
| Accademic Staff | 888 |
| Tuition Fee | 4800 USD Per Year |
| Cost of Living | 150 USD Include Food Per Month |
| Medium of Study | English & Russian |
| Admission Eligibility | 55 % In PCB |
| Official Website | https://www.bsmu.by/ |
Belarusian State Medical University: Fee Structure
| | |
| --- | --- |
| Particulars | Tuition + Hostel Fee  Per Year |
| Tution Fee In USD | 4800 USD |
| Hostel Fee In USD | 400 USD |
| Total In USD | 5200 USD |
| Total In INR | 3.64 Lakh Per Year |


Why Medical Study Is Popular in BSMU:
BSMU is the best choice for those who want to study MBBS. Currently, Belarusian state medical University has employed about 880 scholars and researchers. Among them, 64% are scientific degree holders, and 3% are corresponding members of the national academy of Science.12 of the staff members are state awardees, and 16 are scientists. Over 350 employees are higher medical experts. 
 The university of BSMU has six research laboratories. Belarusian State Medical University has 72 departments. The duration of MBBS in Belarus in the Belarusian State Medical University is 6 years.  The first three years are focused on theoretical knowledge. In the last three years, students go through practical experience by training in reputed hospitals and clinics. The university department also offers study material to its students. The study material includes required E-books, required study literature, presentation of tests for self-evaluation. The university is recognized as MCI (Medical Council of India).
Faculties of Belarusian state medical University:
Currently, BSMU is running eight faculties mentioned below:
| | |
| --- | --- |
| S.NO. | Name of Faculty |
| 1 | General medicine |
| 2 | Department of paediatrics |
| 3 | Faculty of  military  medicine |
| 4 | Dental faculty |
| 5 | faculty of pharmacy |
| 6 | Medical faculty for international students |
| 7 |  Preventive medicine faculty |
| 8 | Prevocational training and career guidance |
Faculty of general medicine is the oldest. This faculty was organized in 1944 by the Belarusian State Medical University. This faculty is known for giving required training to the doctors in the medical line. 
Dental faculty was initiated in 1960, 
Pediatric faculty and preventive medicine faculty created in 1964
Medical faculty for international students is built in 1967
Training and career faculty was started in 1971
Military faculty was launched in 1995
Faculty of Pharmacy was established in 2011
Ranking of Belarusian state medical University:
| | |
| --- | --- |
| Country Rank | World Rank |
| 3rd | 2608 |
Visa procedure:
Belarusian State Medical University is among the top medical universities available, and you need to be sure that without Visa, you cannot be a part of this university. Let's discuss the visa procedure!
Documents required:
Documents required for MBBS in Belarus from this university are as follows:-
Offer letter
Invitation letter
Admission form
Academic record
Health record
HIV negative report
Passport size photograph
Covid-19 negative report
Birth certificate
Bank statement with a minimum balance
Passport
Note: at the time of verification, there is a need for original documents, so don't forget to carry them along and make sure the documents are complete.
Steps to follow:
The basic steps you need to follow to get are:-
At the very first scan, all the required documents.
If you have no idea about the documents or feel like these are incomplete, just look at the visa application form on the official website and go through the terms and conditions.
After getting the visa application available, fill it out and upload all the documents. Make sure we take out the format in which the documents are asked.
Submit the form and wait for few days.
In 7 to 10 days, the confirmation email will be received.
After the confirmation email, visit the regional office and complete the verification procedure.
After the verification has been done, you are all set to pursue MBBS in Belarus. Right now, you need to wait for 15 days only to get it.
After reaching Belarus:
When you reach Belarus, make sure to complete the police verification for this police verification has been conducted considering the residence where you are staying and also the purpose for which you are traveling here. After verification, there will be no problem throughout the year.
Don't worry because we are always here to help you out with it. Discuss with us if there is any problem so that we can provide you best solution and help you to get rid of it as soon as possible.
Student life in Belarus:
Students looking for MBBS in Belarus are provided with regular health checkups by the university department. BSMU has health care rooms. These rooms are used for the students well being. Apart from university status, Belarus itself is very safe for international students. The local people of the country are very humble and are ready to help everyone. As compared to the other cities in nearby places to Belarus, both education, as well as living, is cheaper and simple.
Admission in BSMU is based on the 12th standard marks and the NEET scorecard. Classes commence from the first week of September. Interested students must enrol themselves in between July and August.