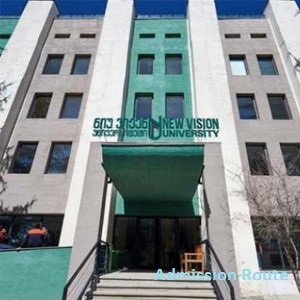 About New Vision University Georgia-
New Vision University was established in 2013. Yes, you read it right. In Tbilisi, Georgia, this University was established. This University does not hit in the list of the oldest universities, but from 2013 till yet so many students have completed their studies from here.
Due to the availability of professionals who are the masters of their field this university rank among the top universities in Georgia. After getting admission here, a student will be able to learn about so many new things and will be able to apply the concept more effectively. The best part about this University is that it offers the student with all the modernization.
There is no need for all those studying MBBS in Georgia here to deal with the old equipment. They will see that the research labs are available with all the modern equipment, and they are able to deal with it as well. Available not only train the students to use modern equipment but the methods adapted in earlier times will also be taught to them.
Recognition of New Vision University:
New Vision University is recognized by:
| | |
| --- | --- |
| S.N. | Affilated By |
| 1 | WHO |
| 2 | MCI |
| 3 | UNESCO |
| 4 | Georgian Education Ministry |
Ranking of New Vision University:
| | |
| --- | --- |
| Country Rank | World Rank |
| 18 | 10407 |
New Vision University country rank is 18, and the world rank is 10407.
Faculties of New Vision University:
| | |
| --- | --- |
| S.N. | Name of Faculties |
| 1 | Faculty of MD Program |
| 2 | Faculty of Medical Rehabilitation |
| 3 | Faculty of Nursing Care |
| 4 | Faculty of Master Program in Medical Rehabilitation |
| 5 | Faculty of Healthcare Management |
| 6 | Faculty of PhD in Medicine |
Is Georgia safe for international students?
When it comes to safety, Georgia hits in the list of safest countries. The crime rate here is almost 0%, and there will be no need for a student to face any trouble as well. In case any of the offensive activity committed on a student is being a part of it, then they will get terminated from the University. Also, if it has been seen that someone is troubling the student, strict action should be taken against him as well.
Considering outside the University, the scenario is wholly new and different. There will be no need for a student to feel second at all. Public transport is safe and everywhere, security is available to help them.
Benefits of Study MBBS In Georgia:
When it comes to looking at the benefits that will be served to a student pursuing MBBS in Georgia from New Vision University, there are multiple available. Few of the basic benefits available are:
Fees for hostel and tuition is affordable
Scholarship programs available
Professionals are available
Security is advance
No offensive activity committed
Reading tree campus
Loan facility is available
Sports activities organised
Hostel and mess facility is available
Research labs available
The cafeteria is well equipped
Only NEET-UG examination is required
The degree is globally accepted
Duration of MBBS In Georgia:
The duration decided for MBBS in Georgia at New Vision University is six years. The six years duration is divided into two parts. Five years duration is to learn about academic studies, and one year is for an internship.
Medium of teaching in New vision University Georgia:
English is the medium preferred for MBBS in Georgia at New Vision University. If a student is aware of the English language, they can easily be part of the University. Also, if they have knowledge about Georgian language and if they want they can communicate with the professors and others in the same language as well. At the time of internship, this is only the choice of a student in which language he was to communicate with others.
Eligibility criteria For Admission:
For getting admission at New Vision University, the eligibility criteria are as follows:-
The age of a student must be less than 25 years and more than 17 years.
NEET-UG examination of a student must be qualified.
In 12th standard, a student must have 60% marks.
Physics, Biology, chemistry along with English must be the main subject in 12th standard.
Valid identity proof is available with us student.
A student must not hold any criminal record.
Documents required For MBBS Admission:
Documents required for MBBS in Georgia at New Vision University include:
Passing certificate of 12th standard
NEET UG examination qualified scorecard
Passport
Transfer certificate
Character certificate
Migration certificate
8 to 10 passport size photographs
Admission procedure for MBBS admission:
At New Vision University, the admission procedure is as follows:-
At the very first student needs to scan all the documents.
On the official website of the University application form is available, go through it and fill the application form appropriately.
Submit the application form.
Wait for 3 to 5 days till the offer letter will get generated.
After the verification of your documents, an offer letter will be generated by the University.
After getting the offer letter now, you are supposed to pay the fees.
After paying the fees now, you are supposed to apply for the visa. After getting the visa, you are ready to travel for MBBS in Georgia at New Vision University.
Make sure whenever you are applying for MBBS in Georgia you are submitting all the necessary documents if any of the document is missed a find out if a relevant there might be chances that you will not get the offer letter at all.

Visa procedure and its approval:
Visa approval is also important when a candidate wants to go to New Vision University. But it is important to follow the procedure. Well, it is very simple.
Documents required for visa:
Caste certificate
Academic record
Health record
Academic document
Original passport
Passport size photograph
HIV report
Aadhar card
Bank passbook with a minimum balance
Invitation letter
Offer letter
Character certificate
We suggest you carry all the original documents at the time of verification because these are really very important. If the documents are missed, you will not be able to go through the procedure seamlessly.
Steps to follow:-
The steps you need to follow for visa application for MBBS in Georgia are:-
Visit the official website to fill out the visa application.
Upload all the documents.
Submit the form.
Wait for confirmation.
Visit the regional office after confirmation for verification.
After verification, pack your bags.
Wait for 15 days until the visa gets delivered to your doorsteps and be ready to apply for MBBS in Georgia.

After reaching Georgia:-
After reaching Georgia for New vision University, there is a small police verification you need to go through. The police and Georgian embassy will look out for the resident where you are staying and also whether you are coming for any study purpose or not. After the verification, there will be no trouble throughout, and you can stay peacefully.
At the Admission route, we are helping students in acquiring visas as well and also guiding them for the documents they require. Our professionals have years of experience in helping students to know how to enroll for it and get it easily.
Hostel and mess facilities:
Hostel and mess facilities are also well equipped. There is nothing which is missing in the hostel and in a mess. When it comes to looking at the hostel rooms, these are well equipped with every basic amenity. 24 by 7 electricity and Wi-Fi supply is available. Washrooms and neat and clean and liquid regularly come to clean them.
Also, the best part about being in a hostel is security is advance, and emergency doctors and wardens are available 24/7. In case of emergency, they can approach them as well.
At the hostel campus, sports room and the guest room is also available. If parents of a student are coming there can be there easily.
Also, the mess facilities are having different menu available. Regularly a student will be going to get a different version available.
Additionally, there is no need for a student to compromise with food because Indian Chef is also available. If they want they can go for the same as well. By stepping outside, public transportation is available if a student is willing to go anywhere they can go with it as well.
Sports activity In New Vision University:
New Vision University also takes part in sports activities as well. When you are coming here for MBBS in Georgia, you will be able to become the part of all these activities. If you are interested in any of the sport, you can play it, and professionals will train you for the same as well.
There will be no need for you to feel this satisfied at all because they are the masters of their field and they will let you know about everything which is a must for you to know. Every year multiple tournaments held and New Vision University maintains their place in the same as well.
Living standard of Indian student In Georgian Universities :
When you step into New Vision University, you are an ordinary child. But after stepping outside getting the degree, you will be able to see the changes. Your understanding capability will get increased, and you will be able to focus on things more appropriately.
You have a degree available and you can be part of any university if you want. Also, there will be a drastic change in your personality, and you have the type of doctor available, which make you different from others without any doubt.
These are the thinking with New Vision University offering MBBS in Georgia. If you wish to pursue MBBS in Georgia from here, then do let us know in the comment section below. We will get back to you with the solution and will help you to get admission here easily.