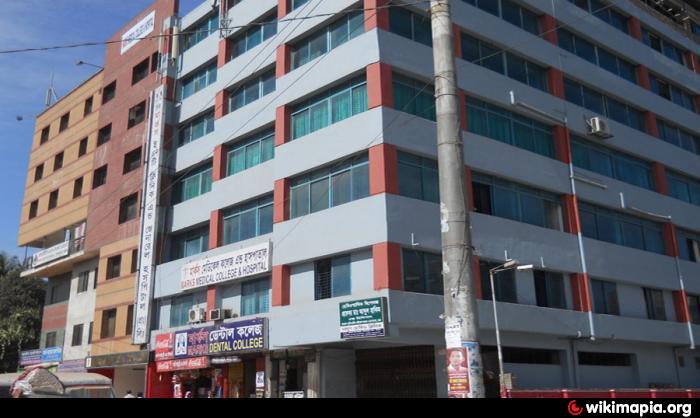 Willing to study medicine abroad? Bangladesh is a good option to consider for Indian students. There are many government and private medical colleges in the country. Dhaka, the capital city of Bangladesh, is a hub for many medical colleges. Marks Medical College (MRMC), Dhaka, is one of the top private medical institutes in the country.
Marks Medical College is one of the leading medical institutes in the country. Known for its fine infrastructure and top faculties, it has been the dream college for many aspirants. Being amply recognized, this institution attracts a good number of foreign students.
Students from India who are planning to pursue an MBBS from Bangladesh should consider Marks as an option.
With world-class infrastructure and academic resources, it is a dream college for many. The faculties, laboratories, hospital, and everything here showcases the epitome of excellence.
This college holds recognition from many organizations. The University of Dhaka and other medical authorities of Bangladesh recognize it. The National Medical Council of India (NMC) has also recognized it for MBBS in Bangladesh. This recognition helps the institute in attracting Indian students.
The college's main aim is to provide excellent medical education to students from all backgrounds. It aims to make sure every aspirant has a chance to become a doctor and help people.
If you are interested in MBBS in Bangladesh, MRMC is an option worth considering. Let's have a glance at the features and offerings of this institute.
Marks Medical College: Recognition
Several organizations have recognized MRMC:
Bangladesh Medical and Dental Council (BMDC)
The University of Dhaka
Medical Council of India (MCI)
The recognition of MCI makes it easier for Indian students. After completing MBBS, they can return and practice in India.
Faculties at MRMC
There are several faculties offered here. To list them, we have:
Faculty of medicine
Faculty of gynecology and obstetrics
Faculty of Anesthesiology
Faculty of Internal Medicine
Faculty of Ophthalmology
Faculty of Radiology
faculty of Surgery
Apart from these, there are several more departments. Dermatology, microbiology, pathology, etc., include the list.
Eligibility Criteria for MRMC
Candidates must pass class 10th and 12th exams
there must be at least 60% marks in total in PCB
a minimum of 17 years of age on 31st December in the year of admission
NEET-UG must be cleared
Documents Required for Admission
Here is a quick list of important papers that you must have:
class 10th mark sheet and certificate
class 12th mark sheet and certificate
admission form from the university
university admission letter
fee confirmation letter
student's photographs (at least 12)
Demand Draft (DD) in favor of Bangladesh High Commission
original passport
visa application form
clearance certificate from the police station
sponsorship or affidavit
Admission Process at Marks Medical College
Before initiating the admission process, make sure you have qualified NEET. This is necessary. Further, follow the given steps:
Step 1: Download the admission form from the college website. Fill out the form. Submit it with the required documents.
Step 2: Obtain the admission letter. This is granted by the university.
Step 3: Apply for student visa. You will need your passport here.
Step 4: Pay your tuition fee for the first year. If you have applied for a student loan, use the documents.
Step 5: check the list of the important documents. Pack everything required.
Step 6: Book your ticket and fly off to your campus.
Benefits of joining Marks Medical College
Marks Medical College is Bangladesh's leading private medical college. This institute has so much to offer:
The tuition fee is affordable. Donations are not required.
Superior resources for substantial learning.
Separate hostels for boys and girls.
Secure campus and hostels.
Indian food is available in college.
Modern campus and hostel buildings.
English as the medium of instruction.
Rich labs and library resources.
In-house hospital, which is helpful in practicals.
There is not any other entrance exam for Indian students. NEET exam is the only criterion.
Best faculty members.
Multiple career prospects.
Medium of Teaching at Marks Medical College
English is the primary medium of teaching on the campus. This is very helpful for foreign students studying.
Hostel Facilities at MRMC
Marks Group provides separate hostels for boys and girls. The infrastructure is new age. Let's peek in:
secure setting
mess with separate dining area
local as well as Indian food is available
ample space for lodging and recreation
Tips for Students to Manage Expenses During MBBS in Bangladesh
Bangladesh is not a very expensive country. Dhaka, being the capital city, might look pricey, but the cost of living could be a lot higher. With a few management hacks, one can lead a smooth stay during one MBBS years here:
make a monthly budget and stick to it
eat in the mess instead of buying food
consider a side hustle for extra money if you need
look for scholarships
You can access online digital resources instead of buying books
seek financial guidance if you feel like
discuss the topic with your peers, seniors, and mentors. Their experiences, your learnings.
Focus on staying healthy and fit. This will save your medical expenses. Hence, it is a good financial tip, isn't it?
Thoughts on MBBS From Marks Medical College, Dhaka:
Medicine is a dream career to pursue. Almost every medico enters this field by their will, not by force. A good medical college not only teaches students how to be a doctor. They make them assets to society.
Medical colleges in Bangladesh are either government-run or private. The scene of private medical colleges has been in bloom lately. There are many world-class private medical colleges in Bangladesh. Many of them are located in the capital city of Dhaka. Marks Medical College is a good option here.
The curricular and co-curricular activities here help students become skilled medical professionals. Thorough lectures help students know the medical terms. At the same time, the in-house hospital provides them the chance to experience real-life cases.
Seminars, health camps, and awareness programs of the college help doctors gather all sorts of experiences. This way, Marks Institute makes doctors who are assets to society in a real sense.