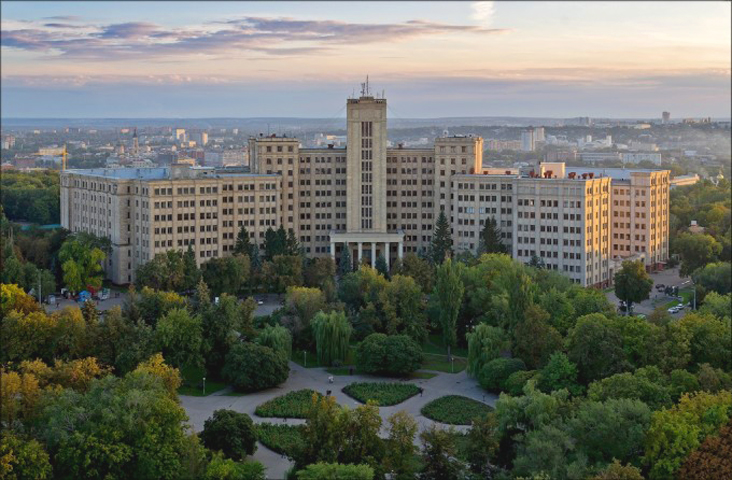 Kharkiv National Medical University, the oldest university in Ukraine established in 1805. Presently if one is looking forward to knowing about the teachers working at this University, then more than 600 teachers are available. This University is a member of the National Academy of Science of Ukraine as well.
Additionally, students from more than 85 states of Europe, Latin, America, Middle East countries, have studied from here and get specializations as well.
There is nothing that is missing in the modernization at all for MBBS in Ukrainehere. Any of the students who are looking forward to pursuing MBBS in Ukraine must look forward to this University.
Faculty at KNMU does not believe in making the courses complicated. They always do things that will help a student to learn about concept effectively without any hassle.

About Kharkiv National Medical University:
Before you step forward for MBBS in Ukraine at Kharkiv National Medical University, you must get aware of the structure as well. It is as follows:
The number of interns, doctoral candidates, students, clinical postgraduates, and so on is more than 7000.
From the international Association, 28 members are available.
This University is one of those universities that have 18 prizes in Ukraine.
13 doctors who are honored are available here.
From the National Academy of Medical Sciences of Ukraine, five members are available.
459 candidates of Medical Science and professors are available.
There are almost 122 doctors available as Medical Science interfaces.
Kharkiv National Medical University, 66 departments is available and providing 821 specialists in Science and pedagogy.
Affiliation of Kharkiv National Medical University :
Kharkiv National Medical University is recognized by:
| | |
| --- | --- |
| S.N. | Affiliated By |
| 1 | MCI |
| 2 | WHO |
| 3 | UNESCO |
| 4 | GMC |
Ranking of Kharkiv National Medical University :
| | |
| --- | --- |
| Country Rank | World Rank |
| 114 | 8490 |
The rank of Kharkiv National Medical University worldwide is 8490. The Ukraine ranking is 114.
Faculties of Kharkiv National Medical University :
| | |
| --- | --- |
| S.N | Name Of Faculty |
| 1 | Faculty for international studies |
| 2 | Faculty of stomatology |
| 3 | Faculty of dentistry |
| 4 | Faculty of Preventive medicine |
| 5 | Faculty of pediatrics |
| 6 | Faculty of general medicine |
Benefits of MBBS at Kharkiv National Medical University:
Multiple benefits offered to the student who is pursuing MBBS in Ukraine from Kharkiv National Medical University. These are:
The fee structure has been designed in a manner that anyone can afford it easily. Hostel and tuition fees are comparatively less.
The medium of teaching adapted here is English. If you know about English, then you can easily be a part of this University.
Additional facilities have also introduced by the University. Some guest lectures, the seminar has also been organized. These will help a student to learn about the concept more easily. Also, to clear the FMGE exam, faculties are available to teach the students.
After completing MBBS in Ukraine from here, multiple opportunities to be in Abroad will get immediately open. If they wish to pursue further studies in Abroad, options are available.
Security is also up to the mark, and without any hassle, a student will be able to reside here for the period he is studying.
At the campus of Kharkiv National Medical University, no ragging is allowed. If a student finds out to create any trouble with another student either ragging or other than this, they will get terminated from the University.
Eligibility criteria of MBBS Admission :
Eligibility criteria at Kharkiv National Medical University for MBBS in Ukraine are quite simple. It is as follows:
The age of a student must be more than 16 years and less than 25 years.
The student must have completed his 12th with more than 60% marks.
The subjects must be physics, chemistry, and biology along with English.
Valid identity proof for identification.
NEET UG examination qualified scorecard is required. No other exam is required.
A character certificate is required by the student.
Documents required For MBBS Admission:
The documents required for MBBS in Ukraine at Kharkiv National Medical University are:
12th standard passing certificate
Character certificate and migration certificate
Ten passport size photographs
NEET UG examination qualified scorecard
Passport

Admission procedure:
Admission procedure Kharkiv National Medical University is as follows:-
Complete the application form which is available on the official website of the University.
Scan all the copies of documents and attach them with the application form.
After attaching all the copies, will documents submit the form, wait for the offer letter.
After getting the offer letter, pay the fees. After fees submission, admission will get confirmed.
Now apply for Visa, and by getting it available, you are ready to travel for MBBS in Ukraine.
Visa procedure for Indian Students:
Kharkiv National Medical University allows the students to complete MBBS when they have VISA available with them. So, you need to apply for it too. Let's discuss about the same in detail!
Documents required:
Offer letter
Birth Certificate
Medical insurance
Application fees
Visa Application form filled
International passport
Educational certificate
Flight ticket reservation
passport size photographs
Make sure you are carrying both original and scanned copies.
Invitation letter
Caste certificate
Covid-19 negative report
HIV negative report
Bank statement with a minimum balance
Original passport
Health record
Original documents are required so make sure to have all of them at the time of verification and applying for visa as well.
Steps to apply for VISA:
The first step of applying for a visa is going through the required documentation process.
The next step is filling out an online VISA application form with all relevant information about yourself along with all the documents.
After completing this step, you can submit your application by paying the fee using various payment methods available online or offline.
The last step is waiting for your visa conformation email.
After the conformation visit the regional office for verification.
Within 10-15 days it will get delivered to your doorsteps and you are all set to go for MBBS in Ukraine.

After reaching Ukraine:
When you reach Ukraine after getting visa, there will be a small verification procedure done by the police and embassy considering the reason for which you are visiting Ukraine and residence wherever you are staying. For the verification procedure original documents are required so make sure to have them at the time of departure from your country.
Don't worry we will provide you guidance for the verification procedure as well and it will be helpful in hassle-free stay in Ukraine.
Indian Hostel and mess facilities:
Hostel and mess facilities are also up to the mark here. As:-
Well-equipped hostel rooms and well-equipped dining area in a mess.
Security at the hostel is also advanced.
If a student is used in the hostel, which is a bit away from the university transportation facility is also available.
For all the boys and girls, the hostels are separate.
The transportation facility available is two way.
At the hostel, Indian Warden and emergency doctors are available 24/7.
At the hostel, playground, sports room, and sports equipment are also available.
If a student wishes to get engaged in any of the sports activity, they can go with it.
Lifestyle of Indian Students:
The lifestyle of Indian students is very different here.
After choosing MBBS in Ukraine, they will be going to get engaged in things that they have not imagined as well.
There will be a lot of change in their personality, which will help them understand things easily.
There is no need for them to worry about anything because, at every step, councilors and helpers are available to help them.
     These are the things linked with MBBS in Ukraine with this University. If you wish to take admission here and you have any query approach us now. We will resolve your queries without any hassle.
How students can manage expenses during MBBS in Ukraine?
Ukraine is an amazing country located in the heart of Central Asia. The people are very friendly and the
scenery is breathtaking. Kharkiv National Medical University is one of the leading medical schools in
Ukraine.
The cost of living in Ukraine is very reasonable, especially when compared to other countries in the
region. For example, a meal in a restaurant will cost you around $5 USD. Rent for a one-bedroom
apartment in the city center will cost you around $350 USD per month.
As a medical student, you will have plenty of opportunities to gain experience and learn new skills.
However, you will also have to manage your finances carefully. Here are some tips on how to save
money as a medical student in Ukraine.
Tips to follow:
Find a roommate:
Rent is one of the biggest expenses you will have as a medical student. By finding a roommate, you can
split the cost of rent and other bills.
Buy your textbooks second-hand:
Textbooks can be very expensive. You can save a lot of money by buying them second-hand from other
students.
Cook your own meals:
Eating out can be expensive. You can save money by cooking your own meals. If you hire someone to do
it for you they will charge very high amount for it.
Use public transportation:
Public transportation is very cheap in Ukraine. By using it, you can save a lot of money on transportation
costs. You just need to get the right transportation.
5.Avoid unnecessary expenses:
There will be many opportunities to spend money as a medical student. However, it is important to
avoid unnecessary expenses. For example, you do not need to buy new clothes every season.
By following these tips, you can save a lot of money as a medical student in Ukraine. This will allow you
to focus on your studies and have a great experience during your time at Kharkiv National Medical
University.
About Kharkiv City:
Kharkiv is second-largest city in Ukraine. It is also known as Kharkov. For the Slobozhanshchyna historical region, it is the largest city. Not only this, Kharkiv is considered to be the administrative centre of Kharkiv oblast and surroundings of the region as well.
The city was founded in 1654 after the beginning of certain major centre of Ukrainian industry. All these are famous among trade and culture in the Russian Empire. This city plays a very important role considering transport, scientific, cultural, educational, the industrial centre of Ukraine. It has multiple theatres, museums, and libraries as well which not only mark the presence of history but also let individuals get an idea of what they can explore.
Having a look at the history then the culture artifact notice is from the bronze age, and some evidence is also related to it are there. In case people wish to explore about the things more they just need to visit throughout the city. Multiple museums and other places are there which help them to get an idea about it easily. The areas are divided according to the facilities has a user can get an idea of what they want.
Understanding about the climate then it has humid Continental with the cold, snowy winters along with the dry and hot summer. Moreover, it seems to be quite some time, but the sunny season is quite irritating for individuals. As compared to temperature in South European region here, it is quite less. The reason being is the lower elevation.
This city is occupied with the best educational facilities as well. Every year thousands of students come here and become part of universities offering Medical like Kharkiv National Medical University and others with Engineering education. Not only in industrial Corporation finance industry and trade industry as well this city is creating a place which seems to be unbeatable. Sectors are divided according to the requirements so the individual can move ahead accordingly.
Exploring the city will be fun because it is occupied with literature and music movies, visual arts museums and so on. Certain landmarks will help individuals to get an idea about the culture and history in detail.