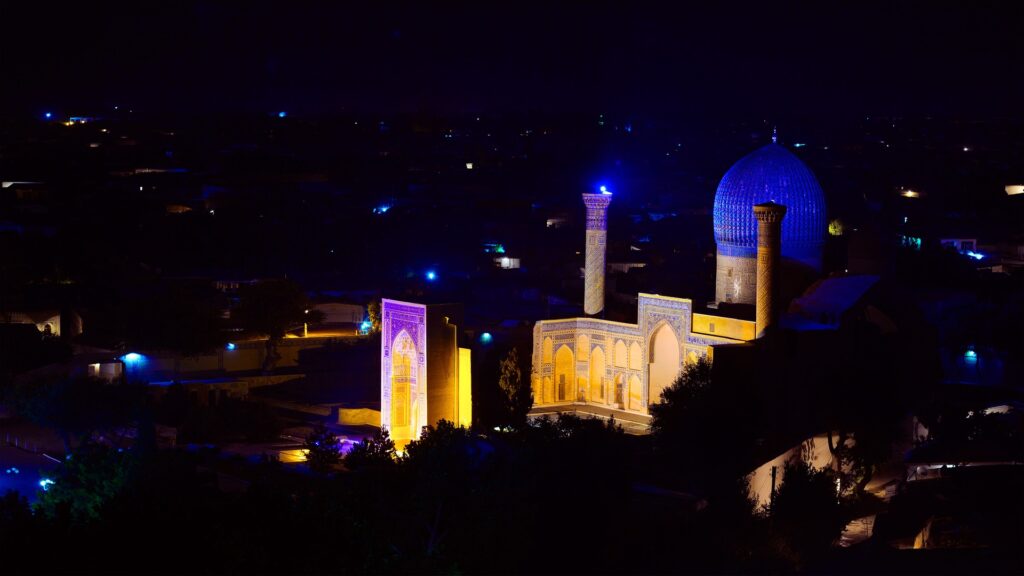 Uzbekistan is situated in central Asia. It is linked to Kazakhstan, Kyrgyzstan, Tajikistan, and Afghanistan from its four directions. Uzbekistan is more significant than California. This country has placed itself on the 42nd place in term of population. Its capital is Tashkent. Its local language is Uzbek. 90 % of its population is Muslim, 5% are Christian, and the other 5% are belonging to other religions. The people of Uzbekistan are well educated and take education as the essential thing to have in life.
Even the students from foreign countries come here to pursue their education. So many students attract MBBS in Uzbekistan. This country offers a unique environment for study. Countries' transportation services are well managed and very convenient for everyone. Uzbekistan is a cultural and historical nation.
Highlights
About Uzbekistan
| | |
| --- | --- |
| Language | Uzbek & English |
| Population | 3.2 crores in 2017 |
| Capital | Tashkent |
| Climate | Average of climate ( -2°C to + 32°C) |
| Currency | Uzbekistani Som |
| Exchange Rate | 1 INR = 127.19 UZS |
| Religion | Muslim & Christian |
| Time Difference with India | -30 Minutes |
| Total Area | 4,47,400 km² |
Uzbekistan is among those countries where you will be going to find a rich culture and also the surroundings will excite you. Officially, it is pronounced as the Republic of Uzbekistan, and it is a country in Central Asia. When it comes to looking at the countries which are surrounding Uzbekistan, then it includes Kazakhstan, Kyrgyzstan, Afghanistan and Turkmenistan. It is quite interesting to see that this country is enriched with a lot of diversity, culture and heritage which let people explore it more. If you are looking forward to settling in Uzbekistan for any reason you can consider the example of pursuing MBBS in Uzbekistan then you need to know about it.

One can mark the region of Uzbekistan to be added, and the average rainfall here is around 8 inches annually. The rainfall here is in winter and spring. But apart from it, it is quite interesting to see the average temperature here in July is 32 degree Celsius. The houses here are designed in a manner that person cannot feel any kind of trouble when they are deciding here. The climate here affects drainage and also contributes to irrigation, filtration and evaporation system.
The native language belongs to people residing in Uzbekistan includes Turkic language and Karkalpkstan. More than half of million people spoke the same language. Also, 1/7th population of the country speak Russian. Some people are also aware of English and hence visitor will not going to face any kind of trouble whenever they are coming here.
The religion persists here among all the Uzbeks are Sunni Muslims. They are known to be among those Muslims who are a lot of devoted. Also, if someone who belongs to other country coming here for any purpose like MBBS in Uzbekistan, there is no trouble will be created to them. The people here are so friendly that they will welcome you with their open hearts.
When you are coming to Uzbekistan and looking forward to exploring it then here you will be going to see a lot of places to explore the world this country is enriched with trade, industry, agriculture, medical departments, monuments, and so on. One just needs to step outside and explore it. Within no time they have the idea available that why Uzbekistan hits in the category of the most visited country these days.
When it comes to being good when you are here, then there is nothing going to create any trouble for you. People have a lot to do. If you feel like that you wish to settle up your business here, the option is also available. One just needs to come up with a strategy and implement it accordingly. Within no time, they will have the result available so that they can easily get the best in return.
And there is a lot for an individual to explore whenever they are coming here. If you are a medical student and you are looking forward to pursuing MBBS in Uzbekistan, then there is nothing for you to get tensed about.
Here you will be going to get all the basic facilities available that will help you in earning a livelihood and will also let you understand the medical concepts effectively. Professionals available at the medical universities in Uzbekistan are up to the mark and did not compromise with the quality of education at all.

About MBBS In Uzbekistan:-
---
| | |
| --- | --- |
| Apply for MBBS Admission | 1st Week of July |
| End Date for MBBS Admission | last week of August |
| Course Starts From | September 2022 |
| NEET Entrance Exam | Yes, Compalsory |
| Minimum Tuition Fee | 15.5 Lakh INR |
| Maximum Tuition Fee | 18 Lakh INR |
| Admission process time | 25 – 30 Working Days |
| University Recognition | MCI & WHO |
| Medium of Teaching | English & Uzbek |
| Accommodation Cost (twin Shaaring in Hostel) | 500 USD Per Year |
| Eligibility of Admission | 50% In PCB of 12th |
Every year thousands of students apply for MBBS in Uzbekistan. This country includes several well-reputed universities.
Indian medical students fail to get admission in the Indian universities either because of high fees structure or high percentage.
So many medical aspirants drop the idea of getting their education in India. They decide to take education in abroad. Uzbekistan is one of the few countries offering MBBS with meager fee rates.
The MBBS graduates from Uzbekistan are eligible to practice in their profession in any part of the world.
Even the doctors from Uzbekistan are recognized in the world.
The duration of MBBS in Uzbekistan is of 5 years. This period also includes one year of internship in reputed hospitals.
For international students, MBBS in Uzbekistan costs around 14-15 lacs. This amount includes tuition fees of the university, hostel charges, library charges, and other living expenses.
All the universities here are recognized by the WHO and Medical Councils of several nations such as India, America, Australia, etc. The teaching faculty employed in universities here are well qualified and experts in their respective subjects. The teachers are available even after their working hours for the students. The medium of proving education here is English. This quality has made the learning process very easy for international students.
Total Fee Structure of MBBS In Uzbekistan: At a Glance
---
| | |
| --- | --- |
| Name of Universities | Total 5 Year Fee Structure (Tuition Fee + Hostel fee) |
| Bukhara State Medical Institute | 16 Lakh INR |
| Tashkent Medical Academy | 18 Lakh INR |
| Samarkand State Medical Institute | 16 Lakh INR |
| Andijan State Medical Institute | 15.5 Lakh INR |
Personal expenses of the student during MBBS in Uzbekistan
When a person is heading for MBBS in Uzbekistan, they need to understand about expenses as well. When you are in India, you are habitual of currency, and there will be no as such trouble will arise to you. But when you are stepping to Uzbekistan, there is a lot more available for you to understand. If you have planned to go for MBBS in Uzbekistan but not sure about the expensive than this read is for you.
We will be going to highlight certain aspects that let you get an idea about it in detail.
Things to know about expenses:
The difference in currency:
In India, the currency we are using is Rs. But in Uzbekistan, a person will be going to use Som. In the present day, one Uzbekistani Som is equal to 0.0072 Indian rupees. From this, a person can easily calculate how much money they need to carry for residing in Uzbekistan.
Phone recharges also creates a big difference to people. Not only the incoming and outgoing services but the net recharges are also important for an individual to understand. In Uzbekistan, the operators available are COSCOM, UNITEL, UMS and uzmobile. These operators are hitting at the top in Uzbekistan. Whichever the operator a person will be going to choose, there will be recharged available. All the operators available, UNITEL is one of the budget-friendly one available.
It is quite interesting to see that transportation is quite inexpensive in Uzbekistan. Whether you are travelling by buses or minibuses, you just need to pay 12 UZS which means only $0.14.a user can conclude that this is the most inexpensive one available.
If you are stepping outside to try something new this evening or want to try any particular cuisine, then the minimum amount you need to pay for food at the cheapest restaurant is 4.00 USD or 2.00-7.30 UZS
In India, we all know that we can purchase a water bottle of 1 litre at Rs. 20. But in Uzbekistan the amount for the water bottle is also very less. For 1.5 litre bottle, a user needs to pay 0.13 to 0.50 UZS.
For a soft drink as well, there is no need for users to worry about. These are also available at a very nominal price. They just need to pay maximum to maximum of 4 UZS for having a bottle of soft drink.
Vegetable rates available for people of Uzbekistan are quite inexpensive. A user can purchase 1 kg of carrot for only 1400 UZS and can purchase onion with 650 UZS and potato for only 1100 UZS.
From above-mentioned things it is quite clear that there is a lot more available for people at a very cheap price in Uzbekistan. Therefore when you are heading for MBBS in Uzbekistan make yourself prepare according to the rates we have mentioned above. Moreover, the rates fluctuate according to currency, and the fluctuation depends on the current situation.
If you have anything else to know about it, then at Admission Route we are here to help you. We will clear all your doubts considering MBBS in Uzbekistan and will help you in getting rid of every problem which you may face during admission.

Admission Procedure of MBBS In Uzbekistan:
---
The Indian students are needed to apply for the MBBS admission in Uzbekistanby the 31st of July. In Uzbekistan, the visa processing time is only three days. You can apply for a visa and admission through the online process. The classes for the MBBS are started from the first or second week of September. MBBS admission in Uzbekistan required the following documents.
Detailed mark sheets of 10th and 12th standard
Passport with two years validity
Passport size photographs
Medical insurance
HIV test reports
Invitation letter

Eligibility of MBBS Admission in Uzbekistan:
---
To get MBBS admission in Uzbekistan, the students must follow the eligibility criterion. There are several universities which offer MBBS in Uzbekistan with the easy admission procedure. The admissions are directly based on the marks obtained in the 12th standard. Minimum passing marks in English are a must for MBBS admission in Uzbekistan. MBBS admission in Uzbekistan is based on the following criteria.
The medical aspirants must complete the age of 17 years by the 31st December of the admission year.
The students are required to score a minimum of 50% marks in physics, chemistry, and biology at the 12th level.
The students should have a NEET scorecard with qualifying marks.
We recommend MBBS admission in Uzbekistan is the best available choice for the medical students. For any further information, please contact us on the below-given number.
Indian Students Lifestyle In Uzbekistan:
---
Indian student finds high-quality education while pursuing MBBS in Uzbekistan. Science experts and students from the world live here.
This country is very diverse and friendly. Indians are treated with love.
We recommend Uzbekistan for medical study because students will explore the cultural activities here along with their studies.
Uzbekistan is a very traditional country. The people here follow their traditions and very focused on their education.
Its local language is Uzbek, but people also speak fluent English. This will make Indians living easy here.
As this country is not very expensive, plus has very well managed transportation services, the students here live a comfortable life.
Indian students either choose to stay in university hostels or rent an apartment. Both are comfortable living. But the hostel life is much more advantageous.
University hostels are equipped with modern facilities. It is safer than an apartment. Every university has a separate hostel for girls and boys.
For the Indian students, universities have Indian food mess. Getting admission in MBBS in Uzbekistan is also very easy.
Duration:

5 Year

Total:

₹15.82 lakh | $22,600

1st Year
₹4.34 Lakh
$6200
2nd Year to 5th Year
₹2.87 Lakh
$4100
Duration:

5 Year

Total:

₹15.05 Lakh | $21,500

1st Year
₹3.01 Lakh
$4300
2nd Year to 5th Year
₹3.01 Lakh
$4300
Duration:

5 Year

Total:

₹15.05 Lakh | $21,500

1st Year
₹3.01 Lakh
$4300
2nd Year to 5th Year
₹3.01 Lakh
$4300
Duration:

5 Year

Total:

₹17.85 Lakh | $23,800

1st Year
₹4.35 Lakh
$5800
2nd Year to 5th Year
₹3.38 Lakh
$4500