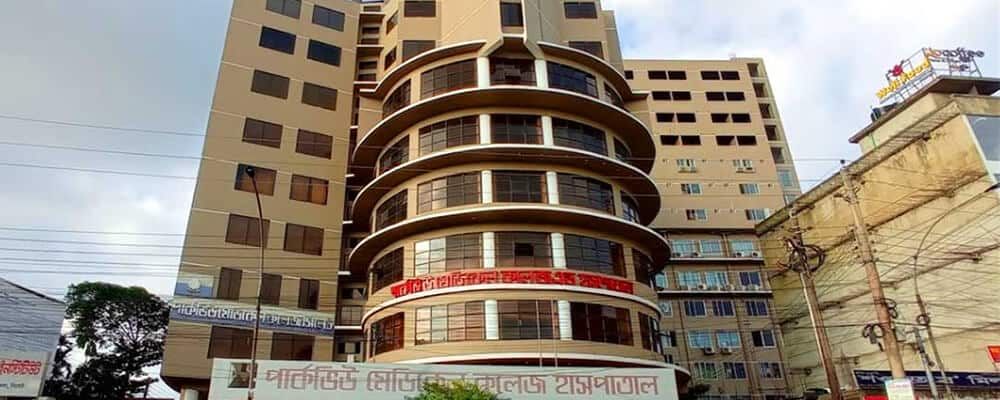 About Parkview Medical College
Parkview Medical College is one of the leading non-government medical colleges in Bangladesh. Established in 2014 in the city of Sylhet, which is known as the educational hub of Bangladesh, this medical college has been the center of attraction for native and foreign medical students since its early days.
You will get a high-end medical education with diverse faculties, advanced laboratories, rich hospitals, and other resources such as medical library resources, journals, research works, etc. along with these all, the hostel facilities and due to being in Asia, the food it is also not-so-unfamiliar for Indian students, that's a big relief too, isn't it?
Whether you are planning to pursue undergraduate medical courses like MBBS or postgraduate courses, Parkview Medical College is your one-stop solution for your dream medical career.
With this institute, you will get exposure to various academic and non-academic experiences. The medical college takes active participation in various public outreach programs and community medical services such as medical camps, free medical services, etc. You will experience wholesome medical education from grassroots-level statistics to high-end educational and infrastructure facilities.
Parkview Medical College: recognitions
As we have discussed earlier, Parkview Medical College is a center of attraction for many foreign medical students, including countries like India, Nepal, the UK, etc. There are a number of recognitions held by this institute from governing bodies in Bangladesh and other countries, such as:
Bangladesh Medical and Dental Council (BMDC)
National Medical Commission (NMC)
Bangladesh College of Physicians and Surgeons (BCPS) for Postgraduate training
General Medical Council (UK)
Medical Council of India (MCI)
Nepal Medical Council
Bhutan Medical and Health Council
Shahjalal University of Science and Technology (SUST)
Sylhet Medical University (SMU)
Faculties at Parkview Medical College
Faculty of Medicine (MBBS)
Faculty of Dentistry
Faculty of Pediatrics
Faculty of Surgery
Faculty of Gynecology
Faculty of Basic Sciences
Faculty of Pharmacy
Faculty of Nursing
Faculty of Allied Health Sciences
Faculty of Postgraduate Medical Education
Faculty of Research and Postgraduate Studies
Parkview Medical College: rankings
National ranking- 12
World ranking- 1718
Eligibility criteria to take admission to Parkview Medical College
Although Indian students can check the guidelines provided by the Medical Council of India regarding MBBS in Bangladesh, here is a quick list of the criteria:
Candidates must pass class 12 or equivalent by a recognized board
They must have scored a minimum of 60% of total marks in Physics, Chemistry and Biology
The minimum age required for admission is 17 years as of 31st December in the year of admission
The candidate must have qualified in the NEET UG entrance test in the year of admission
List of documents required for admission in PMC, Sylhet
Before packing your bags to PMC Sylhet, you must make sure you have collected all the documents required for your admission so that you can experience a smooth admission procedure and peaceful stay in Bangladesh:
Class 10th mark sheet and passing certificate
Class 12th mark sheet and certificate
Student's original passport
Clearance certificate from the police station
Sponsorship affidavit
Bank statement for the past six months
University admission letter
Admission form to the university
Equivalence certificate from the university
Visa application form
At least 12 photographs of candidate, make sure it is on matt paper
Equivalence TT copy
University TT copy
Demand draft (DD) in favor of the Bangladesh High Commission
Admission Process at Parkview
Since you have marked the checklist of required documents, you must be curious about the admission procedure. Let's find out what the admission procedure looks like in PMC, Sylhet.
The procedure starts with qualifying for the medical entrance exam NEET itself because this is the primary eligibility criteria for pursuing an MBBS. After this, there are a few steps that are not very hectic, let's have a look:
Step-1: Filling the Form
First things first, if you have qualified NEET and are confident about pursuing an MBBS in Bangladesh and are done researching medical colleges and selected Parkview for your MBBS, fill out your admission forms! This is how you will get your seat, right?
Visit the website and look for the admission form, fill in and submit the required documents, and congrats, you are done with the first step of your dream career and education.
Step 2: Admission Letter from College
After completing the form-filling procedure successfully, you will get the admission letter from your medical college, which is an important credential for your admission.
Along with this, get your passport made, as you will need it for the next step.
Step 3: Apply for a Student Visa
Apply for your student visa by submitting your passport, ID, and other documents that are needed.
Step 4: Pay the Fees
Pay the first-year tuition fee either by yourself or by the student loan you might have applied for.
Step 5: Pack Documents and Belongings
Check the list of required documents mentioned above and pack everything you will need at the time of admission, on campus, and for your stay in Bangladesh. Get tickets, and fly off to your dream medical college to pursue your dream career. All the best!
Why PMC?: Benefits of Taking Admission in MBBS in Parkview Medical College, Sylhet
Many reasons make this institute a good choice for Indians looking for foreign medical colleges for MBBS. Let's check out:
Affordable fee structure
The institute is recognized by the Medical Council of India, making it easy for Indian students to find careers after MBBS
English, being the medium of teaching, acts as the cherry on the cake as English is the major medium of teaching in India, too, so there is no language gap, at least in the classroom.
The local language, Bengali, is known to many Bengali Indian students, and most of the rest can learn it easily; being a familiar tongue.
Highly qualified faculties
Superior campus infrastructure
Separate and secure hostel facilities for boys and girls
Indian food is available in the campus canteen
In-house clinical training in the campus hospital
Similar MBBS curriculum to India
Medium of teaching at Parkview
Like almost all other medical institutes in Bangladesh, English is the medium of teaching at Parkview, Sylhet.
Hostel facilities at Parkview Medical College
Like the campus infrastructure, the hostel facility at Parkview is also high-end. It is natural to make sure the stay is safe and comfortable before taking off to campus. Following are the takeaways regarding Parkview's hostel facilities:
Separate hostels for boys and girls
Efficiently secure hostel and college campus
Mess facility with hygienic food
Indian food available in the mess
Tips for Students to Manage Expenses During MBBS in Bangladesh
Have a budget
Plan your expenses
Avoid unplanned expenses as much as you can
Don't eat outside anymore. It impacts the budget the most
Take care of your health, eat well to avoid medical expenses
Closing Paragraph
Parkview Medical College, Sylhet, is in the talks among medical students across the globe, especially pan Asia. Being in Asia, it is quite convenient for Indian students to study MBBS in Bangladesh. The medium of instruction in the country is English, making it easy for Indian students to consider MBBS in Bangladesh.
The budget, food, infrastructure, language, etc., are all according to the convenience of Indian students. MCI recognizes the medical institutes in Bangladesh, and hence, it is easy for Indian students to consider MBBS in Bangladesh as an option.
Take the NEET exam, qualify, check your eligibility, and fly off to Bangladesh to pursue your dream career in the medical field. Best of luck!