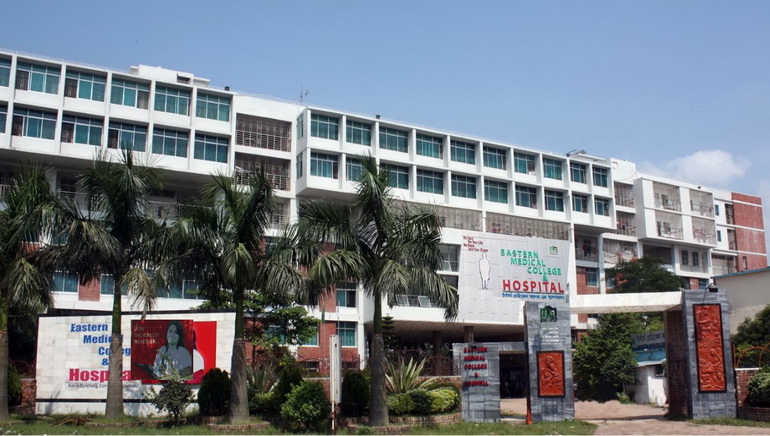 About Eastern Medical College, Comilla:
Eastern Medical College started in 2005. It is Bangladesh's only private college for medical education. Most students and teachers work at the Kabila campus. This place is next to the highway between Dhaka and Chittagong. Chittagong University and Chittagong Medical University work with this college. The program takes 5 years and gives an MBBS degree in medicine and surgery. All grads must complete a 1-year internship. The Medical and Dental Council of Bangladesh says it is a real degree.
There is a 600-bed hospital on the Kabila campus. In 2014, the Ministry of Health and Family Welfare set the limit for fees at private medical colleges in Bangladesh. The limit was 1,990,000 Bangladeshi Taka (US$25,750 in 2014).  This program must be approved by the Bangladesh Medical and Dental Council (BMDC). You must finish a 1-year internship after passing your last professional exam.
Recognition to the Eastern Medical College:
Bangladesh Medical and Dental Council (BMDC)
Medical Council of India (MCI)
World Health Organization (WHO)
Faculties at the Eastern Medical College:
Faculty of Medicine
Faculty of Obstetrics and Gynaecology
Faculty of Paediatrics
Faculty of Dermatology
Faculty of Anaesthesia
Faculty of Radiology
Rank of the Eastern Medical College:
National: 7
Worldwide: Nil
Eligibility criteria to take admission in Eastern Medical College, Comilla:
Eastern Medical College's MBBS admissions requirements are as follows, with priority given to applicants from India.
Passing qualifying examinations (HSLC/'A' level) or similar examinations are required.
Completed the equivalent of a high school diploma or SSC.
A high school diploma (HSC) or its equivalent is required.
Cumulative grade point average (GPA) of 7.0 (seven) or higher in SSC/'O' level or equivalent examinations and HSC/'A' level or equivalent examinations is required.
SSC/'O' level or comparable and HSC/'A' level or equivalent minimum GPA: 3.0
Minimum 3.5 GPA in Biology A minimum score of 60 in Biology will be required for acceptance.
The grade point average is based on the top five topics from the SSC/'O' level or comparable exam. Therefore, a 'O' level student's GPA is calculated as (the sum of their marks in their top five subjects)/5.
If the student's GPA is below 5, they may be allowed to count five elective hours towards their degree.
The HSC/'A' level or comparable exam GPA is calculated using only the marks from physics, chemistry, and biology. Therefore, the 'A' GPA is calculated as (the sum of the grades received in the best three subjects) 3.
The minimum passing score on the NEET exam must be presented.
Documents required for admission to Eastern Medical College, Comilla:
Certificates of completion of secondary school, high school, or their international equivalents are required. The proper authorities should testify to the certifications.
A passport or other government-issued photo ID is also required. The ID must be current and valid.
The college will provide an application form that you must complete. Complete the form by providing all requested information and including all requested documentation.
To complete your application, please upload a recent passport-sized photo of yourself. It is important that the photos are clear and well-lit.
Financial records or bank statements.
Certificate of Immigration.
Paperwork for a Transfer.
Certificate of good health and HIV testing.
Admission process at Eastern Medical College:
If you want to pursue a career in medicine and study at Eastern Medical College & Hospital, you must carefully follow the admission process and fulfil all formalities within the time frame specified.
Step 1: First, submit an application on the website. The medical college's application form can be downloaded from their website. The application procedure cannot be completed unless all fields are filled out, the required documents are uploaded, and the application cost is paid.
Step 2: College officials will evaluate applicants for admissibility based on their grades, standardised test scores, age, country of origin, test scores, English proficiency, and health.
Step 3: Third, once the documents have been examined and accepted, the college will issue an Admission letter, at which point the applicant must pay the admission price and finish the admission formalities.
Step 4: Fourth, potential candidates need to prove their health by passing a physical examination. Medical clearance is required for admission to the university.
Step 5: Applicants can then arrange their travel and study abroad departure dates once all paperwork and costs have been paid in full.
Benefits of taking admission an MBBS at Eastern Medical College, Comilla:
There are many benefits to getting your MBBS from Eastern Medical College & Hospital. Some benefits about going there include:
Eastern Medical College & Hospital is known for teaching well. Teachers are experts who love sharing their knowledge and experience.
The classes teach everything needed for medical work.
Eastern has updated buildings and tools for learning. The school has a great library, labs, and medical gear for students.
The Bangladesh Medical and Dental Council approved Eastern. This shows they provide quality medical education. An Eastern degree helps with more school or jobs anywhere.
Tuition for the MBBS program is less than at other schools in Bangladesh. Top students can get money help for tuition if needed.
Students get to practice medicine a lot. The college's hospital provides real training. It has new medical tech and doctors/nurses to teach students.
The college lets students help with research, too. The research department looks into many medical questions. Students are encouraged to join projects to learn skills.
Medium of teaching at Eastern Medical College:
Eastern Medical College of Bangladesh uses English for teaching. No language test is needed. Many students speak Hindi, Bengali, Oriya, Assamese, Tamil, Gujarati, Marathi and other languages. However, students at the college mostly converse in Bengali, English and Hindi.
Hostel facilities at Eastern Medical College:
Eastern Medical College & Hospital hostel is an up-to-date, multi-story building. There are separate hostels for boys and girls. Here are some options for places to stay near the Eastern Medical College for MBBS in Bangladesh:
The laboratories for each department are state-of-the-art facilities.
The college has its own hospital, complete with associated services.
Specialised transport services for university students.
There are regular opportunities to participate in activities outside of the classroom.
Students can rest well in one of the college's various comfortable hostels, outfitted with all the latest conveniences. The hostels are overseen by seasoned personnel who are also responsible for the upkeep of the buildings.
Rooms:
Space, ventilation, and complete furnishings characterise the Eastern Medical College & Hospital's dormitory rooms. Bed, desk, chair, and closet space are the standard fixtures found in each room. The rooms are made to be relaxing and productive spaces for living and learning.
Facilities:
Eastern Medical College & Hospital's dormitories are equipped with everything a student could require throughout their time there. There is also a common area where people can hang out and socialise, as well as a gym, a pool, and a variety of other recreational opportunities.
Canteen:
The college canteen serves healthy, well-prepared, reasonably priced meals. The cafeteria serves a wide range of international cuisines. Students with food allergies or intolerances are also accommodated.
Tips for students to manage expenses during MBBS in Eastern Medical College, Comilla:
Prioritise Accommodation:
Choose affordable housing options that are within your financial constraints. You might split the expense of housing with other students by living together. Eastern Medical College's on-campus residence halls are a practical and economical option for many students.
Budget for Essentials:
Create a monthly budget that includes essentials such as food, housing, and transportation, as well as educational costs like tuition and required reading.
Used Textbooks and Online Resources:
Look for old textbooks or use the internet to find information rather than buying brand-new textbooks. It has the potential to lessen the financial burden of college greatly.
Part-Time Employment:
Look into getting a part-time job within the constraints set by your college. While still focusing on your academics, working part-time can help you pay for life's other costs.
Scholarships and Grants:
Look into what the college, government, and commercial organisations offer in the way of financial aid. These grants, scholarships, and loans can help with college expenses.
Closing paragraph: denoting Reach Admission Route for MBBS Admission in Eastern Medical College, Comilla!
If you want to be a doctor, apply to Eastern Medical College in Comilla through special admission. The college works hard to teach medical and healthcare skills well. Students considering getting admitted to Eastern Med College should go through all the basic requirements and decide wisely. An MBBS degree from this college will prepare you for a good medical job. It will also help you grow skills to help people. All the best of luck to all future doctors aspiring to make life better for others.