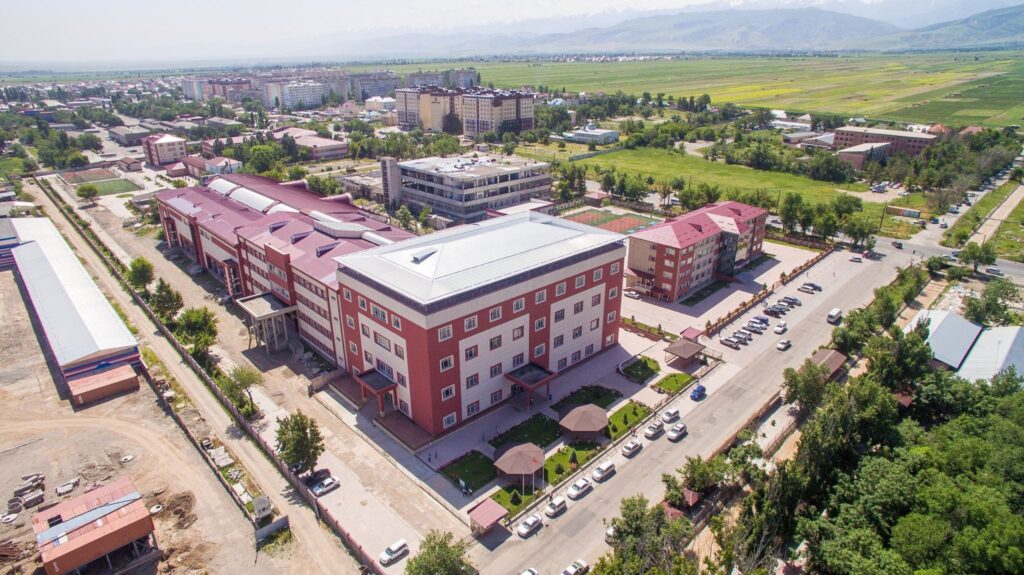 About:
Ala- Too international university is one of the most famous universities, and it was established in 1996. From that day, till yet, this university is coming up with a lot of modifications around. The major motive with which this university is moving ahead is as the Gateway to the world. This means that they are moving ahead for a bright future and want that every student must have all the facilities for completing their education. All the students wish to complete MBBS in Kyrgyzstancan apply for admission and start their career.
Also, multiple faculties are here helping the student to achieve their goals. This is a private institution, but yet the fee is really very affordable and helps students to avail the same through scholarships as well.

Ala- Too international university: Recognition
Ala- Too international university is recognized by:
WHO
MCI
Ministry of Education and Science

Ala- Too international university: Ranking
Ala- Too international university world rank is 10975 and the country rank is 11.

Ala- Too international university: Faculties
The faculties available here are as follows:-
Faculty of Pedagogy
Faculty of Psychology
Faculty of General medicine
Faculty of Pediatrics

Benefits of completing MBBS from here:
The benefits a student will be going to get after taking admission here is as follows:-
The university is well equipped with all the basic facilities.
Transportation facilities are available.
MBBS is available at a very reasonable price.
Scholarship programs are also there for students.
Professionals are aware of each and every concept in detail and help students to learn about things effectively.
Practical labs are also well equipped with traditional and modern techniques.
Teachers focus on theory and practical classes.
The internship will be organized by the university.
The mode of teaching is English.
Being a selective University, it is important for an individual to qualify for the exam.
Hassle-free visa procedure after approval.
Security will be at its best.
MBBS Admission: Eligibility criteria
Eligibility criteria for admission at Ala- Too international university are as follows:-
A student must be more than 17 years in age.
He must have secure 60% marks in his 12th standard.
A student must be having enough knowledge about English
It is must to have a PCB along with English in 12th standard
It is must for an individual to qualify for the NEET-UG examination
Being a selective university it is important for students to qualify the exam.
Documents required:
The document requirement for MBBS at Ala- Too international university is as follows:-
12th standard detailed Marksheet
NEET UG qualified certificate
Passport
10 passport size photograph
Medical test report
Health certificate
Application form
Result of entrance exam organized

Admission procedure:
The admission procedure is quite simple to follow. But before you move ahead for it, do not forget to get the results of entrance exam in your hand. If the entrance has not cleared, you will not be able to take the admission. The steps are as follows:-
At the very first, an individual needs to visit the official website of Ala- Too international university.
Look forward to the admission form and check out the instructions in detail. Get clear about the marks required to qualify the entrance exam.
Fill the application form and attach all the necessary documents asked.
Submit the form.
Wait for 3 to 4 working days.
Within these days, the call letter will get generated.
After receiving the call letter, pay the fees.
After paying the bills, apply for a visa.
After Visa's approval, you are ready to fly for MBBS at Ala- Too international university.
Ala- Too international university: Syllabus
Year
Semester
Syllabus
1st
1st semester
Anatomy
2nd semester
Histology and Anatomy
2nd
3rd semester
Physiology, Histology, Anatomy, and Bio-Chemistry
4th semester
Physiology, Micro Biology and Bio-Chemistry
3rd
5th semester
Path physiology, Pathology, Micro-Biology, and Pharmacology
6th Semester
Path physiology, Pharmacology and Pathology
4th to 5th
7th to 10 th Semester
Clinical Subjects and Clinical Postings
Oncology, Emergency Medicine, Internal Medicine, Neurology, Psychology, ENT, General Surgery, Pediatrics, Gynecology, and Cardiology

Duration of MBBS course:-
The duration or completing MBBS from Ala- Too international university is 5 years. It is divided as 4+1 years. The 4 year duration is for semesters based on academic education and last year is for internships.
The mode of teaching preferred is English so that Indian students can easily get the idea of the course and understanding things will be easier for them.

Hostel facilities:
Hostel in Ala- Too international university are also available for students coming for MBBS in Kyrgyzstan here. Hostel facilities are there, which let individuals feel secure as well. All those who feel a bit introvert can easily feel comfortable by being there.
Having a look at the rooms, then these are occupied with all the basic amenities. 24 by 7 by Wi-Fi and electricity services will be available. Also, it is quite surprising that for Indian students, wardens are also there to help go through each and everything in detail. They will help you to get familiar with the environment and let you conclude that this is the best space for you to be. The campus is ragging free, which clearly indicates that no senior will be going to trouble the student in any case.
In case a person who wants to step outside and don't want to avail the hostel facility, can apply for private apartments. But parent's permission is important. In case parents have not sent the letter in writing, the university will not allow students to go for private apartments at all.

About Bishkek City
Bishkek is the largest city in Kyrgyzstan and its capital as well. It is considered to be the administrative centre of the Chuy Region. This city is not a part of the province, but the province has surrounded the city. It is also near the Kazakhstan border. This border let people rely on this city for the sake of trade and other facilities.
Having a look at the city, it is occupied with a lot of monuments and places which contributes to history a lot. There is no doubt in the fact that from Kokand rule to independence era, there is a lot to explore. Many fighters come here and go and give this city a new way to grow. Also, this country is considered to be the centre of tourist attraction as well.
Having a look at the climate, it is Mediterranean influenced and has a humid Continental climate. This clearly means that the average mean temperature in the winter season is less than 0° and the average precipitation here is around 440 mm means 17 inches per year. The daily temperature here in the month of January is about 3° Celsius, and during the month of July, it is 31° Celsius. This clearly means that people can adjust to their surroundings without any hesitation.
This city is not away from education culture as well. Multiple universities are there offering first-class education. One can consider Ala- Too international university, which is known to offer medical studies with the criteria that perfection will hit the doors. A student will not face any kind of trouble at all because teachers are so aware of each and everything and move ahead with same criteria only.
Not only this, but this country is a hub for all those who want to achieve their dreams through studies but feel like they do not have sufficient budget available.
How students can manage expenses during MBBS in Kyrgyzstan?
Ala-Too International University is one of the most famous universities offering MBBS in Kyrgyzstan. But among all the university's students consider this university to be expensive. However not forget that managing expenses are in hands of the student.
If you are someone who experiences budgetary issues just because you are not aware of the tips on how to save money don't worry and follow the below mentioned during MBBS in Kyrgyzstan. In this article, we will be sharing the best tips for you to save some money!

Tips to follow to save money during MBBS in Kyrgyzstan:
1.Consider public transportation:
It is advisable for all the students during MBBS in Kyrgyzstan not go for private transportation as it is really very expensive. If you do not wish to be a part of the problem consider public transportation and travel safely.
2.Choose reliable stationery:
When you visit the stationery market you will find out different types of stationery available and some stationaries are so fancy that you feel attracted to them for a while. It is advisable that instead to go for fancy stationery go for economic and reliable options. This will save money for you in long term and there will be no need for you to visit the stationery again and again.
3.Do not go outside unnecessarily:
This is a natural human behavior that whenever we step outside, we spend money on food and other things. If you wish to save money do not go outside much and spend money unnecessarily. Until and unless you are controlling yourself to visit outside you will be able to save some money for your emergency situation and during your stay as well.
4.Plan budget wisely:
Last but not least to understand you need to plan your budget wisely because if you are planning your budget unnecessarily or ruthless you will not be able to save money at all. Just prioritize things in a proper manner.
Note:
Saving money during MBBS in Kyrgyzstan is easy until and unless a student is aware of how to manage the expenses. If you are facing any problems then keep a track of your expenditure so that you will be able to figure out whether you are spending money on the right things or not.
 
How Admission route is helping students?
Admission route is helping students in finding out and everything about the university. Students who face trouble while applying for MBBS in Kyrgyzstan at this university can come to us and get all the details. They just need to be specific about the force they wish to pursue. Moreover, we provide all the details from start to end, so staying there will become an easier task for them.
Professionals are available with us who let feel students comfortable considering each and everything related to admission.