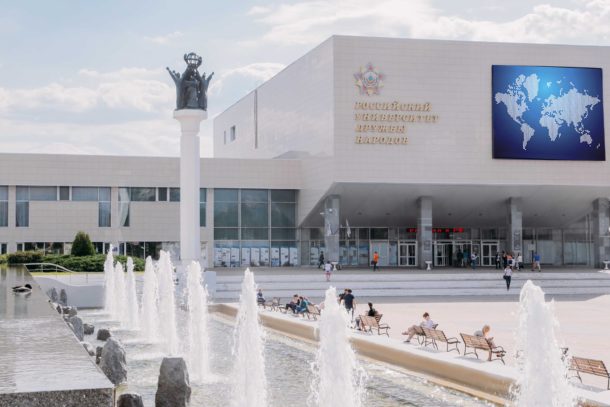 People friendship the University of Russia let foreign and Russian political and public figures to collaborate with each other. Outstanding Scholars and scientist become a professor, and all of them are representing the country in some part of the world. This university is a renowned Research Centre as well, and 4500 employees are there. Among all of them, 2826, are highly qualified teachers, and some of them are looking forward to making their career in advanced fields. Moreover, every year thousands of students take admission here to complete their higher education. And the major reason to get admission here because they get quality education along with affordability. After 50 years of existence, this university is known worldwide, and for its major academic and Research Centre, it is gaining popularity all around.
It hits in the category of top 5 Russian universities as well. Moreover, for all the students, this become the institution where they will be able to grab all the knowledge they require. There will be no need for a student to move here and there whenever they wish to complete their higher education.
When you are coming for MBBS in Russia at this university there will be no problem for you in any case at all.Are you looking forward to fulfilling your MBBS in Russia dream? Do you want us University that will provide you with all the Essentials which will help you to fulfill your dream? If your answer is yes, then the People's Friendship University of Russia is the right choice for you.
Yes, you read it right. MBBS in Russia is just a call away. You just need to approach the People's Friendship University, and soon you will be able to fulfill your dream of MBBS. This University was established on 5th February 1960 and offered you a degree in various courses. But when it comes to MBBS in Russia from this University, you will not feel disappointed in any case.
More than 77000 students have been graduated from People's Friendship University and working in 170 other countries. 5500 students among those are known to be the folders of PhD and doctorate degree. Along with it, more than 29000 students are studying at this University from 140 countries. More than 450 Nation and nationalities of the world are welcome to study in People's Friendship State University.

Documents required For MBBS:-
Documents required for MBBS Admission at People's friendship university are as follows:-
12th standard passing certificate
NEET UG examination qualified scorecard
10 passport size photograph
Character certificate
Medical certificate
Passport
Birth Certificate
Migration certificate

Eligibility criteria:-
The eligibility criteria for MBBS in Russia at this university are as follows:-
Age of a student must not be more than 25 years and less than 17 years.
NEET-UG examination of a student must be qualified
The student must not hold any criminal record in his academic studies
He must have secured 60% marks in 12th standard.
The student must opt for Subjects in 12th standard must be Physics, Biology, and chemistry along with English.
Admission Procedure for Indian Students:
When you are looking forward to applying for admission in MBBS in Russia from this University, then make sure about all the necessary documents. This document will help you to figure out that there will be nothing which can cancel your request for the admission.
The procedure you are supposed to follow for admission is as follows:-
At the very first, you are supposed to fill the online application form. You will be able to get the application form from the official website of the university.
After filling the application form, the admission letter will be generated. The admission letter will be generated by the officials after verifying about your documents.
When the admission letter gets generated, you are supposed to pay the tuition fees. Tuition fees will verify your admission, and you are ready to proceed towards there.
Now you are supposed to apply for Visa. Make sure when you are applying for Visa you are mentioning your details appropriately, and you are attaching all the necessary documents along. In case any of the documents are missed, then there might be chances you will not be able to get your Visa.
After getting your visa, you are ready to pack your suitcase, and you are welcome to University as well.
These are the steps which are a must for you to follow when you want to pursue MBBS in Russia. In case you have any doubt considered to any of the curricula then the online website of People's Friendship State University guide is available. You can go through the same and search for your query.
Visa Procedure Details:
People's Friendship University lets students be part of the curriculum when they have a Visa available. If they do not have Visa, they cannot be a part of it. Let's discuss the visa procedure in detail!
Documents required:
Documents required to apply for Visa for MBBS admission in Russia are as follows:-
Birth certificate
Passport size photograph
HIV negative report
Covid-19 negative report
Health record
Bank statement with a minimum balance
Invitation letter
Offer letter
Original passport
Aadhar card
Caste certificate
Original documents are very important to carry. When you apply for Visa and go for verification, the original documents creates a big role. Therefore make sure to have all of them whenever you go for any Visa related procedure.
Steps to apply for Visa:
Some simple steps are there you need to follow whenever you are filling out for Russian Visa. These are as follows:-
Fill out the application form and make sure to scan all the documents along.
After scanning all the documents, upload all of them with the application form.
After filling out the application form, cross-check it and submit it.
After submitting the form, you need to wait for the duration until you receive the confirmation email.
After receiving the confirmation email, visit the regional office for the verification procedure.
After going through the verification procedure, you can pack your bags and reach out to Russia as soon as possible.

After reaching Russia:
Every student who enters Russia needs to go through a verification process. This will be done by the Russian Embassy, and they will look at factors such as where you live and what you intend to do in the country. After the verification has been done, you are all set to pursue MBBS in Russia. Original documents are a must for it, so make sure to have them.
People's Friendship University Recognition:
The People's Friendship University of Russia is recognized by MCI, UK, WHO, USA, and other major countries as well.
People's Friendship University: Ranking
When it comes to ranking, the country rank of People's Friendship University is 11, and world rank is 924. Apart from it, the Ministry of Education of Russia Ranked this University to be 3rd best University after Moscow State University and Saint Petersburg State University.
Faculties are not less hair at all. There are difficulties available that are offering you with best in your native language. Faculty is available here are:
Management in Health Care
Faculty of Dental Medicine
Faculty of Nursing
Faculty of Pharmacy
Faculty of General Medicine
Hostel life of Indian Students:
Hostel life is also very different when one is coming for MBBS in Russia here. The students will not feel like they lack at any particular point. The best part about the hostel offered to you by People's Friendship University in Russia is the rooms are equipped with every basic necessity, and there is no need for a student to roam here and there. The cafeteria area is also design so beautifully that a student will not feel like that he is not ready to cope up with the situations going on.
It is not a must that every student loves non-vegetarian. For all those students who want to try vegetarian food, the option is available. There is no need for them to change their eating habits at all. Moreover, when it comes to looking at the campus of the hostel, it is equipped with Wi-Fi and green surroundings everywhere if one is not feeling like to be in a room he can step outside and enjoy in the outer campus.
Regular cleaning also offered to the students. The washrooms are well ventilated and equipped with every basic necessity. The washrooms are neat and clean, and these are not stinking at all.
Hurry up, apply for MBBS in Russia now and fulfill your dream of being a doctor.
Why does Indian student consider this University to be there prior choice for getting MBBS admission in Russia?
The prior reason why Indian students are looking forward to MBBS in Russia from People's Friendship University is because of the highly subsidized fees. The Russian Ministry of Health and education have maintained the fees in a manner that everyone can easily afford it and get a quality education. Compared to other Western countries, the fees here are very less and affordable.

How can students manage expenses during MBBS in Russia during stay at People's Friendship University?
As an MBBS student in Russia, you will have to manage your expenses carefully during your stay at the People's Friendship University. Here are some tips on how to do so:
1. Make a budget:
First, you need to make a budget of your monthly expenses doing MBBS in Russia. Include all your necessary expenses like food, accommodation, travel, study material, etc. in your budget.
2. Cut down on unnecessary expenses:
Once you have made your budget, try to cut down on unnecessary expenses. For example, if you are spending too much on food, then try to cook your own meals or eat out less often.
3. Save money on accommodation:
If you are living in a university dormitory, then you will save money on accommodation. However, if you are living off-campus, then you can try to find a cheaper place to live or share an apartment with other students.
4. Use student discounts:
As a student, you are entitled to various discounts on various products and services. Make use of these discounts to save money. For instance, you can get discounts on movie tickets, travel fares, etc.
5. Earn some extra money:
If you have some spare time, you can earn some extra money by doing part-time jobs while being at the hostel only. The jobs outside the campus are not allowed. This will help you cover your expenses and also give you some extra pocket money.
6. Be aware of scams:
Unfortunately, there are many scams targeting foreign students in Russia. Be aware of these scams and do not fall prey to them. If something sounds too good to be true, it probably is. Do your research before investing your hard-earned money in any scheme.
7. Make a savings plan:
Once you have figured out your monthly budget, make a realistic savings plan. Determine how much you can afford to save every month and set aside this amount separately. This will help you in creating a financial cushion for yourself.
By following these ways one will be able to save a lot pf money during their stay while doing MBBS in Russia!