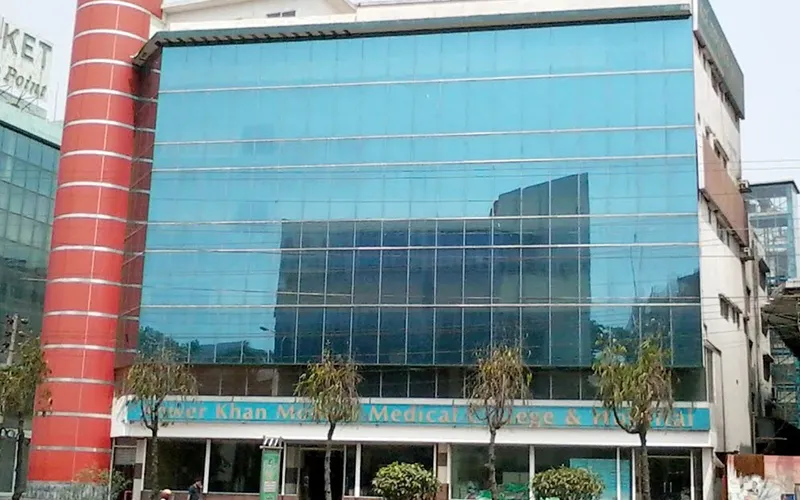 About Anwer Khan Modern Medical College:
When it comes to private medical institutions in Bangladesh, few can compare to the calibre of Anwer Khan Modern Medical College (AKMMC). The institution first opened its doors to students in Dhanmondi, Dhaka, in 2008. Anwer Khan Modern Medical College is a constituent institution of the University of Dhaka.
The institution encourages all students who are not natural English speakers to apply to its MBBS curriculum. After completing their medical degree, all students are required to do a one-year internship. The Medical Council of India and the Bangladesh Medical & Dental Council both recognise the college's degrees.
The Bangladesh Medical Studies and Research Institute (BMSRI) and its affiliated hospital are both managed by the same non-profit, non-governmental organisation. The government of the People's Republic of Bangladesh oversees the college through the Ministry of Health and Family Welfare.
Recognition to the Anwer Khan Modern Medical College:
BMDC-approved
Affiliated with the University of Dhaka
The Ministry of Health and Family Welfare
Government of the Peoples Republic of Bangladesh
World Health Organisation
National Medical Council
Faculties at the Anwer Khan Modern Medical College:
Faculty of Anatomy
Faculty of Biochemistry
Faculty of Forensic Medicine
Faculty of Community Medicine
Faculty of Pathology
Faculty of Microbiology
Faculty of Physiology Department
Faculty of Pediatrics
Faculty of Pharmacology & Therapeutics
Faculty of Neuro Medicine
Faculty of Infertility
Faculty of Endocrinology
Faculty of Nephology
Faculty of Cardiology
Faculty of Transfusion Medicine
Faculty of Venereology (Skin & VD)
Faculty of Physical Medicine
Faculty of Psychiatry
Faculty of Rheumatology
Faculty of Gastroenterology
Faculty of Oncology
Faculty of Anesthesiology
Faculty of Radiology & Imaging
Faculty of Gynae & Obstetrics
Rank of the Anwer Khan Modern Medical College:
National: 114
Worldwide: 12369
Eligibility criteria to take admission in Anwer Khan Modern Medical College:
The criteria for entry into a modern MBBS programme are as follows:
The equivalent of the High School Leaving Certificate/A-Level or above is required.
A SSC or 'O' level examination taken and passed after 2017 (2022-23 session).
Completion of an HSC/A-level or equivalent test after 2019 (2022-23 session) is required.
Minimum cumulative grade point average (GPA) in Secondary School Certificate (SSC)/'O' Level (or equivalent) and Higher Secondary Certificate (HSC)/'A' Level (or equivalent) exams: 7.0
Required minimum grade point average (GPA) for both Secondary School Certificate (SSC)/"O" Level and Higher Secondary Certificate (HSC/"A" Level)/equivalent exams is 3.0.
Prerequisite: 3.5 GPA in Biology A minimum score of 60 in Biology will be required for acceptance.
When determining a student's GPA based on their performance in the SSC/'O' level or equivalent test, only the top five subjects are taken into account. Therefore, the 'O' level GPA is calculated as (the sum of the marks received in the best five subjects)/5.
If the student's GPA falls below 5, they may be allowed to count five elective hours towards their degree.
For the purpose of determining an overall grade point average, the HSC/'A' level or equivalent exam mark in just three disciplines is used: physics, chemistry, and biology.
The 'A' GPA is therefore calculated as (total grades received in top three subjects)/3.
Students are obligated to provide their NEET cut scores.
Documents required for admission in Anwer Khan Modern Medical College:
Certificates of SSC and HSC/equivalent exams
Photographs in passport size
NEET scores on a valid passport
Passing certificate Invitation letter
National identification card Medical certificate
Certificate of HIV testing
Application form
Certificate of transfer
Bank receipt with a valid passport
Certificate of Birth
Certificate of Migration
Certificate of Caste
Report on Covid-19
Admission process at Anwer Khan Modern Medical College:
It's simple to enrol at the Anwer Khan Modern Medical College; just follow the instructions outlined below for MBBS in Bangladesh.
Step 1: Finding an appropriate course is the first order of business. Keep in mind that there are many options for classes at your college. You need to make the appropriate one is crucial.
Step 2: The enrollment application must be completed once a course has been chosen. Everything must be scanned and forwarded to the specified email address.
Step 3: If the submitted materials satisfy the college's requirements once the application process is complete, the candidate will get an invitation letter.
Step 4: The candidate must pay the enrollment fee using an online payment method. This includes net banking, once they have received the invitation letter.
Step 5: A visa application must be submitted once the enrollment fee has been paid. The candidate needs to get in Bangladesh quickly. Thus this procedure cannot be slowed down.
Step 7: The applicant must pay the annual course cost. Ensure that they have all original documentation with them before they travel to Bangladesh.
Step 8: The candidate must present the original paperwork and register for classes within four to five business days of their arrival in Bangladesh.
Benefits of taking admission in MBBS in Anwer Khan Modern Medical College, Dhaka:
The following are only a few of the many positive aspects of studying medicine in Bangladesh:
Budget-conscious foreign students should not worry about the cheap cost of living.
The college has state-of-the-art amenities, cutting-edge technology, and contemporary infrastructure, and provides pupils with constant access to utilities like running water and electricity.
International students studying medicine or other fields may study freely in this country because to its low crime rate and strong sense of community.
Education in the MBBS Programme is of the highest calibre. The course content is on par with that of other top medical schools throughout the world.
Classes taught in English eliminate language as a barrier for Indian students who are not fluent in Bangla but who are not native English speakers.
In colleges, students are encouraged to pursue research opportunities after finishing their MBBS degrees because of the conducive research environment.
World Health Organisation and National Medical Council accreditations acknowledge medical schools in Bangladesh.
Affordable tuition plays a significant role in luring a growing number of foreign medical students each year. Scholarships allow many students to study for no out-of-pocket expense.
Medium of teaching of MBBS:
English is the medium of teaching at Anwer Khan Modern Medical College, Dhaka.
Hostel facilities at Anwer Khan Modern Medical College:
The college's hostel rooms are divided between male and female students.
A CCTV system keeps an eye on the dorm to ensure the safety of the students every single day of the week, all day long.
Regular cleaning and laundry services are available at the hostel.
First-come, first-served is the rule at hostels.
Students can use the free Wi-Fi in the common areas of the dormitory whenever they need it.
The hostel has a meal hall open around the clock at a reasonable charge.
The college provides separate dorms for male and female students. The hostel is well located on campus, making it a short walk to class. The rooms have been thoughtfully built with students in mind. The government organisation is providing the cheap hostel. Students are welcome to remain on campus for the duration of their studies.
Tips for students to manage expenses during MBBS:
Utilize College Resources-:
Students at Anwer Khan Modern Medical College have access to a wealth of academic materials. It is essential to make the most of these resources. The college library, for instance, has a wide variety of print and electronic scholarly publications, as well as other reference materials. Check the library's selection before dropping cash on duplicates. Saving money is also possible by doing practical classes in campus laboratories rather than travelling to off-campus workshops.
Opt for Group Studies:
Some topics in medical school may necessitate the purchase of models, charts, or other specialised equipment. Students can save money by purchasing in bulk rather than making individual purchases. Studying in a group is very more cost-effective. Furthermore, it also aids in learning by promoting in-depth conversations and teamwork.
Local Living:
Dhaka has several local marketplaces where basic necessities may be purchased at far lower costs than in more posh malls or businesses. Students can save money on groceries, school supplies, and medical equipment by shopping at their neighbourhood markets. Saving money on food each day is possible by preparing more of your own meals. They should take advantage of the healthy options at local restaurants.
By adopting these practises, MBBS students at Anwer Khan Modern Medical College may better control their costs and have a more pleasant academic experience.
Closing paragraph: denoting Reach Admission Route for MBBS Admission in Anwer Khan Modern Medical College, Dhaka!
It's admirable and difficult to want to study medicine at a prestigious school like Dhaka's Anwer Khan Modern Medical College. The "Reach Admission Route" provides a well-organized, well-documented plan of action that streamlines the admission process. It is important to stress the Route's function as a connection between prospective students and their hopes and ambitions. It's more than just a collection of rules; it's a promise to help and support every qualified applicant who puts in the time and effort. The Reach Admission Route ensures that no deserving student will be denied admission to Anwer Khan Modern Medical College, which has as its stated aim the shaping of the future of medicine. Accept the journey and let your drive and determination guide you.