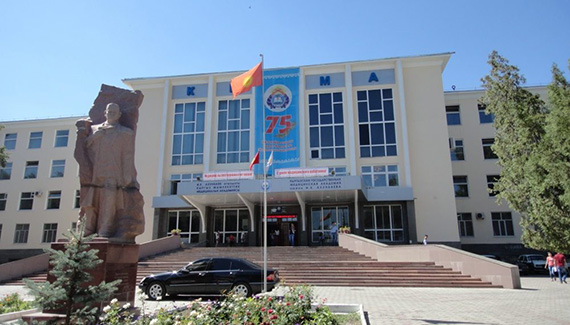 Kyrgyz State Medical Academyis located in Bishkek. This university is among the oldest universities in the nation. This University is known as the prime medical university. Kyrgyz State Medical Academyhas installed the latest equipment on the campus. It has modern infrastructure so that students can enjoy while learning. The university is known for providing a high-quality education at a little cost. Kyrgyz State Medical Academy is attracted by many students from different countries (such as India, America, China, England) because of its low fees structure and quality education. Kyrgyz State Medical Academyhas employed highly qualified teachers. Among them, some state prize winners. Moreover, if you want to take any assistance from the teachers, then you can, as they are also available even after college working hours. The medium of teaching in the university is English.
Kyrgyz State Medical Academy: At a glance
| | |
| --- | --- |
| Established In | 1 September, 1939 |
| Type | Public |
| Location | Bishkek, Kyrgyzstan |
| World Rank | 8975 |
| Official Website | https://www.kgma.kg/index.php |
| No. of International Students | More than 12000 |
| Last Date of Apply | Last Week of September |
| MBBS Course Duration | 5 Year |
| Eligibility | 50% in PCB of 12th |
| NEET-UG | Compulsory |
| Recognition | WHO & MCI |
| Indian Food | Available |

Reasons for Study MBBS In Kyrgyz State Medical Academy:
Every year about 15000 students from various countries apply for MBBS at the Kyrgyz State Medical University.
In a country like India, getting MBBS admissions are complicated; because of the high fee structure of the degree programs.
The complete degree of MBBS in Kyrgyzstan costs around 20-24 lacs. This amount includes tuition fees, hostel charges, library expenses.
Over 350 Indian students enroll themselves for MBBS in Kyrgyzstan.
In Kyrgyz State Medical University, the duration of MBBS is 5 years. The 5 years are mainly classroom learning and practicals, while in the final year, the students are trained in renowned hospitals.
The students studying in the university explore other religions through different cultural events and activities organized by the university.
The MBBS degree holders from this university can work in any part of the world.
The admission for MBBS in Kyrgyzstan depends on the 12th standard percentage. The minimum marks required for the admission are 55% marks in the 12th level.
The students must have a NEET scorecard for the admission in MBBS in Kyrgyzstan.

Kyrgyz State Medical Academy: Fee Structure 2023
Particulars
Year 1
Year 2
Year 3
Year 4
Year 5
11th Semester
Tuition Fee
4800 USD
4800 USD
4800 USD
4800 USD
4800 USD
2400 USD
Hostel Fee
600 USD
600 USD
600 USD
600 USD
600 USD
600 USD
Total Fee in USD
5400 USD
5400 USD
5400 USD
5400 USD
5400 USD
3000 USD
Total Fees in INR
4,48,200 INR
4,48,200 INR
4,48,200 INR
4,48,200 INR
4,48,200 INR
2,49,000 INR
APPLY NOW
Kyrgyz State Medical Academy: Faculties
This university has several faculties. They are in the form of pediatrics, nursing, pharmacy, general medicine, dentistry, and medical and preventive care. This university has employed 350 expert teachers.
| | |
| --- | --- |
| S. No. | Name of Faculties |
| 1 | Faculty of General Medicine |
| 2 | Faculty of Pediatrics |
| 3 | Faculty of Dentistry |
| 4 | Faculty of Pharmacy |
| 5 | Faculty of Medical and Preventive Care |
| 6 | Faculty of Nursing |
Kyrgy State Medical Academy: Ranking
| | |
| --- | --- |
| Country Rank | World Rank |
| 1st | 8975 |
Kyrgyz State Medical University ranks at 1st positions in the country, and it is on the 8975 ranks in the world level.

Recognition of Kyrgyz State Medical Academy:
WHO and UNESCO have approved the Kyrgyz State Medical Academy. It is also recognized by the Medical Councils of several nations (like India, America, England, Australia, etc.) The international students who studied from Kyrgyz State Medical Academy can practice their profession in any part of the world. The students need to pass one Medical Screening Test to practice in their home country.

Admission Intake and Events 2023-
| | |
| --- | --- |
| Date | Events |
| 15-05-2021 | International Scientific Conference |
| 1st week of May 2021 | Admission Starting For MBBS Course |
| Last week of August 2021 | Last Date of admission application |
Visa Procedure and all other details:
Kyrgyz State Medical Academy considers all those students who have fulfilled their eligibility criteria and all the required documents. Among all documents, the visa is also important.
Documents required applying for Visa:-
Invitation letter
Application letter
Offer letter
Passport
Original documents
HIV negative report
Aadhar card
Birth certificate
Bank statement with a minimum balance
Covid-19 negative report
Passport size photograph
Health record
When you apply for Visa, the scanned documents are required, but at the time of verification, you need to get present with all the original documents. To rectify all the documents if there is any problem with them.

Steps to apply for Visa:-
The simple steps you need to follow when you wish to pursue MBBS in Kyrgyzstan at Kyrgyz State Medical Academy are as follows:-
Visit the official website to apply for a Visa.
The direct link is available click on it.
It will be redirected to the next page, where you need to agree to all the terms and conditions.
After agreeing to all the terms and conditions, fill out the visa application form and upload all the scanned documents.
After uploading all the documents, just submit the form.
Check out if you receive the form for any rectification.
If there is no request received, wait for the duration until the application gets confirmed.
After confirmation, you need to visit the regional office for verification.
Visit the regional office with all the original documents so that the procedure will be seamless and you can get the Visa.
After getting a visa, you are all set to fly for MBBS in Kyrgyzstan.

After reaching Kyrgyzstan:
A small verification procedure is there you need to go through after reaching the destination of your dreams for pursuing MBBS. Don't worry about it and just present all the original documents and fulfill the criteria. After that, you will not face any sort of difficulty at all.
At Admission Route, we will also guide you to apply for Visa, so don't worry about anything. If there is any problem arising considering documents or any other issue, just let us know, and we will resolve it immediately for you.

Kyrgyz State Medical Academy: Syllabus
Year
Semester
Syllabus
1st
1st Semester
Anatomy
2nd Semester
Histology and Anatomy
2nd
3rd Semester
Physiology, Histology, Anatomy, and Bio-Chemistry
4th Semester
Physiology, Micro Biology and Bio-Chemistry
3rd
5th Semester
Path physiology, Pathology, Micro-Biology, and Pharmacology
6th Semester
Path physiology, Pharmacology and Pathology
4th to 5th
7th to 10th Semester
Clinical Subjects and Clinical Postings
Oncology, Emergency Medicine, Internal Medicine, Neurology, Psychology, ENT, General Surgery, Pediatrics, Gynecology, and Cardiology

Hostel Facilities For Indian Students:
This university consists of several hostel buildings. The hostels are constructed with modern architecture. For international students, there is a separate hostel building. Moreover, boys and girls hostels are also separated. Each hostel room has attached washrooms and a kitchen. Every room can have three students. The hostels are equipped with modern technologies. The university provides several facilities to the hostel students. The facility of the internet is available 24 hours for the students. The hostels are provided with warm as well as cold water in accordance with the weather. Hostel rooms are equipped with automated heating temperature technology. The university campus, as well as the hostel buildings, is guarded by the security officials. Wardens are employed in each hostel building.
How students can manage expenses during MBBS in Kyrgyzstan?
Kyrgyz State Medical Academy is among the best Institutions for MBBS in Kyrgyzstan. But we cannot forget for Indian students budget maintenance is really very important. If you are not aware of how you will be able to manage your budget don't worry and keep reading. Here we will help you to know about it.
Tips to follow to manage budget during MBBS in Kyrgyzstan:
1.Consider public transportation:
The primary way to save amount is by considering public transportation. If you are considering private transportation you will end up spending unnecessary money. At the end of the month, you will feel like all your money has gone in vain.
2.Consider the economic and durable stationery:
It is advisable to all the students around that you must consider durable and economical stationary. The stationery market is flooded with so many options and you will be able to get some best products available. But make sure whichever product you are choosing is economical and you are in the state to afford it as well.
3.Do not rely on the canteen much:
You have already paid the amount for the mess that's why it is advisable to not rely on canteen food much. If you keep on going to the canteen you will add an extra expense to your budget and one day you will get habitual of it, and in the end, it will eat up all your money.
4.Plan your budget accordingly:
Every individual is aware of their budget and that's why plan it accordingly. It is advisable to you that planet accordingly so that no problem will arise and you will be able to get most of your budget.
Note:
Every student is aware of their financial condition and accordingly, they will be able to maintain the budget. It is important for you to keep track of your budget so that there will be no problems and managing the budget out will be easier for you
Mess and Sports Facilities-
Kyrgyz State Medical Academy has a separate mess for international students. Even the Indian chefs are working in a mess for the Indian food. The students from India can have Indian food in the Indian mess. Vegetarian and Non-vegetarian, both kinds of food are served here. An ultra-modern sports complex is built on the university campus. Coaches are available for any type of guidance related to the game.
If one wishes to do MBBS in Kyrgyzstan, then Kyrgyz State Medical University is the most exceptional university in the nation.