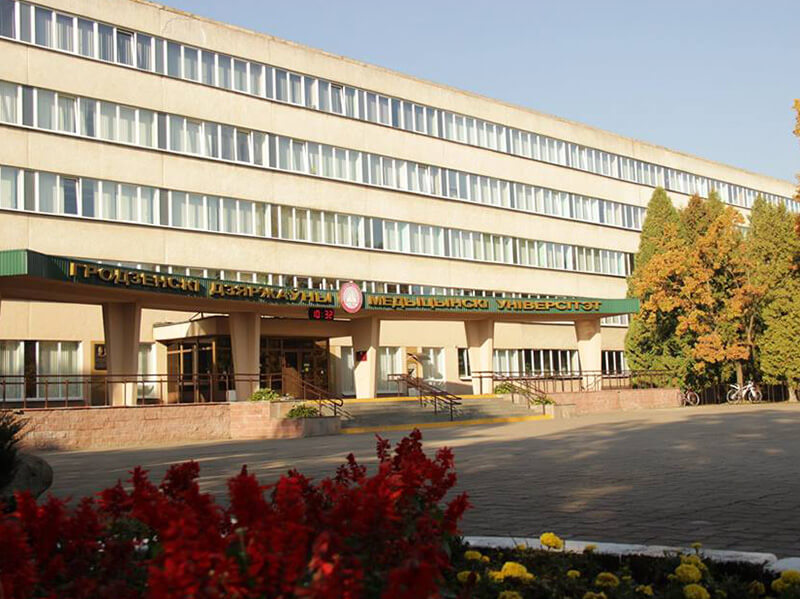 Are you hoping to be Mbbs in Belarus, then you're in the right place after Know about this University you'll be able to configure.
Grodno was founded in the twelfth century. One of Belarus's oldest cities, Grodno over its history served as a royal palace, the principality seat, the state's cultural and industrial center. Grodno preserved more historical monuments and sights than any other Belarusian city.
In Grodno city, Grodno State Medical Universitybegan academic studies on 1 October 1958, and on 15 October the Scientific Council first sat down. (The first lecture was given by Prof. D.M.Golub from Minsk for human anatomy).
More than 20,000 doctors and nurses have enrolled at Grodno State Medical University in the last 50 years. In recent years, enrollment has increased substantially in the Ministry of the health of the Republic of Belarus.
Highlights of Grodno State Medical University:
To achieve the status of the prominent educational center in the health care of the Grodno Region, the Republic of Belarus. Other countries of the world through the coaching of highly skilled specialists throughout the fields
medical psychology
general medicine
medical diagnosis
nursing
pediatrics and the development of basic
applied sciences in the medical and social fields.
Development of basic and applied sciences in the area of population health promotion, development of new technologies and their application in experimental, prophylactic and clinical medicine is the learning of the University.

Visa procedure:
Grodno State Medical University comes up with MBBS in Belarus with first-class faculties. But if you wish to be a part of this university, make sure to get the Visa available. Let's discuss the visa procedure in detail!
Documents required:
Documents required for MBBS in Belarus from this university are as follows:-
Offer letter
Invitation letter
Admission form
Academic record
Health record
HIV negative report
Birth certificate
Bank statement with a minimum balance
Passport
Passport size photograph
Covid-19 negative report
Note: When you apply for Visa, make sure to have all the original documents are available because if the original documents are not completed, the chances of application rejection are high.
Steps to follow:
The simple steps to acquire Visa are as follows:-
At the very first lookout for the application form on the official website.
On the official website, you will see there are some terms and conditions available go through all of them.
After going through all the terms and conditions, you can fill out the form and submit it.
When you submit the form, scan and upload all the documents.
Now, wait until you receive confirmation.
After receiving confirmation, complete the verification procedure.
After verification, within 15 days, you will get the call or receive the Visa delivered to your doorstep.
After getting the Visa, you can go for MBBS in Belarus.

After reaching Belarus:
When you reach Belarus there will be a small police verification has been conducted, which you need to go through. Make sure that you have all the original documents available and residential proof wherever you are staying. If you are staying in university, the university will look at it, but if you are staying outside the university, it is totally on the owner and other people you know.
At Admission Route, we are helping students to go through this procedure seamlessly, so don't worry about anything.

Benefits of Mbbs from Grodno State Medical University
Degrees and Diplomas obtained here are internationally recognized provide by Grodno State Medical University.
Grodno State Medical UniversityRanked among 500 top universities. Educational and research centers in European countries are tied up with the University.
From 30 countries, 531 students enrolling seats are there since 1995.
Mode of Education in English as well as Russian from Grodno State Medical University
Grodno State Medical University cooperates with Polish, German, Russian and other centers of education and research.
The realistic experience our students had overseas.
Grodno is great for living and studying. The warm and friendly atmosphere gives you a sense of safety and comfort. You should feel home here.
Hostel and sports facilities:
Grodno State Medical University, Belorussia operates four student hostels next to the university's central building. The hostel is comprised of 1840 students. The rooms at the hostel are equipped with an exterior bathroom and a kitchen where students can cook their meals.
The four hostels have been fully equipped and heated throughout. Students can choose either double or triple spaces. The services on-campus include cafes, canteens, shops, gym, a Loisirs and more.
On the other side, students are also able to stay in private homes. But, if you have the power, this choice is quite costly.
The Grodno State Medical University has a well-equipped school and other sports facilities situated a short walk from the hostel and the main building of the university.
Some of the other facilities that the Grodno State Medical University provides to students include the Indoor Badminton Court, football facilities, etc.
Food availability for Indian students:
Belarusian cuisine is justification enough to visit the country. Belarusian cuisine has some similarities to Lithuanian, Polish, and some other Slavic foods, but many recipes are original and can only be consumed in Belarus.
As far as food is concerned, it is tasty and fresh. The restaurant of Malabar, Kazan. It's like an island with Indian culture in the center of Siberia! They serve delicious authentic Indian food with the right amount of "Desi Tadka". Every time you're missing India and Indian food, you know where to go and do the binge. You're going to rejoice every slice.
Ranking and faculties:
Grodno State Medical University ranked among 500 top universities.
There are five faculties for Graduating i.e.
Faculty of General Medicine,
Faculty of Medical Diagnostics,
Faculty of Mental Health Medicine,
Faculty of Pediatrics,
Medical Faculty for International Students, which provides uniqueness to the Grodno State Medical University.