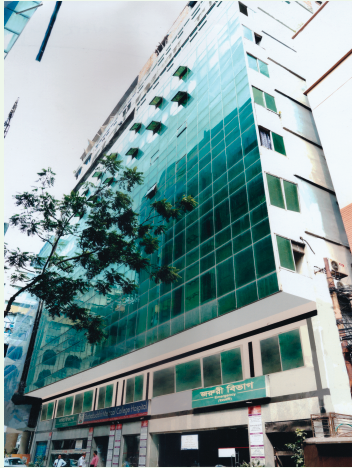 About Shahabuddin Medical College
The MBBS programme at the prestigious Shahabuddin Medical College in Bangladesh is open to all foreign students at a reasonable tuition rate. The institution was established in 2003 and is located in the vibrant neighbourhood of Gulshan in the centre of Dhaka. The Ministry of Health and Family Welfare of Bangladesh and the Bangladesh Medical and Dental Council have approved the college's accreditation. The World Directory of Medical Schools (WDOMS) and the International Medical Education Directory (IMED) list Shahabuddin Medical College as a member institution.
The institution is connected to a 500-bed hospital, where students may get extensive hands-on experience because of the high volume of patient visits. After passing the FMGE, medical school graduates may work as doctors anywhere in the world. All of the professors have extensive knowledge and practical expertise in their specialities. Students come from all over the world to study at the university, including India, Pakistan, Nepal, and more.
Recognition to the Shahabuddin Medical College
World Health Organization (WHO)
of Bangladesh; Bangladesh Medical & Dental Council
Ministry of Health and Family Welfare
University of Dhaka from 2003.
National Medical Commission (NMC)
Faculties at the Shahabuddin Medical College
Faculty of Anatomy
Faculty of Forensic Medicine & Toxicology
Faculty of Medicine
Faculty of Orthopedic Surgery
Faculty of Paediatrics
Faculty of Physiology
Faculty of Microbiology
Faculty of Surgery
Faculty of Dermatology
Faculty of Anesthesiology
Faculty of Biochemistry
Faculty of Pharmacology & Therapeutics
Faculty of Obstetrics & Gynecology
Faculty of Ophthalmology
Faculty of Transfusion Medicine
Faculty of Community Medicine
Faculty of Pathology
Faculty of Cardiology
Faculty of ENT
Faculty of Radiology & Imaging
Rank of the Shahabuddin Medical College
National: 18
Eligibility criteria to take admission in Shahabuddin Medical College
Applicants must have completed both the Secondary School Certificate (HSC) and Higher Secondary Certificate (HSC/'A' level/12th Grade) examinations or their international equivalents, with Physics, Chemistry, and Biology all counted towards the HSC/'A' level/12th Grade total.
Candidates must have a cumulative GPA of 9 or above to be considered. A minimum cumulative grade point average (GPA) of 8 is required for tribe and non-tribal Hill tract residents. However, each student's grade point average (GPA) in SSC/'O' level/10th grade and HSC/'A' level/12th grade must be at least 3.5. In addition, you'll need a Biology grade point average of at least 3.5 on the HSC or its equivalent.
If a student has taken and passed a test with a foreign equivalent. In that case, their score will be converted into a U.S. equivalent based on an equivalency certificate from the Directorate of Health Services in Bangladesh.
Students will be admitted to Shahabuddin Medical College in accordance with DGHS guidelines. Applicants must have taken and gotten a score of 40 or above on the national admissions exam.
Ineligible for admission are those who completed HSC/A level/12th Grade more than two years prior to the admission session.
Documents required for admission to Shahabuddin Medical College
10th mark sheet and certificate
11th mark sheet
12th mark sheet and certificate
Original passport
Police clearance certificate
Affidavit (sponsorship)
Bank statement (six months)
University admission letter
University fee confirmation letter
Equivalence certificate (from university)
University admission form
Visa application form
12 Photographs on matt paper
Equivalence TT copy
University fee TT copy
Demand draft in favour of Bangladesh High Commission
Admission process at Shahabuddin Medical College
Step 1: First, submit your application to the institution and any supporting materials they need.
Obtain an official letter of acceptance or invitation from the school.
Step 2: Apply for a student visa by sending in a passport copy and any other paperwork they need.
Step 3: Submit your first year's tuition and expenses. The official can walk you through the steps of applying for a student loan.
Step 4: Carry all the relevant documents to the Shahabuddin Medical College office.
Benefits of taking admission in MBBS in SMC
Shahabuddin Medical College's MBBS tuition is far lower than the same Indian institution's.
In the MBBS programme, English is used as the language of teaching.
It's a great place to get a world-class medical education.
Access to state-of-the-art facilities and equipment for use in medical research.
Both the academic and medical facilities are examples of cutting-edge design.
There is no need for an admission exam or proof of language skills.
There is no required gift or capitation charge to enter.
Superior medical education provided by well-skilled professors.
Medical books, encyclopaedias, and periodicals abound in this library's extensive collection.
Having access to a specialised lab for anatomy classes.
Easy and quick registration procedure.
Affiliation to the University of Dhaka.
Medium of teaching at College
The MBBS programme and other courses of Shahabuddin Medical College in Dhaka, Bangladesh are taught entirely in English.
Hostel facilities at SMC
Rooms are comfortable and may be single or double occupancy, depending on the student's preference.
Due to the hostel's well-equipped study facilities, students may have group talks or solo study without leaving the dormitory.
Priority is given to maintaining a clean and pest-free environment for the pupils via routine cleaning and extermination services.
The hostel is designed to have communal gathering areas where students can unwind and get to know one another outside of class.
Tips for students to manage expenses during MBBS
Make a clear distinction between what you need and what you desire. It's easy to get caught up in wanting things that you don't really need. You can reduce wasteful spending by doing this.
Take advantage of student discounts offered by several local establishments. Always ask if there are any discounts for students, and remember to bring your ID.
Medical texts and lab supplies might cost a small fortune. Think about joining a study group to pool your resources and save money on things like used textbooks and lab supplies.
Shahabuddin Medical College is situated in an area well-served by many modes of public transit. Taking the bus or a shared car instead of driving or renting a car may save a lot of money.
Select Admission Route for MBBS Admission in Shahabuddin Medical College
Decisions, goals and the search for the ideal academic setting are frequently linked on the road to a successful medical career. The "Reach Admission Route" published by Shahabuddin Medical College sheds light on the path to the prestigious MBBS in Bangladesh programme. The institution hopes that by providing prospective medical students with this well-constructed route, they can cut through the confusion surrounding the admissions process. It's evidence of the college's dedication to easing the process of enrolling new students. The Reach Admission Route is more than simply an application process; it is a demonstration of Shahabuddin Medical College's commitment to democratising access to high-calibre medical education.