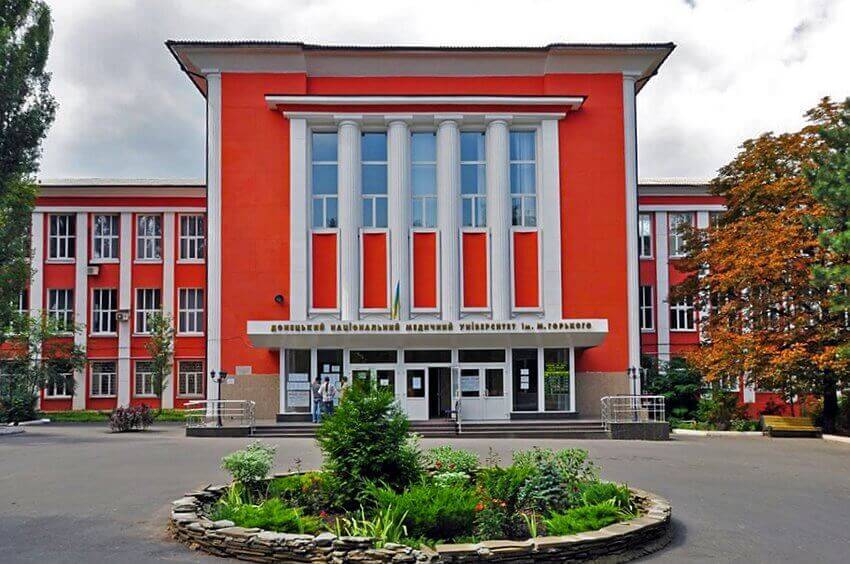 Donetsk National Medical University is one of those universities in Ukraine which has the first rank among all the other Ukrainian medical universities available. Ministry of Health and ministry of education of Ukraine consider this university to be the best place for MBBS in Ukraine.
This university is the first University complies with World Health Organization and from the directory of I-Med schools. In 1991, after the independence of Ukraine, faculties of medicine and dentistry in the English language got introduced here.
From that time till yet, thousands of students have completed their MBBS in Ukraine from this university.
Apart from the medical facilities, this city is contributing to economic, industrial & scientific center. In 1961 this city was recognized to be the center for the coal mining and steel industry.

Recognition:
Donetsk National Medical University is recognized by:
Ranking and faculties:
Donetsk National Medical University's world rank is 7629, and Ukraine's ranking is 98.
Faculties:
Faculty of medicine
Faculty of Pharmacy
Faculty of pediatrics
Faculty of dentistry
Faculty of nursing
Faculty of public
Faculty of postgraduate education
Faculty of Cooperative department
Benefits of pursuing MBBS from Donetsk National Medical University:
Some of the benefits that will be available to a student after pursuing MBBS from Donetsk National Medical University are:-
Hassle-free approval of the Visa
Fees are comparatively low for hostel and tuition
Crime safe area
No ragging is allowed
Security is advance
Hostel and mess facilities are well equipped
Professionals are available to help at every step
Scholarship programs have also been introduced
For traveling, 50% discount will be given to foreign students
Mode of teaching will be English
Well-equipped practical labs and Research Labs
Eligibility criteria:
For admission at Donetsk National, Medical University student needs to fulfill the below mention eligibility criteria. It is as follows:
12th standard passing certificate
NEET UG examination scorecard
Valid identity proof
Birth certificate
Age of the student must be less than 25 years and more than 17 years

Documents required:
Documents for admission in MBBS in Ukraine at Donetsk National Medical University are:
12th standard passing certificate with more than 60% marks
NEET UG examination qualified scorecard
10 passport size photographs
Migration certificate
Transfer certificate
Passport
Character certificate

Admission Procedure:
Admission procedure for MBBS in Ukraine at Donetsk National Medical University is as follows:
Scan all the documents available with you at the very first.
Now look forward to the application form available on the official website of the university.
Feel all the necessary details and attach all the scanned copies along with it.
Submit the form and wait for two-three days for the acceptance letter.
Within 2-3 days you will get the acceptance letter, and now you are ready to pay the fees.
Why you will pay the fees, you will get the receipt, and it is a must for you to keep it safe.
After paying the fees, you are supposed to apply for a visa.
While you apply for Visa, fill all the necessary details, and submit all the relevant documents. In case any of the documents is found out to be fraud, then request for a student visa will get canceled.
Visa Procedure in detail:
Donetsk National Medical University is among the best universities and after getting VISA you can easily be the part of education system set up by them. Let's discuss about the same in details!
Documents required:
Invitation letter
Offer letter
Aadhar card
Academic record
Caste certificate
Passport size photograph
Covid-19 negative report
HIV negative report
Bank statement with a minimum balance
Original passport
Health record
When you apply for Visa and go for verification original documents are required so make a folder and keep it safe as well.
Steps to apply for VISA:
As part of the visa application process, you need to be prepared with the required documents.
The next step is filling out an online VISA application form. You'll need to provide all the relevant information about yourself along with any other documents that are required.
After completing this step, you can submit your application. If you need to pay the fee using a certain payment method, there are many available online or offline.
When you get your visa confirmation email, visit the regional office for verification. The work permit will arrive within five days.
Within 10-15 days it will get delivered to your doorsteps and you are all set to go for MBBS in Ukraine.

After reaching Ukraine:
After reaching Ukraine the Ukrainian embassy and police will carry out a verification procedure considering the reason for which you are visiting here. Make sure to have all the educational documents available along with the residential proof wherever you are staying. It will contribute to a seamless verification procedure and there will be no problem throughout.
At Admission Route we provide guidance to students for the verification procedure as well so doesn't worry about anything at all.
Duration and medium of teaching:
Duration for MBBS in Ukraine at this university is six years.
In the span of 5 years, a student will be going to have academic knowledge.
In the last year, the internship will be going on.
The mode of teaching is English only. If a student is aware of English, he can easily pursue MBBS in Ukraine from Donetsk National Medical University.
Hostel and mess facilities:
Donetsk National Medical University is available with 9 hostels.
Rooms in the hostel are well ventilated and well equipped.
24/7 Wi-Fi, electricity, sweepers, emergency doctors, and wardens are available.
Indian Chefs are available who will prepare the phone, and the food is available four times a day.
Security is advance.
After entering the hostel campus, parents will get a call about their child.
How students can manage expenses during MBBS in Ukraine?
It is no secret that studying medicine is a very costly affair. It is not only the tuition fees which are
expensive but also the cost of living, books, and other supplies which can add up very quickly. Students
who are planning to study MBBS in Ukraine need to be very mindful of their expenses and plan their
budget accordingly. Here are some tips on how students can manage their expenses during MBBS in
Ukraine.
Tips to follow:
Be mindful of your tuition fees:
One of the most important expenses for any medical student is tuition fees at Donetsk National Medical
University. In Ukraine, tuition fees for MBBS can range from $3,000 to $5,000 per year. It is important to
plan your finances accordingly and make sure you have the required funds for your tuition fees.
Books and other supplies:
Another significant expense for MBBS in Ukraine students is the cost of books and other supplies.
students should try to purchase used books whenever possible and look for discounts online or at local
bookstores.
Cost of living:
The cost of living in Ukraine is relatively low when compared to other countries. However, it is still
important to budget your expenditures carefully. Expenses such as food, accommodation, and
transportation can add up quickly.
Health insurance:
All students studying in Ukraine are required to have health insurance. Health insurance plans in Ukraine
can range in price from $50 to $100 per month.
Pocket money:
Finally, students should also plan for their pocket money. This will be used for everyday expenses such
as food, transportation, and entertainment. A reasonable amount for pocket money is $50 to $100 per
month.
By following these tips, students can manage their expenses during MBBS in Ukraine and still have a
little bit left over for pocket money. when you are taking admission in Donetsk National Medical
University be sure to know everything so that you can plan things accordingly!
After completion MBBS from Donetsk National Medical University:
After completion of MBBS in Ukraine from this university, a student will be ready to apply for further studies easily. The degree is accepted globally. Additionally, if they wish to make their career in any of the health sectors, they can go for the same as well.
These are the things linked with Donetsk National Medical University. If you wish to pursue MBBS in Ukraine from this university, approach us now. We will resolve all your doubts and will help you to get admission there easily.