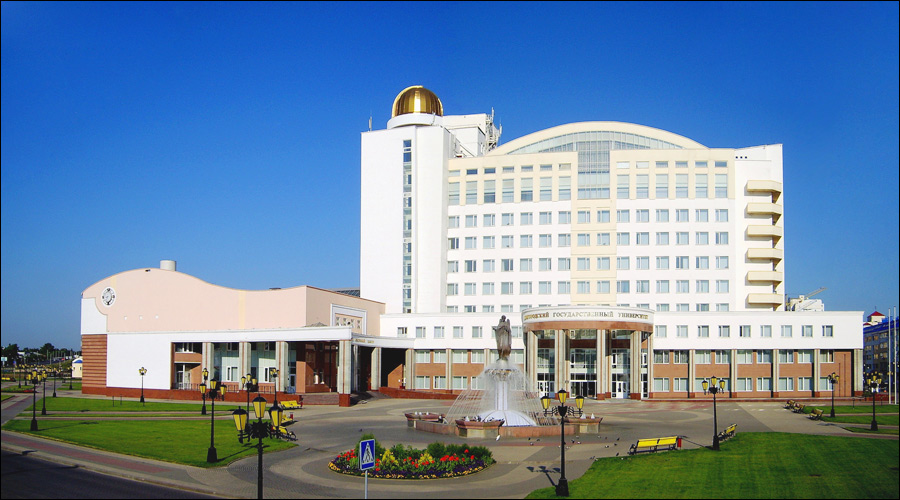 Belgorod State University: Quick Highlights
| | |
| --- | --- |
| Established In | 26 September, 1876 |
| Type | Public |
| Location | Belgorod, Russia |
| Last date to Apply | 25th August |
| MBBS Course Fee | 5000 USD Per Year |
| Basic Eligibility | 50% In PCB of Intermediate |
| NEET Entrance Test | Yes, It is Compalsory |
| University Recognition | WHO & MCI |
| Ranking | Country Rank 24, World rank1423 |
| Medium | English & Russian |
| Indian Food | Yes, Available |
About Belgorod State University:
Belgorod State Universityis among the leading educational institutes of Russia. This university is situated in Belgorod Oblast in Russia.Belgorod State Universityhas about 25000 students from different states of Russia. It has 1800 international students from various countries. Belgorod State Universityhas 98 departments. It has 74 centers for research and world-class laboratories. The university is famous for providing excellent education to its students. It offers a wide range of postgraduate degree programs, bachelors' degree courses, and other training courses. The international students are given education in the English medium. More than 150 Indian students are studying at Belgorod State University. Belgorod State University has maintained its reputation for quality education like MBBS in Russia since 1980. However, the name of this university comes under the top 10 universities in whole nation. The university has employed 1800 well-qualified teachers. Its teaching faculty includes State prize winners and science doctors.
Fee Structure of Belgorod State University:
| | |
| --- | --- |
| Particulars | Annual Fee |
| Tuition Fee | $ 5000 |
| Hostel Fee | $ 500 |
| Health Insurance | $150 |
| Total Fee In USD | $ 5650 |
| Total Fee In INR | INR. 3,95,500 |
Duration:
The duration for MBBS in Russia is 6 years. It is divided as 5+1 years. In 5 years academic and practical stuff is covered and in last year internship is conducted.
Documents required:-
Documents required for MBBS Admission at Belgorod State University are as follows:-
12th standard passing certificate
NEET UG examination qualified scorecard
10 passport size photograph
Character certificate
Medical certificate
Passport
Birth Certificate
Migration certificate
Eligibility criteria:-
The eligibility criteria for MBBS in Russia at this university are as follows:-
Age of a student must not be more than 25 years and less than 17 years.
NEET-UG examination of a student must be qualified
The student must not hold any criminal record in his academic studies
He must have secured 60% marks in 12th standard.
The student must opt for Subjects in 12th standard must be Physics, Biology, and chemistry along with English.
Admission procedure:-
The admission procedure at this university admission is as follows:-
At the very first, a student is supposed to scan all the necessary documents required for admission.
Now visit the official website of the University and look forward to the admission form available right there.
Fill it and submit it.
Wait for 3-4 working days.
After verification, offer letter will get generated and sent to the registered email address.
After a generation of the offer letter, pay the fees.
After paying the fees, admission is confirmed.
After confirmation, apply for visa and then you are ready to fly for MBBS in Russia.
Why BSU is Famous for indian student doing MBBS In Russia ?
Many of the Indian medical students dream of pursuing an MBBS in Russia degree in reputed universities with low fees rate and high-quality education. So the students went abroad to study MBBS. MBBS in Russia is the top choice of Indian students. Russia is popular among medical students as this country costs less for an MBBS degree. Whereas other countries such as India, America, China, Ukraine, etc demand hefty fees for the medical degree. MBBS in Russia is affordable for every aspirant. In Belgorod State University, the cost of pursuing MBBS in Russia is about 23- 24 lacs. The duration of MBBS in Russia in this university is of 5 years, eight months. The students are not only given classroom learning and practical knowledge but also get exposure to real-life cases for their practice. The students who studied from this university can apply for their MD in other major countries like America without any worry. The degree holders from this university can practice their profession in any part of the world. The admission process for MBBS in Russia in this university is based upon the marks obtained in the secondary examination.
Recognition of Belgorod State University:
| | |
| --- | --- |
| S.N. | Affiliated By |
| 1 | WHO |
| 2 | MCI |
| 3 | UNESCO |
Accommodation and other Facilities for Indian Students:
The university has very well build hostels with modern architecture.
University hostels can accommodate 11000 students.
International students have separate hostel buildings;
it is situated at 30 meters distance from the main university campus.
Hostels are equipped with modern technologies.
Each room can have 2-3 students.
The rooms have attached the kitchen and washrooms.
Twenty-four hours of Internet facility is available for the students provided by the university.
The facility of the digital library also attracts many students.
Indian mess is also available for the Indian students.
Ranking of Belgorod State University:
| | |
| --- | --- |
| Country Rank | World Rank |
| 24 | 1423 |
Faculties of Belgorod State University:
| | |
| --- | --- |
| S.NO. | Name of Faculty |
| 1 | Faculty of anatomy |
| 2 | Faculty of medico biological |
| 3 | Faculty of biochemistry |
| 4 | Faculty of pharmacology |
| 5 | Faculty of pathology |
| 6 | Faculty of medico preventive |
| 7 | Faculty of surgical illness |
| 8 | faculty of dentistry |
| 9 | Faculty of pediatrics |
| 10 | Faculty of internal disease |
Pursue MBBS from Russia is the best choice as this country has several well-renowned universities. Students from Belgorod State University are well settled and prosperous in their careers.
How can students manage expenses during MBBS in Russia during stay at Belgorod State University?
As an international student in Russia, you'll be expected to cover all of your own expenses. That includes tuition, accommodation, food, and transportation. While the cost of living in Russia is relatively low compared to other Western countries, it can still be a challenge to manage your finances as a student. Here are 9 ways to help you save money and stay on top of your expenses while studying MBBS in Russia:
1. Make a Budget:
The first step to managing your finances is to create a budget. Sit down and track all of your income and expenses for a month. This will give you a better picture of where your money is going and where you can cut back. Be sure to include both fixed and variable expenses in your budget.
2. Find Cheap Accommodation:
One of the biggest expenses you'll have as a student is your accommodation. If you can find a cheap place to live, you'll be able to save a lot of money. Look for shared apartments or rooms in student dormitories. You may also be able to find discounts on rent if you're willing to live with a Russian host family.
3. Cook Your Own Meals:
Eating out can be expensive, so another way to save money is to cook your own meals. If you're living in a shared apartment, take turns cooking with your roommates. You can also take advantage of the university's cafeteria, which usually has cheaper rates for students.
4. Use Public Transportation:
In most Russian cities, you can get around using public transportation. This is usually much cheaper than taking a taxi or renting a car. If you're going to be using public transportation regularly, you can buy a monthly pass for a discounted price.
5. Find Discounts and Coupons:
There are many discounts and coupons available for students in Russia. You can find discounts on things like movie tickets, clothing, and food. Most stores and restaurants will have a student discount, so be sure to ask before you make a purchase.
6. Avoid Impulse Purchases:
One of the biggest money-wasters is impulse buying. When you see something you want, it can be tempting to buy it immediately. However, if you take a step back and think about whether you really need it, you'll save yourself a lot of money in the long run.
7. Review Your Expenses Regularly:
It's important to review your expenses on a regular basis. This will help you catch any areas where you're spending too much money. You may also find that your spending habits have changed over time, so it's important to adjust your budget accordingly.
8. Save for Emergencies:
No matter how carefully you budget, there will always be unexpected expenses. That's why it's important to have a savings account for emergencies. This will help you avoid going into debt if you have an unexpected expense.
9. Seek Financial Aid:
If you're having difficulty managing your finances, you may be eligible for financial aid. There are many scholarships and grants available for international students. You can also apply for student loans if you need additional funds.