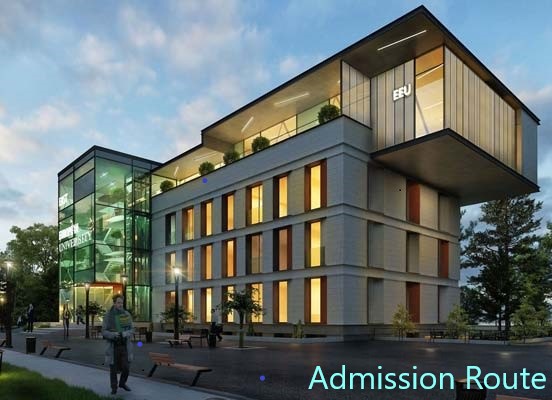 About East European University: Quick Highlights
Founded In
2012
Study Medium
English
Recognized By
WHO & NMC
Last date of Admission Apply
Last week of August
Tuition Fee of MBBS
3.65 Lakh Per Year
Eligibility
NEET Qualified & 50% Above in 12th
Ranking
Country Rank – 39
World Rank – 10792
Course Duration
6 Year MBBS Course
website:
https://eeu.edu.ge/?lang=en
Address
Campus 2: 4 Shatili str. Tbilisi, Georgia 4 Shatili Str. Tbilisi, Georgi
East European University was founded in 2012. It is one of the best universities for MBBS in Georgia because of the faculty is available here. This University is somewhere located in Tbilisi, Georgia.
The main purpose of organizing this University is to provide every student with all the basic facilities required by them for medical studies. This is a co-educational institution and fees are also less as compared to other universities available. At every step, there will be professionals available who will help the students to understand the concept easily.
If you wish to pursue MBBS from here, then take a step forward and make your dream come true
.
Recognition of East European University:
East European University is recognized by:
MCI
WHO
UNESCO
Ranking and faculties:
The rank of East European University in Georgia is 35, and the world rank is 11698.
Faculties:
Faculty of medicine
Faculty of pediatrics
Faculty of nursing
Faculty of dentistry
Faculty of pharmacy
Faculty of Healing
Is MBBS in Georgia safe for students?
MBBS in Georgia is considered to be one of the safest options for students because this country is known to be the place where the crime rate is almost zero. There is no need for a student to feel like they are in any trouble.
At the University and outside the University, the things are so manageable that a student will not be going to get engaged in unwanted things at all.
All the security available here is up to the mark, and they will not let students feel any kind of trouble at all.
East European University: Fee Structure 2023
Benefits of pursuing MBBS from East European University:
When it comes to looking at the benefits of studying MBBS in Georgia from this University, there are multiple available. Some key benefits are:
Documents required for admission at East European University include:
12th standard passing certificate
NEET UG examination qualified scorecard
Valid identity proof
Passport
Transfer certificate
Migration certificate
Character certificate
10 passport size photographs
Birth certificate
MBBS Admission procedure In East European University:
Admission procedure for MBBS in Georgia at this University is as follows:
At the very first, scan all the documents clearly.
Go to the official website of the East European University and look forward to the application form.
Fill the application form and attach all the necessary documents along with it.
Submit the application form and wait for the offer letter generation.
After getting an offer letter, you are supposed to pay the fees.
After paying the fees, you are ready to apply for Visa.
After getting the visa, you are ready to travel for MBBS in Georgia.
Make sure you are submitting all the relevant documents while you are applying for admission and for a visa. In case any of the documents is found out to be fraud, then your request for the admission will get canceled.
Visa procedure and its approval:
East European University allows those students to complete MBBS who have the visa available. But it is important to know about the procedure in detail.
Documents required for visa:
Invitation letter
Offer letter
Character certificate
Caste certificate
Passport size photograph
HIV report
Aadhar card
Academic record
Health record
Academic document
Original passport
Bank passbook with a minimum balance
Original documents are really very important, so don't forget to carry them at the time of verification. With the original documents are appeared to be mismatched, the application will get terminated.
Steps to follow:-
The simple steps you need to follow to get a visa for MBBS in Georgia are:-
Scan all the documents which are required at the time of visa application submission.
Visit the official link and check out the application for terms and conditions.
After checking out the terms and conditions, fill out the application form and upload all the documents.
Cross-check the form and submitted.
Wait until you receive the confirmation.
After receiving the confirmation, just visit the regional office for verification.
After the verification, you can pack your bags and wait until the VISA gets delivered.
After getting the visa, just fly for MBBS in Georgia.
After reaching Georgia:-
When you reach the University for MBBS in Georgia, there is a verification procedure you need to complete. The verification procedure will be done by the police and the Georgia embassy. In this verification procedure, they will verify the location where you are staying and also understand whether you are coming for educational purposes or not. When it is completed, there will be no trouble throughout, and you can live peacefully there.
Don't worry about anything because we are always helping students to know about it and will prepare you for how to go through it. Our professional expertise is always here to help students how to deal with that seamlessly.
MBBS Course Duration In East European University:
The duration of MBBS in Georgia OF East European University is six years. In the six years duration, there will be going to have internships as well.
English is the medium of study, and if students know about English, then they can easily understand the course. There is no need for them to understand any particular language at all.
After completion of MBBS from East European University:
After completion of MBBS from East European University, a student will get multiple options available. The degree issued to them is globally recognized, and they can put a step forward in their career anywhere.
Also, if they wish to get admission in post-graduation programs in Georgia and in other countries, the option is also available to them. There will be no need for them to appear for any additional exam after getting a degree from here.
Hostel facilities of East European University:
Hostel facilities are also available here. The campus of the hostel is well equipped, and all the basic amenities are available. Wardens land emergency doctors are available to help the students if any emergency. 24 by 7, all the facilities are available so that a student will not face any kind of difficulty whenever they are inside the hostel.
Public transport is also available, which will help them to travel easily. In case they need to travel anywhere along with the University Campus, the same conveyance will be arranged by University itself.
Indian Mess facilities of East European University:
Mess facilities are also advanced year students will be going to have different meals regularly. Also, the best part about mess facilities is Indian chef, and international Chefs are available that are up to the mark in serving the students with the best food.
Additionally, if they are facing any issue in the food, they can report about it to the mess authorities, they will look to it and will resolve the issue as well.
These are the things linked with East European University for MBBS in Georgia. If you wish to pursue MBBS in Georgia and you are having any query then do let us know in the comment section below. We will try to resolve the queries you are having and will also provide you solutions for the problems you are facing.