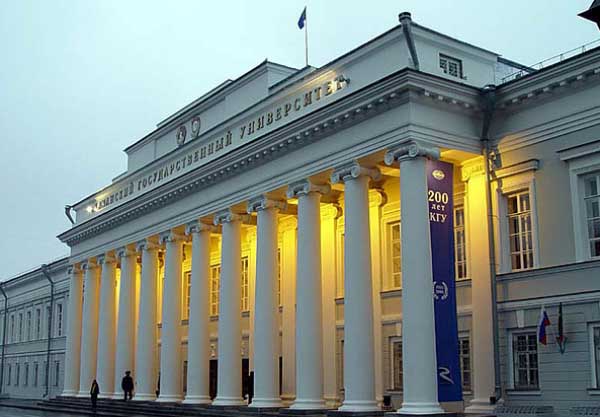 Kazan Federal University is one of the most foremost campuses of Russia. It is present in Kazan, Russia. Kazan Federal University established in 1804 with the name of Kazan Imperial University. In 1925, the university got its name changed to Vladimir Ilyich Ulyanov (Lenin). The university obtained its position of Federal in 2010. Kazan Federal University has contributed in the "5-100" Russian Academics Excellence Project prearranged by the Government of the Russian Federation. The university has 16 institutes, three high schools, and regional branches. Over 40000 students take admission in Kazan Federal Universityevery year. Graduates from the university are placed on excellent positions in the world. Currently, about 2200 international students from 90 different countries are taking their studies. This university offers 486 academic programs. Furthermore, eight double diploma programs and 23 educational programs are provided by the university. The university has employed over 3000 faculty members.
There is no doubt in the fact that from the time of its origin, the Kazan Federal University serving students with the best education standards only. When international students are coming for MBBS in Russia at this university they will be going to get the atmosphere which they have not expected as well. In comparison with India, a student will be going to get all those facilities which they have not expected as well. Moreover, it is quite interesting to note that every year they participate in different tournaments, and victory always hits their doors. The biology and medicine institute has already got the name in the world directory of medicinal school, and it is serving students with the best results only. If a student is facing any trouble, they can also report about the higher authorities as they are efficient enough in taking immediate actions.
MBBS in Russia is well recognized worldwide. Kazan Federal University is WHO certified, and it is also known by the MCI (Medical Council of India) and UNESCO. Its biology and medicine institute has got its name in the World Directory of Medicinal Schools.
Kazan Federal University: Highlights 2023
| | |
| --- | --- |
| Founded In | 17 Nov. 1804 |
| Type Of University | Public |
| Location | Kazan, Russia |
| No. of Students | 45,000 |
| Indian Food Available | Yes |
| Indian Hostel Availability | Yes |
| Study of Medium | English |
| Last Date of Apply | 25 August |
| Academic Staff | 4400 |
| Official Website | https://kpfu.ru/ |
Recognized By:
| | |
| --- | --- |
| S.NO. | Recognized By |
| 1 | WHO |
| 2 | UNESCO |
| 3 | MCI |

Eligibility of Kazan Federal University for Indian Students:
Kazan Federal University offers an MBBS degree of 6 years duration. The first three years are emphasized on the theoretical studies, while, in the last three years, the student trained at the renowned hospitals and clinics. admission in Russiais straightforward as compared to other countries. Russia has put forward medical degrees in low fees rates with excellent placement. The right time to apply for admission for MBBS in Russiais by the 31st of July.
The eligibility information for the MBBS admission in Russia is as follows:
Students must have a minimum of 50% marks in PCB in 12th standard
The aspirants must attain the age of 17 years by the end of 31st December of the admission year
NEET scorecard is must with a qualified score


Kazan Federal University: News and Important Date
| | |
| --- | --- |
| Date | News |
| 01-03- 2021 | Admission Applying Date |
| 12-08-2021 | Last Dtae of Admission |
| From June 14 to June 21, 2021From July 12 to July 25, 2021From August 16 to August 23, 2021 | Date of online Entrance Exam in 2021 |
Hostel facilities
Having a look at hostel facilities then the Kazan Federal University is having separate hostels for both girls and boys. The hostel campus is equipped with all the basic amenities which are important for a person to manage their lives. Moreover, the hostel campus is equipped will Wi-Fi, which does not let them spend unnecessary money on internet connection.
Moreover, a mess facility is also there, and for vegetarian and non-vegetarian students, the arrangements are different. If you are a vegetarian, then you will be going to move ahead towards the vegetarian section only. The mess is neat and clean, and no one can question that the chefs are not taking enough precautions for preparing the food. Also, if a student is feeling ill and there is any special suggestion given by the doctor they will also provide them the same food. There will be no need for a student to compromise with their health at all.

Kazan Federal University: Fee Structure 2023
Particulars
Year 1
Year 2
Year 3
Year 4
Year 5
Year 6
Tuition Fee
6000 USD
6000 USD
6000 USD
6000 USD
6000 USD
6000 USD
Hostel Fee
100 USD
100 USD
100 USD
100 USD
100 USD
100 USD
Total Fee in USD
6100 USD
6100 USD
6100 USD
6100 USD
6100 USD
6100 USD
Total Fees in INR
5,06,300 INR
5,06,300 INR
5,06,300 INR
5,06,300 INR
5,06,300 INR
5,06,300 INR
APPLY NOW
Admission procedure: New Guidelines
The admission procedure at Kazan Federal University is as follows:-
At the very first, a student is supposed to scan all the necessary documents required for admission.
Now visit the official website of the university and look forward to the admission form available right there.
Fill it and submit it.
Wait for 3-4 working days.
After verification, offer letter will get generated and sent to the registered email address.
After a generation of the offer letter, pay the fees.
After paying the fees, admission is confirmed.
After confirmation, apply for visa and then you are ready to fly for MBBS in Russia.

Required Documents for Admission:
The essential documents required for MBBS in Russia are mentioned below:
Passport size photographs of student
Medical insurance
Birth certificate (notary attested)
Detailed mark sheet of 10+2
Invitation letter from the university
Passport
Visa procedure and other details:
We all know Kazan Federal University is among the most famous universities in Russia. When you apply for MBBS in Russia at this University, you need to be sure about your visa as well.
If you do not have a visa, then you cannot fly for MBBS in Russia at all. Don't worry, we help you to get it easily. But understand all the requirements in detail.

Documents required applying for Visa:-
When you are coming to Kazan Federal University and applying for Visa, the documents are as follows:-
Invitation letter
Offer letter
Identity proof
Original passport
Passport size photograph
Birth certificate
HIV-negative test reports
Aadhar card
Covid-19 negative reports
Bank account statement with a minimum balance
Maybe the embassy will ask for some more documents so just carry all your record and the documents you have got in the previous years. In some cases, the academic record is also required for verification, so you cannot miss the same too.
Steps to apply for Visa:
When you are all set with fulfilling out the visa requirement, the steps are also important to understand it. These are as follows:-
Apply for Visa online or offline at your convenience. In most cases, both options are available.
When you have applied for Visa and upload all the documents, you will receive the confirmation.
After receiving the confirmation, you need to visit the regional office for verification.
After the verification procedure is completed, you need to wait for 10 to 15 days.
Within ten to fifteen days, VISA will get delivered to your doorsteps.
After getting a visa for MBBS in Russia, you are all set to go there.

After reaching Russia:-
When you reach to Russia for MBBS and about to visit the Kazan Federal University, there is a small verification procedure through which you need to go and present all the original documents. Make sure to carry all your original documents because the University will not accept any photocopy.
After verification, you can go to the University. Don't worry because our officers are there in Russia to help you in going through the verification procedure.
We hope right now you know how you can apply for it. Don't worry because at Admission Route, we are coming up with all the options and help you in every possible way to get your visa. After getting your visa, we also guide you on how you can plan to move into Russia for MBBS.

Kazan Federal University- MBBS Syllabus
The syllabus of MBBS course and the pattern are as follow: Here Students have to complete MBBS Syllabus for 6 Year.
1st Year-
| | |
| --- | --- |
| Semester-1 | Semester -2 |
| Anatomy | Anatomy and Histology |
2nd Year-
| | |
| --- | --- |
| Semester-3rd | Semester-4th |
| Physiology | Biochemistry |
| Cell Biology | Microbiology |
| Anatomy | Physiology |
| Biochemistry | – |
| Microbiology | – |
| Histology | – |
| General Pathology | – |
3rd Year-
| | |
| --- | --- |
| Semester – 5th | Semester- 6th |
| Pathology | Genetics and principles of clinical medicine |
| Micro-Biology | Pathology |
| Path physiology | Pharmacology |
| Pharmacology | Path physiology |

4th to 6th Year-
7th to 12th Semester
Cardiology
Obstetrics and Gynecology
ENT
Neurology
Psychiatry
Neurology and Psychiatry
Pediatrics
Internal medicine
Primary Care medicine
Psychology
General Surgery
Emergency Medicine
Oncology
–
Benefits of MBBS from Kazan Federal University:-
Benefits of choosing MBBS in Russia at Kazan Federal University are as follows:-
This university is providing education at an affordable price.
Faculties are having enough experience in their particular subject.
There is enough attention for theory and practical classes.
Scholarship programs are there.
There is no compromise done with security.
Hostels are separate for girls and boys.
There will be no need for a student to carry any private vehicle as transportation facilities are up to the mark.
In case a student wants to join any internship they can go for the same.
If a student wants to go for any part time job the option is there.
Library is well equipped.
Cafeteria is having enough facilities.
Extra-curricular activities organised at the university.
The University is MCI approved.

Why is this University first Choice for Indian Students:
Kazan Federal University must be the best choice for Indian medical students. The main attraction of this university is its Standard of Education.
MBBS admissions In Russia comes under the budget of an average Indian family.
At Kazan federal University, the entire degree fees for MBBS is 28-30 lacs, tuition fees, Hostel Fee & visa charges are included in this amount.
This University has a high strength of Indian students. The hostels of the university are very well built as well as well furnished.
These are of above normal standard as compared to other university hostels. Students get all kinds of facilities such as the attached kitchen and bathroom with every room, separate Indian mess for Indian students, 24 hours available internet facility.
The university has restaurants, coffee shops, sports ground, and theater build on the campus itself.
The mode of teaching in the university is English.
For admission inMBBS in Russia, the aspirants do not need to crack any entrance test. But they must go through the screening test.
For the Indian students, this place is perfect as the local people of the city are amicable and helpful.
Kazan Federal University: Ranking 2023
| | |
| --- | --- |
| Country Rank | World Rank |
| 4 | 454 |

Other Facilities:
Kazan Federal University is among the largest universities that offers MBBS in Russia. This university is at 454 ranks at the world level. The university has obtained five stars for the facilities and innovation categories. Its teaching process has got itself four stars from the QS World Universities Rankings. This university offers world-class facilities to its students and its teaching staff. From accommodation to a library, from providing food to providing exposure to several cultures, the university authority takes care of everything.

After completing MBBS from Kazan Federal University-
Kazan Federal University hits at the top when it comes to MBBS. This university is based in Kazan, Russia. And every year, thousands of students look forward to MBBS in Russia at this university. If you also hit in the same category, then this is the best choice for you to have.
But whenever a student is looking forward to taking admission in this university, they look forward to after completion options as well. If you want to know about the same, then you are on the right page.
Here we will be going to discuss the options available to you after completing MBBS from Kazan Federal University.

Options available:-
Educational standards:
When you are becoming a doctor, you need to meet up with the educational standards to an extent. Thus, after completion of MBBS from here, you will not be going to feel disappointed in any case. The professor available here focuses on everything and lets an individual become a master in practical and theory. For all those people who want themself to equip with best, then Kazan Federal University is the best one for them to have.
Become a medical practitioner in India:
If you do not want to live there any more, you can come to India and become a medical practitioner. An individual just needs to crack the medical council of India examination, and after it, they are ready to become part of government culture. Moreover, if they want to organize their clinic, the option is available with them.
PG degree at Kazan Federal University:
After completing MBBS from Kazan Federal University, if you want to pursue your PG degree, then you can get yourself enrolled in any of the universities available. There might be a chance that there is no need for you to appear for any particular examination. Moreover, if you want to complete your PG degree in India, the option is available, and you need to go for certain examinations.
Practice your medical skills more in Russia:
After completion of MBBS from Kazan Federal University, there is an option available for you to go for an internship. If you do well in your internship, the hospital will call you as their permanent employee. This depends upon your choice, whether you wish to continue the same or not. Moreover, they provide you with certain advantages that there might be a chance you will not get in India. Hence, studying MBBS here is not the wrong decision to have.
Become a trainer:
If, after completion of MBBS, you feel like you want to switch your career and wish to engage in teaching, the option is available. For the same, you just need to appear for certain examinations, which helped you in grabbing a position. This will become the best career option for you and let you obtain to degrees. These degrees will help you in stand this competition so well that no one can beat you.
And many other options will get available to you when you are pursuing MBBS from Kazan Federal University. Do not let yourself feel disappointed in any case because if you are facing any difficulty in admission then we are here to help you.
How students can manage expense while pursuing MBBS in Russia from KFU?
Studying MBBS abroad is a dream come true for many medical aspirants. Russia is a popular destination for Indian students for medical education purposes. The Kazan Federal University is one of the top medical universities in Russia. For medical aspirants who are planning to pursue their MBBS from Kazan Federal University, budget management is very important to ensure a peaceful and comfortable stay in Russia. Here are 5 tips to help you manage your expenses while studying at Kazan Federal University.
Tips to follow:
1. Choose a pocket-friendly accommodation:
Accommodation is one of the largest expenses when you are studying abroad. Therefore, it's good to compare the cost of accommodations offered by several universities and select one which suits your needs as well as budget.
2. Make a budget and stick to it:
It's very important to make a budget for the expenses that you need to incur and try to stick to it. This will help you budget for food, entertainment, shopping, tuition fees and other expenses.
3. Limit unnecessary expenses:
Try to limit the number of unnecessary expenses. Try to avoid eating out and only eat out when really required. You can also reduce expenses by joining the student clubs and getting discounts and deals. You can also shop for used textbooks or rent textbooks to save on expenses.
4. Use a debit/credit card:
You are not allowed to carry large amounts of cash in Russia. It's better to carry a debit/credit card as it gives you easy access to funds and is also safer.
5. Get a side job:
You can look for part-time jobs like online freelancing to supplement your income. This will not only help you with your expenses, but will also give you valuable work experience.
By following these tips, you can manage your expenses efficiently and enjoy your stay in Russia. Make sure to maintain a cushion of emergency funds in case you face any unexpected expenses. Good luck!
About Kazan city:
Kazan is one of the largest cities of the Republic of Tatarstan in Russia and is famous for being the capital too. This city is covering an area of 425.3 square kilometres and has a population of 1.5 million. Moreover, it is right to conclude that it is the fifth-largest city in Russia and the most populous on the Volga. It is famous for its educational facilities as well. Students come to Kazan Federal University and complete their medical education because the city is no from high-class educational facilities.
Climate of Kazan:
Talking about the climate, Kazan has a humid continental climate with long cold winters. The summers are quite warm and Sunny too. One can consider it as a far inland position where the summers are extremely warm for their latitude and winters are quite cold. As compared to other areas in Europe, this city has quite a humid Continental climate. In the month of January, you will notice a temperature of -10.4 degrees Celsius, and in the month of July, the average temperature you could notice is 20.2 degree Celsius. The hottest days are recorded in 2010 where the temperature reaches up to +39 degrees Celsius but apart from at the average temperature remains at 20.2 degree Celsius.
Transportation facility:
Kazan has the ultimate transportation facility available. Throughout the year, buses, tram, trolleybus, Metro, Railways, public transit, cycling, waterways, Highway, Intercity buses and airport facilities are available for people out there. A person can travel throughout the town without having any problem. The best part the transportation facilities are available 24 by 7, and there will be no trouble to an individual out there. Students who are coming to Kazan Federal University for medical studies can directly come here and take the trolley auto rickshaw to reach the university. There will be no need for them to build up any relationship with someone to reach the university because there is a direct route they need to take for it.
Education facilities:
Talking about education, this country is not far away from it. It is quite interesting to note that every university is occupied with first-class facilities for education. If we talk about Kazan Federal University here, you will find out that modernization has occupied a place, and every lab is having the best facilities available. There will be no need for students to worry about anything because they can simply start their MBBS career. The best part is students are free here, and they are not restricted to what they want to learn. It doesn't matter in which stream you are taking admission, but if you have enough courage to learn about the culture and its objects, relatively nothing can stop you from getting an idea about it. Professionals are quite focused on everything and help students to learn about the aspects in detail so that they will not face any trouble at all.
Literacy rate:
The literacy rate in Kazan is almost 100%. You will be surprised to know that, but yes this is the truth that people here are quite educated, and they are also focused on the education of the children. You will not feel like anyone is illiterate or they are not helping you to understand things. People are quite focused on studies because this is their topmost priority, and this is a major reason individuals are choosing Kazan Federal University for their MBBS in Russia. It is quite astonishing to note that whosoever is coming from India to pursue MBBS in Russia get admission here easily. The admission process is quite simple to follow because the literacy rate is quite high, and professionals do not focus on unnecessary stuff. After fulfilling the eligibility criteria, you are all set to get admission to any University.
The economy of the city:
Understanding about the economy of the city then it is one of the largest industrial and financial centres of Russia. The city is at the top in terms of development, and there is no doubt in the fact that it is providing employment 2015 people every year. Not only to those who are engaged in the industrial sector but people who are investing in different things get benefit from the same. According to resources, it ranked the 15 among the best cities for business in Russia in 2010.

Modernization of Kazan:
If we understand about the modernization then, this city is well occupied with resources and facilities. Being among the cities having the highest literacy rate in Russia, it hits in the category of best one in terms of modernization as well. Everywhere in the city, you will have an encounter with modernization after reaching the place. For example, if you have come to Kazan Federal University for MBBS in Russia, you will be going to deal with all the modern resources. There will be no need for you to deal with equipment which belongs to ancient time. The practical labs are well occupied with all the facilities as well.
Here we have discussed the Kazan city famous for Kazan Federal University. It is totally up to you how you want to move ahead and how you want to grab all the knowledge. You will not regret your decision because here the facilities are up to the mark and you will be able to explore a lot after coming here.
In terms of every aspect of this city is holding a different place and you would not be going to decorate your decision of choosing this one. Just pack your bags and be ready to take admission to Kazan Federal University.
At Admission Route we provide students with best facilities and best solutions for grabbing a seat in Russia for MBBS. You just need to come to us and let us know about your problem. We will help you in getting the best so that there will be no problem for you in any case.