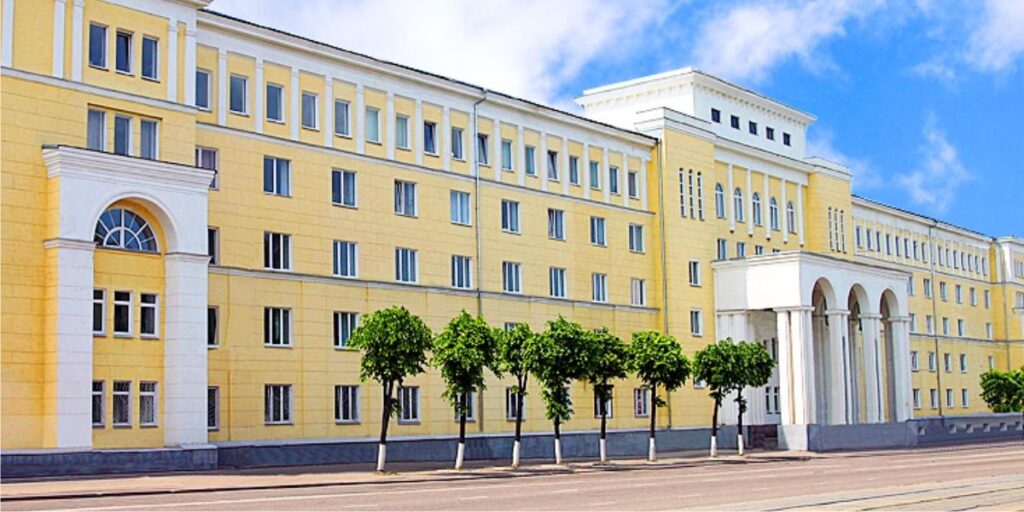 Smolensk State Medical Universityis among the top medical universities in Russia. It is present in Smolensk Oblast in Russia. It was founded in 1920. This University is famous for its methodological education and scientific research. On international ratings, it obtained the 22nd position. It is approved by the WHO, Medical Council of India and other major countries like USA, UK, etc. This Medical Universityis popular among international students. Medical aspirants from more than 50 countries, apply there every year. The university provides English medium education for international students. Smolensk State Medical Universityhas employed 450 highly educated teaching staff. Thirty-one hospitals have collaborated with this Medical University.
Every year more than 3000 students come to this university in different faculties available. There is no doubt in the fact that every year students complete their education and move ahead in their life. When it comes to innovation, this university has marked a place that is unbeatable. No one can question facilities at all because they are efficient enough to provide the best to all the students out there For international students as well, the arrangements have been done in a manner that no one can question about it. The campus is equipped with first-class faculties which let students feel more relaxed as well. For international students, the major concern is about language here, English is adapted so that students will be able to learn about the course in detail, and there will be no problem for them in any case. Until and unless a student is not feeling comfortable with the course, the professor does not move ahead at all.
When it comes to looking at the engagement in extracurricular activities, then also this university hit at the top. They never compromise with them, and every year, there is a particular award which they win just because of participating in extracurricular activities. Students also participates in them and earn multiple benefits.

Smolensk State Medical University: Ranking 2022
This University is ranked at 290 at the country level while it is at the 7331 ranks on the world level. The university is a recognized educational institute as it is famous for providing high-quality education.

Smolensk State Medical University: Affiliation
Smolensk State Medical University is recognized by:-

Faculties of Smolensk State Medical University:
These faculties available at this university are as follows:-
Faculty of Dentistry
Faculty of Paediatrics
Faculty of Pharmacy
Faculty of Nursing
Foreign Student-Faculty
Faculty of Clinical Psychology
Faculty of Social Work
Faculty of Postgraduate Studies
The university has several faculties running under its supervision. These faculties are; faculty of dentistry, faculty of paediatrics, faculty of pharmacy, faculty of nursing, foreign student-faculty, faculty of clinical psychology and social work and faculty of postgraduate studies.

Admission procedure:
The admission procedure is as follows:-
At the very first, a student is supposed to scan all the necessary documents required for admission.
Now visit the official website of the University and look forward to the admission form available right there.
Fill it and submit it.
Wait for 3-4 working days.
After verification, offer letter will get generated and sent to the registered email address.
After a generation of the offer letter, pay the fees.
After paying the fees, admission is confirmed.
After confirmation, apply for visa and then you are ready to fly for MBBS in Russia.
Many students want to pursue MBBS after their secondary exams but fail to do so, either due to high fees structure or low percentage in 12th standard. MBBS in Russia is popular in medical aspirants. MBBS Course has comparatively low fee rates than other countries. At the SSMU the total cost for MBBS degree is about 24 lacs. This amount includes hostel charges, library charges, tuition fees, and other essential expenses. The duration of MBBS every university is of 6 years. Smolensk State Medical University offers five years of the classroom learning program, and the last one year is of training in the hospitals. The students who do MBBS from this university can work in any part of the world.
Visa Procedure for Indian Students:
Smolensk state medical university lets students complete MBBS when they have a Visa available. Let's discuss the same procedure in detail!
Documents required:
Documents required to apply for Visa for MBBS admission in Russia are as follows:-
Birth certificate
Passport size photograph
Original passport
Bank statement with a minimum balance
Invitation letter
Aadhar card
Caste certificate
HIV negative report
Covid-19 negative report
Health record
Offer letter
After applying for Visa, there will be a verification procedure, and for the same, you require the original document. At the time of filing the application as well, the original documents are mandatory. Make sure to have all of them.
Steps to apply for Visa:
The students who were looking forward to applying for visas need to follow some simple steps. These are as follows:-
Check out all the required documents and scan them with you.
Now visit the official website and check out the application link.
After filling out the visa application form, upload all the necessary documents.
After uploading all the documents, you need to check out for confirmation email. This will take around 15 days, so wait for the duration.
After the verification, the procedure has been completed, and you have received the email, visit the regional office for verification.
After the verification has been done you can pack your bags and go for MBBS in Russia.

After reaching Russia:
For all the candidates out there, it is important to go through the verification procedure. The verification procedure will be considering the residence and university in which you are staying. The police and Russian embassy are engaged in it. Thus, make sure to have all the original documents available so that there will be no problem at all.
Documents Required for Admission:
The documents required for admission at this University are as follows:-
12th standard passing certificate
NEET UG examination qualified scorecard
10 passport size photograph
Passport
Birth Certificate
Migration certificate
Character certificate
Medical certificate

Eligibility for MBBS Admission:
MBBS admission in Russiadoes not require any entrance exam for the admission. The admission in the university is directly based upon the marks obtained in 12th level. The eligibility criterion for MBBS admissionin Russia is as follows:
This university requires a minimum of 55 % marks in physics, chemistry, and biology in the 12th standard.
The student should complete 17 years of age by the 31st December of the admission year.
The student should have a qualified NEET exam with a good percentile.

Hostel life at Smolensk State Medical University: 
This university has four hostel buildings on the university campus. These hostels can have over 2000 students. There is a separate hostel building for international students. Indian students pursuing MBBS course from Russia are experiencing a great time. Smolensk State Medical University has a different mess for Indian students who are doing MBBS Course. The hostels are equipped with every modern technology. The university provides 24 hours internet facility for the students. CCTV cameras are equipped on the hostel premises. The hostels are protected in every aspect. These are homelike for the Indian students.
How can students manage expenses during MBBS in Russia during stay at Smolensk State Medical University?
As an MBBS student in Russia, you'll have a lot of expenses to manage. Here are 9 ways to help you stay on top of your finances while you're studying medicine in Smolensk State Medical University:
1. Make a budget:
The first step to managing your expenses is to know exactly what they are. Make a list of all your regular costs, such as tuition, accommodation, food, travel and so on. Then, track your spending for a month or two to see where your money is really going. This will help you find areas where you can cut back, so you can save money.
2. Find ways to save on accommodation:
One of the biggest expenses you'll have as an MBBS student in Russia is your accommodation. If you can find ways to save on your accommodation costs, you'll be able to free up a lot of money to spend on other things.
There are a few ways to save on accommodation costs. One is to live in a student dormitory. This is usually the cheapest option, as you'll share a room with several other students.
Another option is to rent an apartment with other students. This can be a bit more expensive than living in a dorm, but it's often more comfortable and you'll have your own space.
Another way to save on accommodation costs is to find an apartment or room in an apartment that's already furnished. This way, you won't have to buy furniture, which can be expensive.
3. Eat cheaply:
Another big expense for MBBS students in Russia is food. If you eat out all the time, it can be very expensive. Instead, try to cook your own meals as much as possible. This will save you a lot of money.
There are a few ways to save on food costs. One is to eat in the university cafeteria. The food is usually quite affordable, and it's a great way to meet other students.
Another option is to buy food in bulk. This can be a bit more expensive upfront, but it will save you money in the long run.
4. Find scholarships and grants:
If you're struggling to cover the costs of your MBBS studies in Russia, one option is to look for scholarships and grants. There are many organizations that offer scholarships to students studying medicine, so it's definitely worth doing some research.
5. Choose the right course:
Students should carefully consider all their options before choosing an MBBS course in Russia. There are many good quality medical schools in Russia, but the course fees can vary significantly. Students should opt for a course that is affordable and also offers good quality education.