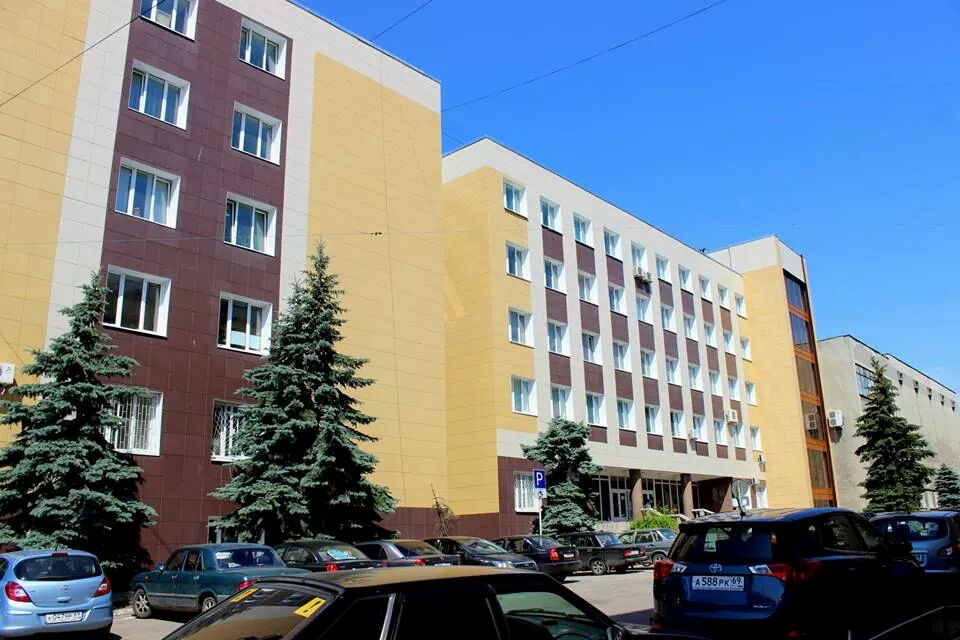 When students are coming for MBBS in Russia at this Tver state Medical University, they will be going to get the atmosphere which they have not expected as well. From the day of its origin, it is serving student with best facilities out there. Moreover, it is quite surprising for everyone to note that every year thousands of students complete their education from here and settled up at good places in different countries. Not only in India but in other countries as well this University has created a place which is just unbeatable. Every year when students come here to complete their higher education, they have thought what they will be going to get. Their transparency is something which let them to games displays.
It's been 47 years this University has been established and right now from more than 57 countries of the world people are coming and completing their education. The Academy is surrounded by use building and for every department there is a different buildings allotted. For practical classes, laboratory studies, research work, and lectures as well the students will be going to get all the facilities.
Multiple programs are organised at the University so that students will be able to nurture their skills as well. They follow a strict pattern so that for medical students there will be no trouble in any case and they can learn about every skill in detail. Until and unless a student is not satisfied that teachers will not going to back off from it at all.
Tver State Medical University is among the top universities in Russia. It is present in Tver in Russia. Tver State Medical Universityis known for its most prominent research and educational institute. The university has employed intellectual teaching staff. This university runs ten different hospitals furnished with 6000 beds.  These hospitals are specialized for oncology, infectious, sexually transmitted disease, tuberculosis, and skin. Tver State Medical University is approved by the WHO and medical council of various countries (India, America, England, etc). In Russia, Tver State Medical Universitywas the first to initiate teaching in the English medium. Presently, Students from different countries (like India, Africa, America, Nepal, Sri Lanka, and others) study at Tver State Medical University.

Tver State Medical University: Quick Highlights 2023
| | |
| --- | --- |
| Founded In | 1954 |
| University Type | Public |
| Course Duration | 5 Year |
| Medium Of Study | English & Russian |
| Location | Tver, Russia |
| Academic Staff | 470 |
| No. of Students | 4700 |
Admission Procedure: Guidelines
The admission process for MBBS in Russia is straightforward for every medical student. The eligibility required by the Tver State Medical University mentioned below: 
At the very first, a student is supposed to scan all the necessary documents required for admission at Tver State Medical University Russia.
Now visit the official website of the University and look forward to the admission form available right there.
Fill it and submit it.
Wait for 3-4 working days.
After verification, offer letter will get generated and sent to the registered email address.
After a generation of the offer letter, pay the fees.
After paying the fees, admission is confirmed.
After confirmation, apply for visa and then you are ready to fly for MBBS in Russia.
To pursue MBBS in Russia, the aspirants must score a minimum of 50% marks in physics, chemistry, and biology in the 12th standard.
The students should complete 17 years of age by the 31st December of the admission year.
Should have a qualified NEET exam.
Documents Required:
     The students should require the following documents for the admission to MBBS in Russia
Passport size photographs
Passport
Detailed mark sheets of 10th and 12th standard.
Medical insurance
HIV test reports from the renowned hospital
Invitation letter from the university
Migration certificate
The interested students must apply online for admission. The students will get notification from the university about their acceptance of the application.


Visa procedure and other details:
Well, Tver State Medical University is famous for its culture, but you need to be sure that getting a visa for this University is not an easy task. There is a procedure you need to follow to get it seamlessly. We will help you in knowing about the procedure, but you need to prepare yourself for the same as well. Let's understand the same in detail.
Document requirements for Visa:
When applying for MBBS in Russia at this University, the major documents required are as follows:-
Birth certificate
Passport size photograph
Original passport
Aadhar card
Caste certificate
Hiv negative report
Covid-19 negative report
Health record
Bank statement with a minimum balance
Invitation letter
Offer letter
Chances are there, the embassy may ask for some other documents at the time of visa verification, so don't forget to carry all the documents along. In most cases they look out for academic records, sojust carry that too as well.
Steps to apply for Visa:
When you are applying for Visa, the steps are very simple to follow. These areas mentioned:-
Fill out the application form for Visa.
Submit the application form along with all the asked documents.
Make sure to scan all the documents and upload them.
Wait for 5 to 7 days.
After receiving the confirmation, visit the regional office for verification.
After the verification is done within 10 to 15 days, the VISA will get delivered to your doorstep, and you are all set to fly for MBBS in Russia at the Tver State Medical University. 
After reaching to Russia:
When you reach Russia, there will be a verification done by the Russian embassy, and you need to present all the original documents along. Therefore don't forget to carry them because if the verification procedure is not completed in Russia, the chances of visa rejection may have a boost.
Don't worry, we will help you to know about each and everything when you are applying for a visa. We never want our students to face any kind of complication. Notably, if you don't want yourself to be a victim of the unwanted situation, just cross-check all the documents when apply for Visa. If there is any problem, our professionals will help you to come out of it.
Tver State Medical University: Fee Structure 2023
Particulars
Year 1
Year 2
Year 3
Year 4
Year 5
Year 6
Tuition Fee & Documentation
3700 USD
3700 USD
3700 USD
3700 USD
3700 USD
3700 USD
Hostel Fee
200 USD
200 USD
200 USD
200 USD
200 USD
200 USD
Total Fee in USD
3900 USD
3900 USD
3900 USD
3900 USD
3900 USD
3900 USD
Total Fees in INR
3,23,700 INR
3,23,700 INR
3,23,700 INR
3,23,700 INR
3,23,700 INR
3,23,700 INR
APPLY NOW

Tver State Medical University:Ranking 2023
| | |
| --- | --- |
| Country Rank | World Rank |
| 216 | 5612 |
Tver State Medical University is ranked at 216 in the country level while on the world level, this university has got the 5612 ranks.
Tver State Medical University: Faculties
| | |
| --- | --- |
| S.NO. | Name of Faculty |
| 1 | faculty of dentistry |
| 2 | faculty of general medicine |
| 3 | faculty of pharmacy |
| 4 | faculty of pediatrics |
| 5 | faculty of International Medical Education |
| 6 | faculty of postgraduate studies |
Indian Hostels at Tver state medical University:
The medical students studying MBBS in Russia either live in university hostels or private apartments.  But the student residing in the hostels are in many advantages. Hostelries are living inside the university campus and get all the essential facilities from the university. The university hostels are equipped with modern technology. Tver State Medical University has four buildings of hostel which easily accommodates around 1840 students in one go. These are fully air-conditioned and well furnished. Each room is designed for three students to stay. Every room has attached washrooms. Hostels are equipped with the CCTV cameras for 24hours.  Police officials also protect the university campus. This makes it safe for international students as well as for the local student. 
Tver State Medical University- MBBS Syllabus
The syllabus of MBBS course and the pattern are as follow: Here Students have to complete  MBBS Syllabus for 6 Year.
1st Year-
| | |
| --- | --- |
| Semester-1 | Semester -2 |
| Anatomy | Anatomy and Histology |
2nd Year-
| | |
| --- | --- |
| Semester-3rd | Semester-4th |
| Physiology | Biochemistry |
| Cell Biology | Microbiology |
| Anatomy | Physiology |
| Biochemistry |           – |
| Microbiology |           –  |
| Histology |           – |
| General Pathology |           –   |
3rd Year-
| | |
| --- | --- |
| Semester – 5th | Semester- 6th |
| Pathology | Genetics and principles of clinical medicine |
| Micro-Biology | Pathology |
| Path physiology | Pharmacology |
| Pharmacology | Path physiology |

4th to 6th Year-
                               7th to 12th Semester          
Cardiology
Obstetrics and Gynecology
ENT
Neurology
Psychiatry
Neurology and Psychiatry
Pediatrics
Internal medicine
Primary Care medicine
Psychology
General Surgery
Emergency Medicine
Oncology
            –
Lifestyle of Students at Tver state medical University:
Indian students pursue MBBS in Russia because of low fees rates, high-quality education, and a successful career.  Indian students will get exposure to various cultures and religions as the university often organize different cultural events for the students. The Indian association in the university celebrates even every Indian festival. The students feel homelike while living in the Tver State Medical University.
News and Important Dates-
| | |
| --- | --- |
| Date | Events |
| 19/04/2021 | Cooperation agreement with Samarkand State Medical Institute |
| 29/03/2021 | Instruction of Minictry of Education and Science |
| 27/03/2021 | Announcement for foreing students |
| 1st May 2021 | Start Admission for MBBS course |
| 1st week of September –  2021  | Last date of Admission for MBBS |

Benefits of MBBS in Tver state medical University: 
 The benefits a student will be going to get are as follows:-
Student will be going to get first class education along with all the facilities.
Research labs are settled up completely so that they will be able to focus on practical things as well.
The education is available at a very affordable price.
Loan facility is also there for students.
Indian food facility is there.
Transportation facilities are upto the mark.
There will be no need for an individual to stay in private Apartments as the horses are well equipped.
A student can go for part time jobs as well.
In case a student is facing any trouble considering security scan report about it and immediate actions will be taken.
Students need to qualify NEET UG examination for the sake of admission.
Mode of teaching adapted is English. There will be no need for a student to learn any articular language.
A student will be able to get visa in a hassle-free manner.
There will be no need for a student to go for outside because counselors are also there to train them in case any problem is arising.
The campus is equipped with CCTV cameras to provide proper protection to students.
About Tver City-
Tver is a famous administrative centre of Tver Oblast, Russia and a city well known for the culture and literacy rate. The city is having of a population of 500,000. It is the formally capital of a powerful mediaeval state and known to be the city where three rivers meet, splitting the town into Northern and Southern parts. Many students every year come up to Tver State Medical University for their medical education because here they find out things that are up to the mark, and modernization is not away from them.
Climate of the Tver city:
Tver has a humid continental climate, which is somewhere typical for Central Russia. In the city, you will find out winters are quite long cold and snowy but are extremely Frost. The temperature reaches here up to -35 degree Celsius, and this is for less than ten calendar days per annum. Talking about the summer season, it is generally warm and humid, and the average temperature ranges to 30 degree Celsius. One can easily conclude that this city is having a nominal temperature with hot and cold both the season. Not only this, the average relative humidity year per cent is recorded to be 79% per year.
Educational facilities:
This city is occupied with first-class educational facilities as well. Here you will find out Tver State Medical University, which is famous for MBBS in Russia and apart from it, different universities are there catering to all the needs of students, who want to become the part of Engineering and business sectors. It is quite astonishing to note that every year thousands of students migrate from other countries to Tver for completing their education.
The major reason for choosing this city is because modernization is up to the mark, and in universities as well, they will find out the first-class infrastructure. There will be no need for them to deal with ancient equipment at all because the universities are upgrading the equipment every year so that students will not face any trouble. After completing MBBS in Russia University students can apply for a job and higher studies in any of the countries across the globe because the degree is globally accepted.
Transportation facilities:
Transportation facilities in Tver are upto the mark. Here land transport, water transport, air transport all of them are famous. Moreover, public transport service is also available, and individual can enjoy going from here and therefore stop the river station is also there which is located on the Left bank of the Volga river. Moreover, if you are coming from any of the countries, simply you can simply go for Air transportation facilities.
Students who are coming to Tver State Medical University for the sake of MBBS can easily rely on public transport facilities if they want to go here and there. It is not mandatory for you to live in a hostel only if you are living outside the hostel you can simply rely on the transportation facilities to reach your destination. It is available at a reasonable price, and it will not going to burn your pockets for sure.
Literacy rate of Tver city:
The literacy rate in Tver is estimated up to 95%, which clearly indicates that you will be going to have an atmosphere where all the literate people are living. You will not feel like any of them is appears to be illiterate or not understanding your things. Here people are quite familiar with the Russian language, and some of them have any idea about English as well. It totally depends on you how you will be going to communicate with them.
If you are having an interest in learning about any of the languages, people here will help you to get an idea for the same as well. Different classes also organized at Tver State Medical University and other places where you can learn about these languages easily.
Major attractions:
If you are among those who love to visit different places, then you must visit the drama theatre, youth theatre, puppet theatre, philharmonic, orchestra, Circus, Art Gallery, literature, museum and so on. There will be no need for you to worry about anything because all the places are contributing to the culture of the city and you will feel happy to be at these places. When you are coming to Tver State Medical University for MBBS, we suggest you visit these centres because if you have any extraordinary talent, you can simply start your journey by visiting these centres. This city is home to extra talent. You just need to nurture it. If you have sufficient skills to nurture the same, you will be blessed to be at these places.
Modernization:
Talking about modernization, you will be happy to know that there is nothing ancient with which you have to deal with. All the universities are occupied with modern facilities which help you to understand about the things in detail, and you can easily start your career with all the modern equipment full stops in the laboratory is as well you will have an encounter with all those equipment as well with your ancestors use, but majorly your education will be focused on all the latest equipment.
It is right to conclude that Tver is the city where a student can start their medical career, and losing Tver State Medical University is the best option for you. Don't wait any more when you want to have a good career because this University in Tver is sufficient to Cater to all your needs and the degree offered to you will be globally accepted, which clearly indicates that you can start your career in any part of the world without having any second thought. Some general criteria are there you need to fulfil for starting your career in Different cities, and after having the degree, you can easily go for it.
How can students manage expenses during MBBS in Russia during stay at Tver State Medical University?
As an international student, you'll have a lot of expenses to consider while attending medical school and pursuing MBBS in Russia. To help you out, we've compiled a list of several ways you can manage your expenses while studying at Tver State Medical University:
Things to keep in mind:
1. Get a student discount card:
As a student, you're entitled to a number of discounts both in Russia and abroad. Be sure to get a student discount card (often called an ISIC card) before you leave for Russia. This card will entitle you to discounts on transportation, accommodation, and attractions both in Russia and in other countries.
2. Make a budget:
Budgeting is key to successfully managing your expenses while in medical school. Determine how much money you'll need for tuition, books, and living expenses, and make sure you have enough to cover all of your costs. Make a budget and stick to it!
3. Find a part-time job:
One great way to offset the cost of medical school is to find a part-time job, But make sure you can do it by staying at your hostel room only. The university do not allow students to step outside and enrolling in such opportunities during academic year.
4. Shop around for textbooks:
Don't pay full price for your textbooks! There are a number of ways to get discounts on textbooks, including shopping online, renting textbooks, or buying used textbooks.
5. Use public transportation:
Tver State Medical University offers a free shuttle bus for students, which runs between campus and the city center. If you need to travel further, consider using public transportation instead of taking a taxi. Not only is it cheaper, but it's also good for the environment!
6. Take advantage of student discounts:
As a student, you're entitled to a number of discounts both in Russia and abroad. Be sure to take advantage of student discounts on transportation, accommodation, and attractions.
7. Join a student organization:
Many student organizations offer discounts to members on textbooks, transportation, and entertainment. Joining a student organization is a great way to save money and meet new people!
Following are the ways that can help students to save a lot of money during MBBS in Russia.